This holiday season, millions of people will crisscross the country to reunite with their families and catch up with old friends. As these consumers pass through airports, train stations, and bus terminals, it's a good reminder of how brands can use travel hubs as sites to identify, understand, and reach their ideal audiences.
In fact, travel hubs like New York, Boston and DC see huge amounts of passenger traffic each year. In 2016, nearly 59 million people passed through JFK, while a million people pass through Grand Central Station each week. These consumers may be vacationers, business travelers, American citizens, or foreign visitors—each with his or her own set of habits and interests.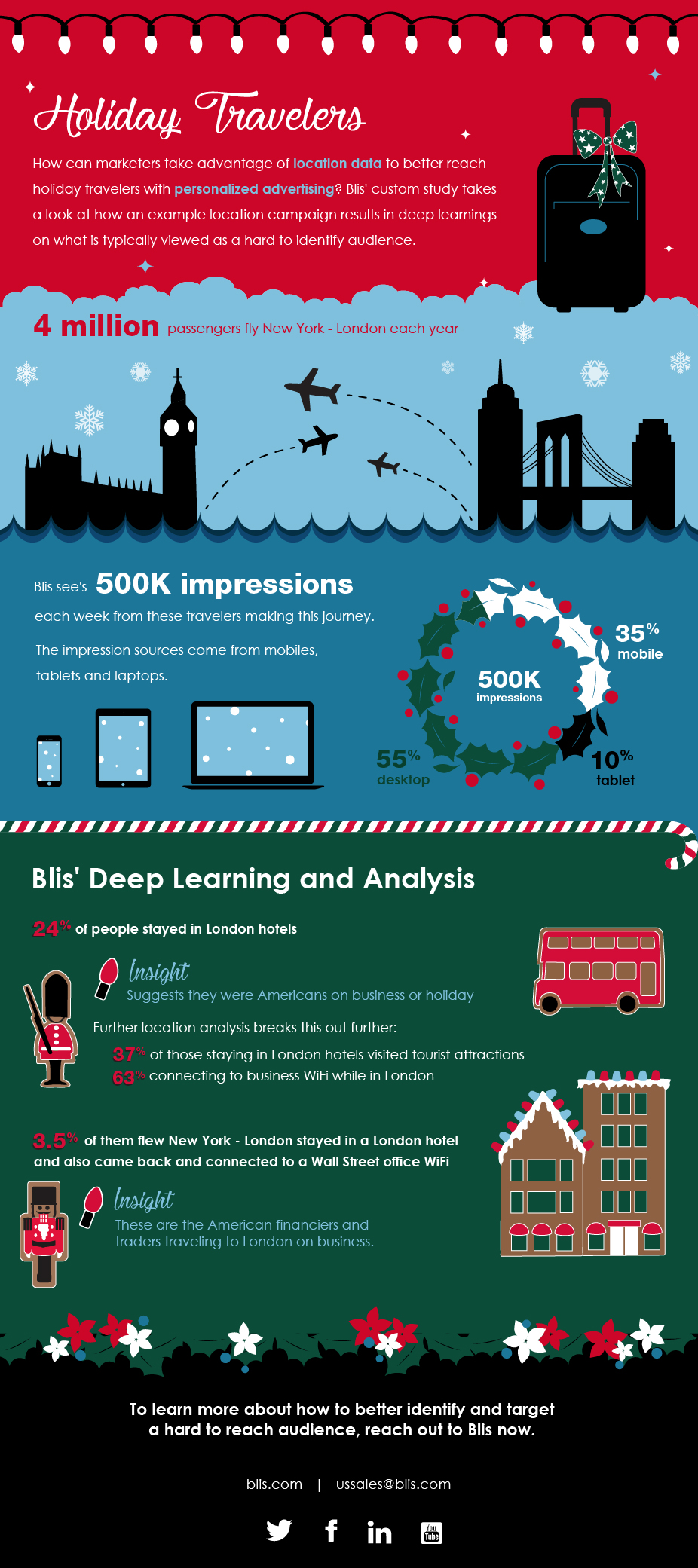 With so much movement and so many individuals from all over the place moving through various travel hotspots, how can advertisers tell them apart? And how can they use this information to serve relevant messages without wasting precious ad spend?
Good Geo-fences Make Good Audiences
We all know that location data can tell a lot about a person: An individual at the gym is likely to be physically active and health-conscious, while someone who goes to the movies every weekend is probably a film buff. But understanding consumers is a lot more complex when brands are analyzing the movements of millions of consumers sitting in airport lounges or lounging on trains.
Advertisers can begin to construct comprehensive consumer profiles by collecting device IDs of passengers passing through major travel hubs. For instance, by geo-fencing an airport or train station, brands can identify a preliminary audience of travelers.
Still, a basic geo-fence will also raise some questions of its own: Is the man at La Guardia just back from a European vacation, or is he heading to Silicon Valley for a business trip? Is the woman who just connected to the Wi-Fi at Penn Station a tourist or a New Yorker heading to the Long Island Railroad? For a luxury hotel looking to reach wealthy travelers or a low-cost tourist attraction targeting penny-pinching families, the answers to these questions will make a big difference—and can help brands avoid wasting ads on the wrong audience.
By pairing geo-fence data with historical location data and in-depth behavioral analysis, marketers can answer the questions and more to build comprehensive consumer profiles that distinguish one kind of passenger from the next.
Defining—and Refining—Your Audience
How would this work in practice? To find out, we ran a campaign targeting the 4 million passengers who fly from New York to London each year—an ideal demographic for many brands, including hotel chains, taxi companies, restaurants and other travel-related services.
To first identify this group of travelers, we geo-fenced JFK airport and collected the device IDs that passed through. What we found was over 500,000 impressions each week—over half of which came from laptops, another 35 percent from mobile devices and 10 percent from tablets.
So how do we know which of these consumers were flying to London? By following these unique device IDs, we discovered that 24 percent stayed in London hotels—which means they were most likely Americans away on business trips or vacations.
So which is it? Business or pleasure? To find out which of these consumers are working hard or hardly working, advertisers can couple their geo-fence data with more sophisticated location intelligence. For example, if the travelers connect to business Wi-Fi networks, they are likely here for business. But if they spend their Wednesday afternoon at the British Museum, they are likely on vacation.
In our study, we found that 3.5 percent of those who stayed in a London hotel then connected to a Wall Street office Wi-Fi network once back in New York. So, we can safely assume that the consumers comprising this 3.5 percent were likely finance people—traders or business leaders, perhaps—who travel to London for work.
Huge Savings and Higher Returns
How can advertisers across industries use these techniques to improve their ad campaigns? First, by separating out really specific consumer segments, brands can avoid targeting the wrong travelers—reducing waste and improving campaign performance. For instance, an ad for a high-end hotel chain for business travelers won't be relevant for all passengers on the flight from New York to London. However, it will be useful for those that frequently go from Wall Street to Canary Wharf each month.
Advertisers can also use these insights to personalize their messages. A London-based tour guide could welcome the vacationing New Yorkers with a discounted trip to Stonehenge, for instance. When brands couple geo-fence data with detailed location intelligence, they'll be able to hyper-segment their audiences at scale to reduce wastage and boost ad performance.
There's no doubt that targeting travellers is a tricky a task. With so many people on the go across such a wide geography of locations, advertisers have their work cut out for them trying to keep track. However, location intelligence is the key to managing effective and successful campaigns. As our study has shown, by deploying these tools smartly advertisers are given the opportunity to gain insights that may have previously seemed invisible.