Christmas shopping in Singapore peaked in November, a month before the holiday. The fourth weekend of November accounted for the highest shopper footfall amongst top shopping areas in Singapore, according to footfall and online behavioural analysis by BlisMedia. Meanwhile in London, peak shopping times come later with an increase in shopper traffic of 259 percent from November to December, as consumers prepare for the festive season.
The analysis studied location data leveraging IP addresses and bid requests from online publishers at a geo-fence of 400 metres across five Singapore and London shopping areas.
"Christmas is one of the most lucrative periods of the year for brands and marketers, and it's a great chance to reach out to your target audiences who are looking to spend," says Greg Isbister, CEO and Founder of BlisMedia.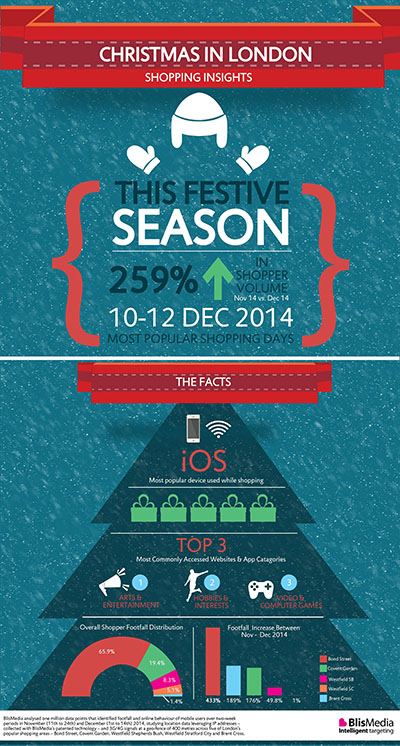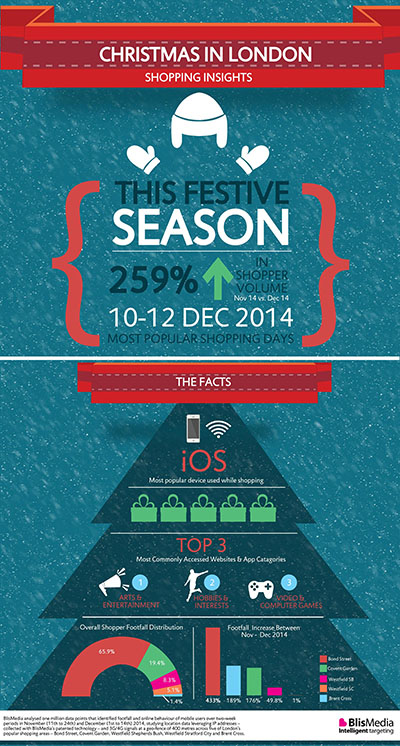 There was a minimal decrease of 1.4 per cent in the number of shoppers in Singapore for the December period when compared to November, whilst the strongest surge of shopper footfall fell between the weekend of November 21 and 23, accounting for close to one quarter (22.4 per cent) of the total traffic.
In London Bond Street proved to be the hot spot for shopping activity, with a 433 per cent increase in shopper footfall as consumers headed to the global retailers located in the area. Historic Brent Cross, which only saw 1.4 per cent of overall traffic, still recorded a 189 per cent increase between November and December, while Covent Garden saw uplift of 176 per cent.
As mobile becomes more and more central to consumers' retail habits and location and proximity technologies give us a clearer picture of how people engage with digital and physical stores, it's important that marketers hoping to take advantage of the last week of Christmas shopping target their ads correctly. After all, the right message at the right time can lead to a dedicated customer, while a clumsily deployed campaign can alienate as many consumers as it converts.
The research highlights that during the period 27.8 per cent shoppers accessed websites and apps in the categories of arts and entertainment, followed by hobbies and interests at 18.9 per cent and video and computer games at 14.9 per cent.
"Understanding the most popular shopping periods is the first step. Coupled with an additional level of location insight and behavioural data, marketers can even time relevant brand campaigns to reach their desired audiences at the best times and places, be it through the desktop at home, or mobile and tablets whilst they are in the store shopping," Mr Isbister said.