It comes as no surprise that gaming is big business. But what is perhaps surprising is just how big the industry is, with the world's 2.7 billion gamers expected to spend $159 billion on games in 2020. According to NewZoo, mobile gaming was the segment which saw the biggest increase in engagement and revenues as a result of COVID-19 measures. 
This surge in gaming comes amidst further waves and restrictions on physical movement. In this post from 'The changing behaviour series' we examine trends we've identified specifically around in-app gaming and news consumption. While the stats aren't necessarily surprising, they do provide some insight into content attracting lots of consumer eyeballs, and are areas where some brands hadn't considered targeting against. 
When it comes to gaming, at the beginning of the outbreak in Asia, we saw an increase in gaming activity in the region of almost 100%. This trend gradually declined in the period between Dorscon orange in Singapore and the announcement of circuit breaker measures in early April. At this stage, the core audience was still perhaps regular gamers, with new converts focusing on news outlets as a primary concern.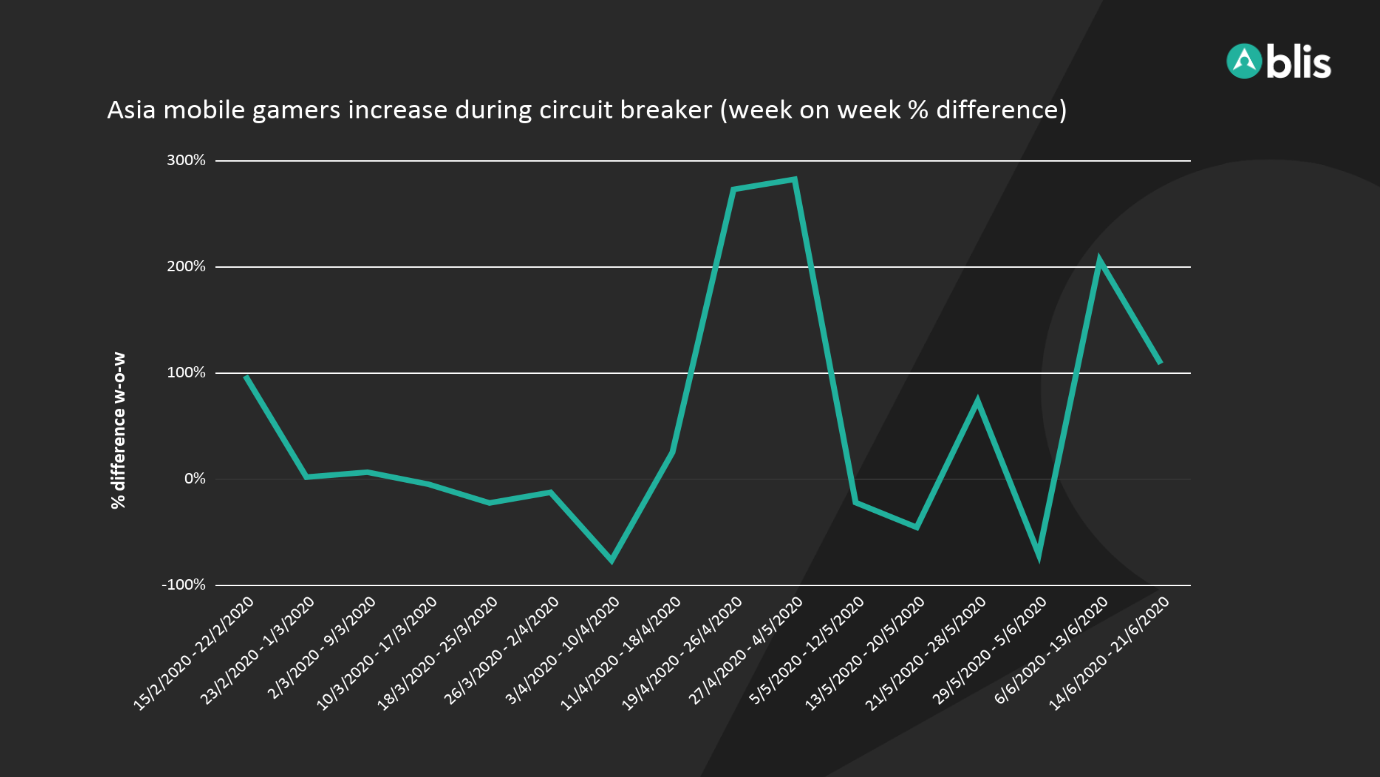 However, once circuit breaker measures were implemented we witnessed a huge jump in activity –  8 times higher the initial number of users who visited gaming sites when lockdown went first into effect.
Mobile gaming as a marketing channel has risen in prominence, with brands promoting everything from new clothing collections to hosting virtual concerts. This offers marketers untapped opportunities in reaching hard-to-reach audiences. The first step to unlocking mobile gaming marketing is to understand the demographics and lifestyles of users – demystifying the stereotypes. 
According to Activision Blizzard Media, 40% of monthly unique users are females. For instance, "gamer mums" are considered content consumption machines. The study found that gamer mums view entertainment, including gaming, as an important part of their lives and are receptive to brand engagement on social media. They're likely to be online more, and more exposed to new products throughout their shopping experience. 
For brands, mobile gaming is a potential avenue to deliver highly visible messaging to an immersed audience without being overtly disruptive. Furthermore, ad blocking software does not come into play as ads are served directly into the games. 
We expect the importance of gaming to continue, so brands should be thinking about incorporating this type of content into mobile strategies.