Following Memorial Day Weekend, Blis shared promising travel insights on visitation numbers to many American "playgrounds." In great news for business owners, holiday travel has continued to grow since the end of May as 4th of July visitation numbers to the same tourism destinations skyrocketed. People are becoming more comfortable with leaving home again, which highlights this summer as an opportunity for businesses to take advantage of consumers craving a return to recreation. 
Compared to Memorial Day Weekend 2021, Times Square, the Las Vegas Strip, Orlando theme parks and California theme parks all saw a growth in visitation numbers over the weekend of July 4th. Times Square experienced the largest increase of a 178.69% change since Memorial Day. This major rise in visitation could be attributed to the fact that New York was one of the last cities to fully reopen and people were eager to celebrate America in its largest city. The Orlando theme parks saw the next biggest rise in travel at a 116.56% growth since Memorial Day, followed by the Las Vegas Strip (94.18%) and California theme parks (49.99%). 
These numbers should give hope to business owners everywhere, and the travel data from last year's 4th of July is even more promising. California theme parks saw the greatest change year over year at a 1820.29% increase of visitation. Following this playground was Times Square at 463.75% then Orlando theme parks (171.67%) and the Las Vegas Strip (153.23%). These massive increases in visitation can be attributed to the fact that essentially all of America was on some sort of lockdown during last year's 4th. However, it is important to note that both California theme parks and Orlando theme parks were closed during the 2020 holiday (Orlando theme parks did not open until the 11th.)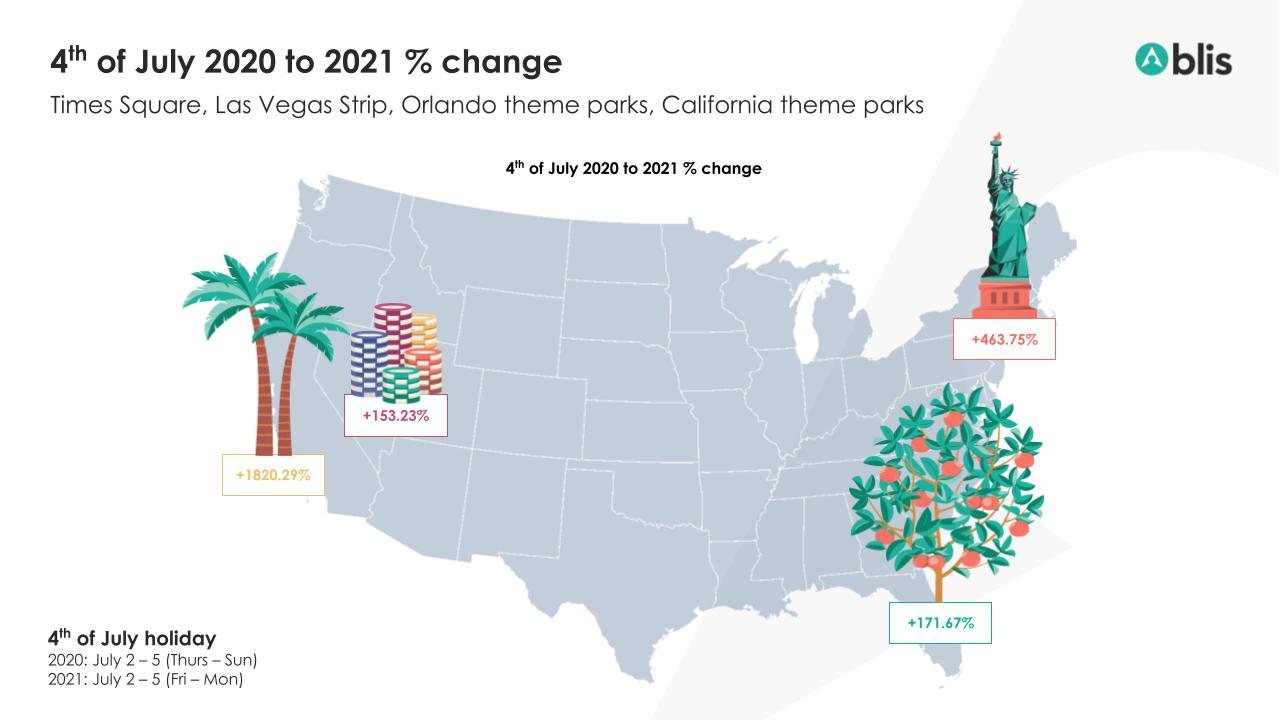 One thing to note is that travel remains fairly local, with California theme parks and Las Vegas attracting west coast visitors and Times Square and Orlando attracting visitors from the east coast. This could be an indicator that while Americans are ready to travel, they're not yet willing to venture too far from home, which highlights the need for advertisers to ramp up spending to further DMAs (since people who travel farther are likely to spend more on tickets, hotels, etc).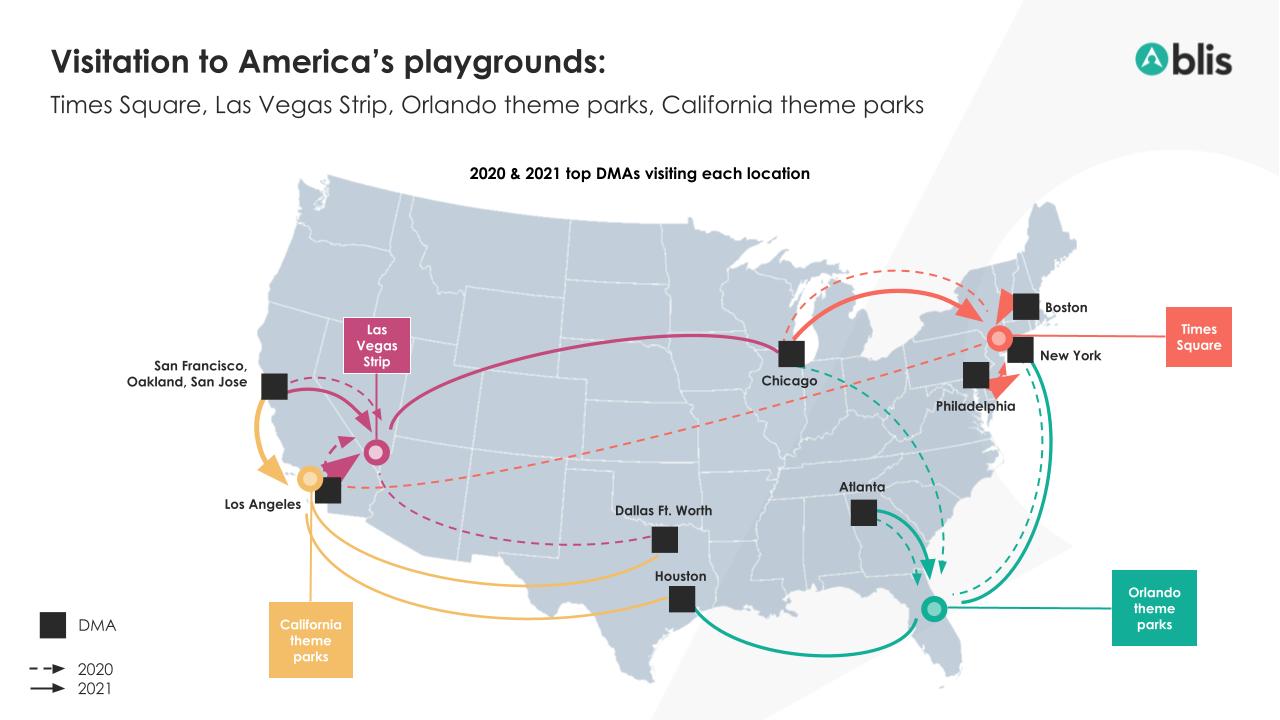 While the 4th of July was one of the biggest travel weekends since lockdowns first began, these numbers are likely to continue to grow. With people excitedly returning to recreation, business owners and marketers have a huge opportunity to benefit from travel-hungry consumers ready to spend this summer. 
Stay tuned for our next report on Labor Day travel, and what this could mean for the holidays ahead. To learn more about Blis Insights, contact USSales@blis.com.