Blis Insights explores how the Australian Open's evolution into an inclusive entertainment experience is drawing record attendees, and the effect this is having on brand and sponsorships.
Click HERE to view and download the infographic.
While cricket is Australia's traditional sport of the summer, sweltering January evenings in Melbourne have long been synonymous with the Australian Open.
And the records continue to tumble on and off the court. Novak Djokovic won an unprecedented seventh title while Naomi Osaka captured her very first. However, it was Melbourne's insatiable appetite for the event that drew headlines, attracting more than 780,000 people in a fortnight, smashing the previous record of 743,667.
Key to this growth has been it's appeal to non-fans of tennis, and the Open's expansion from a sporting event to an inclusive, entertainment and leisure hub has been central to this.
To find out more, Blis Insights donned sunglasses and faint sunburn to explore the off-court happenings in and around the Australian Open.
Footfall patterns changed significantly as the tournament progressed
2019 was a record year for attendance, but Melbourne Park especially came alive during weekends, attracting 46% more footfall compared to the average weekday.

Peak visitation occured on Saturdays, attracting over 61% more footfall compared to the average weekday, and 21% more than Sunday the next busiest day.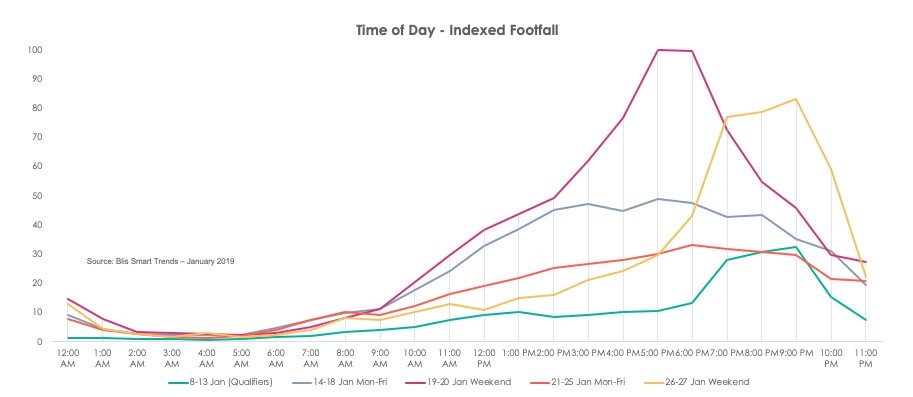 Footfall during the working week was typically more evenly spread throughout the day, while activity reached a more concentrated evening peak during weekends. Daytime weekend footfall was especially strong, exceeding peak week day footfall by 1pm, building to a steady crescendo by 5pm.
As the tournament progressed and the draw thinned, key matches became increasingly more likely to be scheduled in the evening, resulting in a shift in peak footfall towards later in the evening.
Effective targeting of more diverse, 'non-tennis fan' audiences driving substantial year on year growth
A key feature of this year's Open has been the amount of attendees who visit without ever seeing a match. With more pop-up restaurants, bars, concerts and entertainment areas this year, the tournament has expanded its appeal beyond sport, attracting a different type of 'non-fan' to Melbourne Park.
Socialites versus tennis diehards, business versus pleasure — as Blis Smart Trends observed, there is a clear distinction between weekday and weekend visitors in terms of content consumed at the event: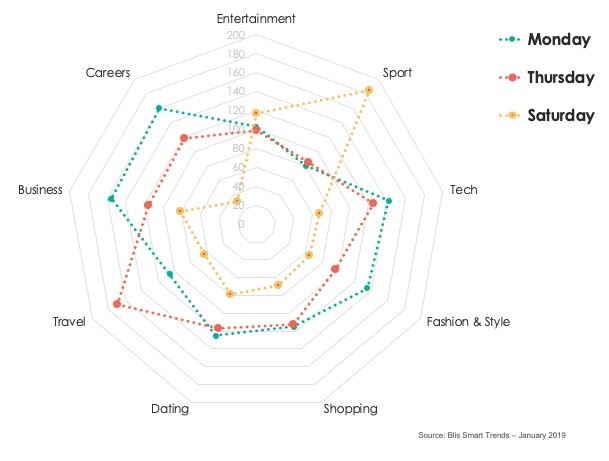 Interestingly for a tennis competition, sport took a backseat on weekdays, with visitors more likely to be consuming non-sport content.
Weekdays were more likely to attract the fashion conscious and shoppers, with visitors on weekdays 35% more likely to looking at fashion content. 1-in-5 visitors consumed online shopping content (compared to just 1-in-10 by the weekend).
Single and ready to mingle? Mondays and Wednesdays were the best days to meet your match, with 41% visitors accessing dating apps (compared to 25% on weekends).
A reflection of the Open's growing corporate audience, Monday visitors were also over 56% more likely to be looking at Business and Career content.
If weekdays suggests a crowd more likely to be interested in anything but tennis, the weekend is almost entirely the complete opposite, visitors 80% more likely to be looking at sport content.

A look at where else the Open audience goes further uncovers the diversity of attendees.
According to Blis Smart Trends, 50% of attendees have been to an art gallery/museum in the past month. Pubs and bars around Melbourne Park have been doing a roaring trade, with 63% of Open visitors visiting a local establishment during the competition.
As strong as their reach of office workers (55%) is the Open's draw with families (20% seen at school drop-off/pick-up), and tourists (26% seen at major Melbourne landmarks).
Although major partner Kia saw substantial increases footfall, minor sponsors yet to feel similar impact
With 32 official partners, the corporate presence at this year's Open was again out in force. Even with key seasonal factors in mind (ie. Christmas retail season), it was largely a muted fortnight for most sponsors.
The Australian Open was a roaring success for Kia, now in their 17th consecutive year as main sponsor.

Kia saw significant uplift, both in terms of consumer interest (measured in searches) and in-location footfall (visits to dealerships). During the Open, web searches for Kia increased by +28%, while actual footfall into Kia dealerships saw an uplift of +63%.
Other sponsors did not see similar effects: associate sponsors ANZ saw a slight decrease in web searches, while footfall into branch locations declined -11%. It was a similar story for minor sponsors such as Country Road, and Lululemon, with footfall down 11-13% during the Open.
Click HERE to view and download the infographic.
Interested in learning more about what Smart Trends can do for your business or clients? Get in touch with the Blis ANZ team here.