In our last post, we explored the cultural significance of the CNY (Chinese New Year) across our offices in Asia. Some of the more interesting topics around this period are the observable trends that signify the modernisation of these centuries-old traditions, as well as the implications of technology on the related verticals of travel and e-commerce.
Where do Chinese travellers go during Chinese New Year?
According to a 2018 McKinsey report, "Chinese Tourists: Dispelling the Myths" tourism among the Chinese is driven by a number of factors including the speed of modernisation. Higher incomes and the desire for travel experiences are also having an impact. Additionally, access to broader online travel information and air connectivity are also tipping the scales.
McKinsey reported that 134 million trips were made out of China during CNY in 2018, with Chinese travellers spending more than $119 billion.
In terms of where these Chinese travellers went, by tracking mobile devices that roamed in foreign countries, Blis' platform showed that Thailand, Japan and Hong Kong were the top destinations for Chinese travellers during CNY in 2018. This was consistent with the destination rankings that the Ministry of Culture and Tourism of China had released.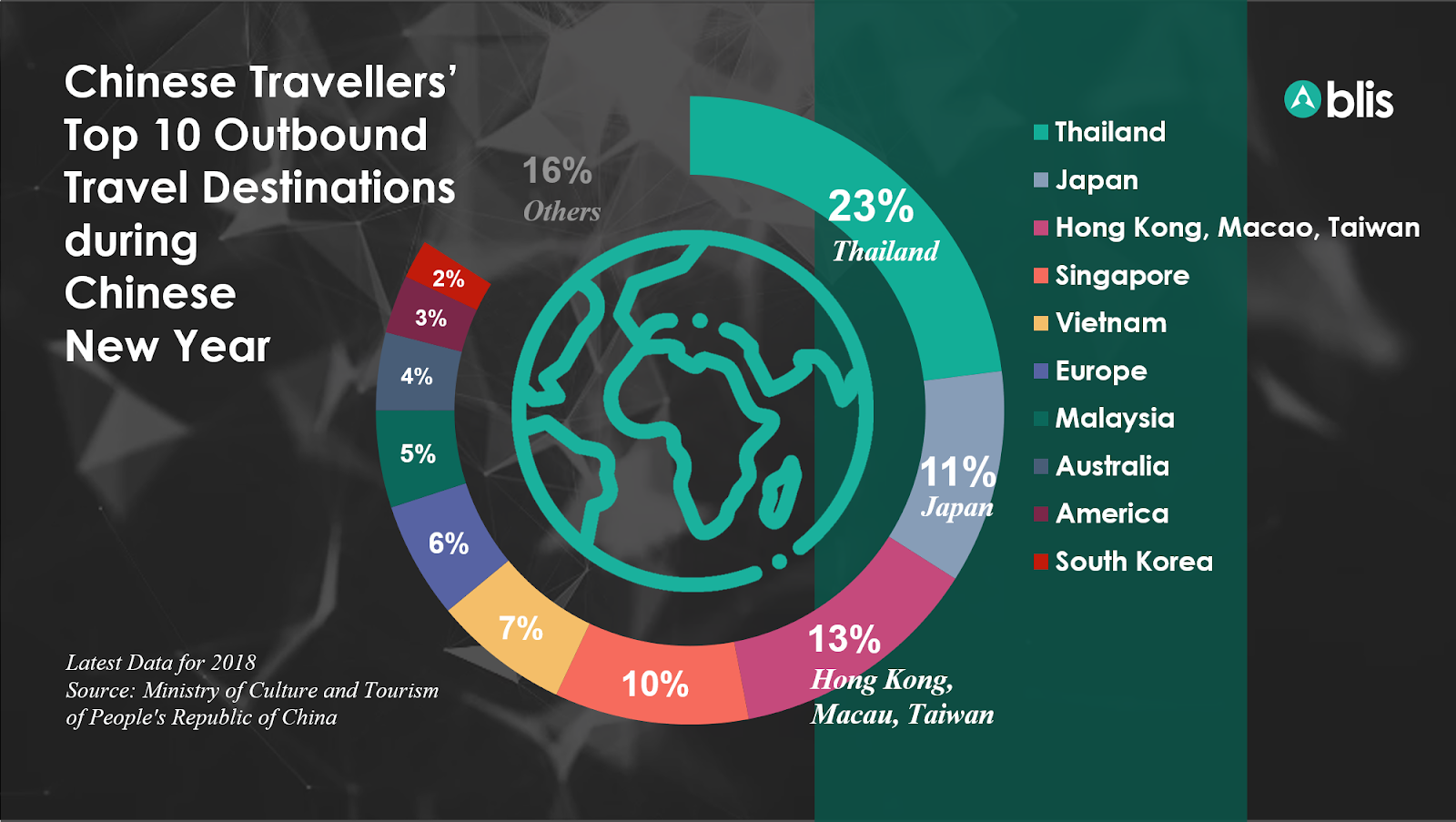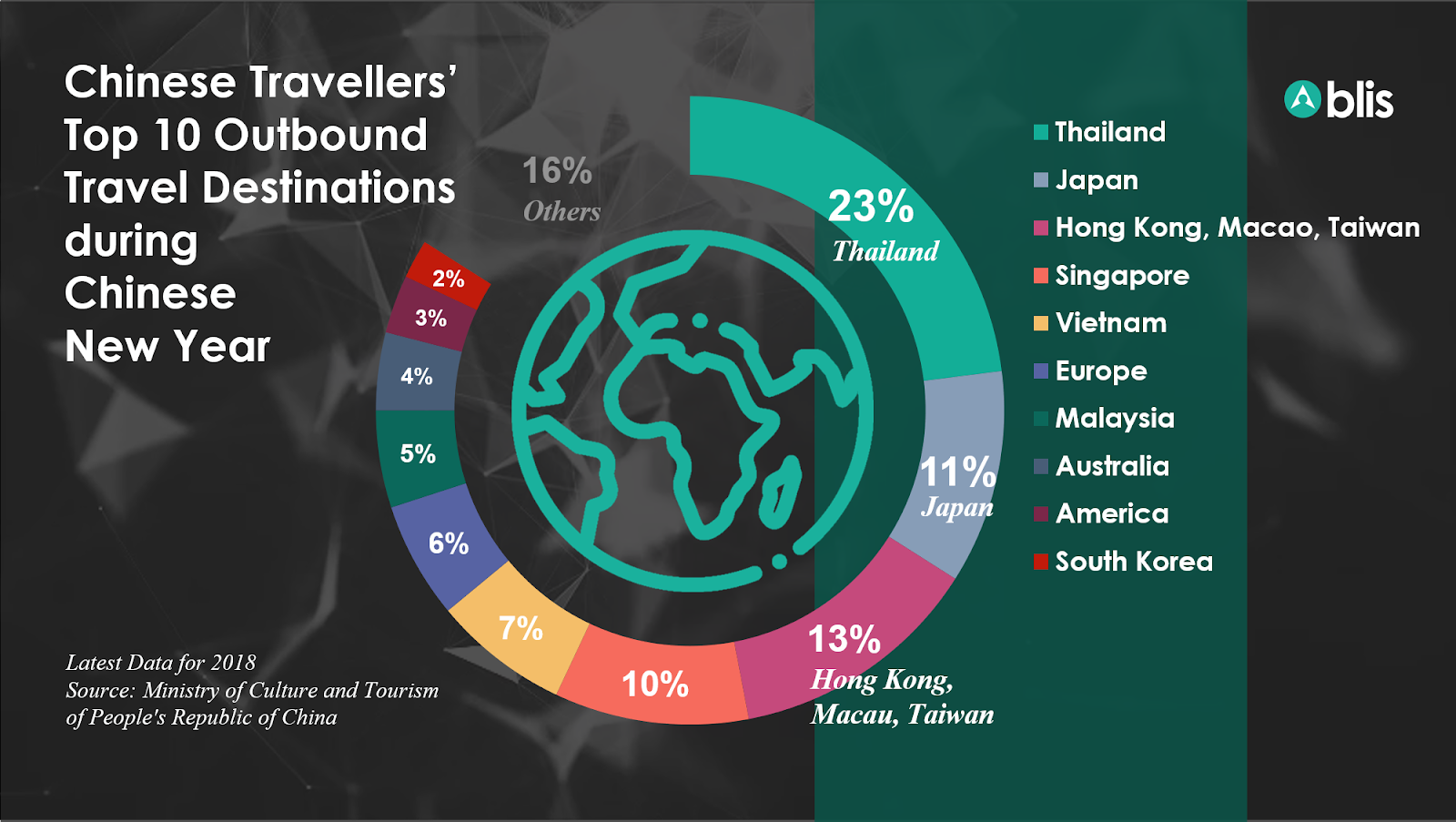 Distance of Travel Correlates with Appetite for Shopping
With so much tourism, particularly within Asia, both brands and retailers should be aware of the opportunity these travellers represent. McKinsey's report tells us that tourists who travel far abroad – to Europe and the US, for example – are more interested in the experiences offered by the countries they visit.
On the other hand, travellers in the mood to shop tend to stay a bit closer to home. As our own research revealed, more than half of CNY travellers opted to visit Thailand, Japan, Hong Kong and other regions within Asia. Marketers should take note – the tourists in your areas over the New Year are likely to be looking for deals.
Reaching Travelers on the Move
The significance of the opportunity for retailers and brands with respect to Chinese New Year should not be underestimated. And the ability to reach these travellers on the move becomes key. By geo-fencing airports, 5-Star hotels and famous tourist hotspots alike, marketers can reach, through Blis' Platform, mobile devices at these locations in real time and serve them relevant messages.
Marketers can also use locations to segment travellers by the tier of hotels they stay at, the price points of the restaurants where they dine, and the venues and theme parks where they visit. Keeping in mind that these are mobile-first shoppers, and that they are on the move, mobile is the channel of choice for both reaching these hard to reach audiences, as well as collecting data from them.
Tradition Meld with Technology
Targeting Chinese travellers on the move has now been made possible by technology. With this said, marketers should do their homework first and approach CNY marketing with the respect and celebration it deserves. Brands who understand the core values of family, well-wishes and festivity will succeed over brands who equate the holiday as a purely transactional opportunity.
We see you are preparing for Chinese New Year 2020 already! Get in touch today to help supercharge your campaigns.