Welcome to Get real with Blis, an educational week, where we're giving you a rundown of all things real-world intelligence. On day 1 we're looking at the main element, location data. What is it and where does it come from? Why is it important and how can brands use it to improve consumer engagement and deliver results?
The proliferation of smartphones around the world has increased our connectivity. The global adoption of smartphones is growing year on year and, according to Statista, the number of smartphone users in India is estimated to reach 442.5 million by 2022.
The humble device we hold in our hand every day has transformed how we interact with the world, providing instant information, directions, recipes, entertainment and more. These devices not only serve as a means of communication with friends and family but also allow us to engage directly with our favourite brands. 
Each smartphone can provide information about a users current physical location, facilitating better understanding of how audiences move and behave in the real world. 
So what exactly is real-world intelligence?
Real-world intelligence, derived from location data is geographical information about a specific device's position at a certain point in time. 
The data is generated from a location signal in external technology and then "speaks" directly with the device. These signals are obtained via:
Global positioning system (GPS) – This involves a series of satellites that orbit the earth which calculate location by measuring the time it takes for the signal to travel from the satellites to and from the device. 

WiFi networks use the strength of the signal to determine the location of the device.

Beacons work similarly to wifi as an indoor mapping technology, using signal strength to determine physical position.

Carrier data – Smartphones connect to cell towers to facilitate calls and messages. Using a system called triangulation, distances between the tower and device are measured to place the location of the phone. 
Each smartphone is assigned an identifier, otherwise known as a device ID. For Apple iOS this is called an Identifier for Advertising (IDFA) and for Android it's called and Android Advertising ID (AAID). These identifiers are then aggregated and the data is analysed to generate real-world intelligence about how customers are behaving in real-life.  
Where does it come from?
Blis collects and analyses location data via our proprietary Smart platform. Blis collects publisher SDK data – GPS data sourced from premium publishers and wifi data using it's scaling technology, Smart Scale. 
Smart Scale uniquely identifies and stores relationships between wifi IP addresses and specific geo-locations, such as an airport, stadium or university to provide accurate location targeting on a global scale.

SDKs, or Software development kit, are toolkits that enable the creation of applications and facilitates third-party functionality. 
This data is then verified and validated by Smart Pin, Blis' unique 10-step data cleansing process before it goes into our DMP. 
Smart Pin is a proprietary validation tool that detects, cleanses and eliminates fraudulent location data via a multi-stage filtration process.
Then we introduce other verified data sources including Smart Places, our points of interest (POI) database and trusted third-party data sources, such as demographic, socioeconomic and weather. We use first-party client data, to diversify and scale campaign reach. Delivering the highest-quality, location-powered real-world intelligence.
Our Data Management Platform (DMP)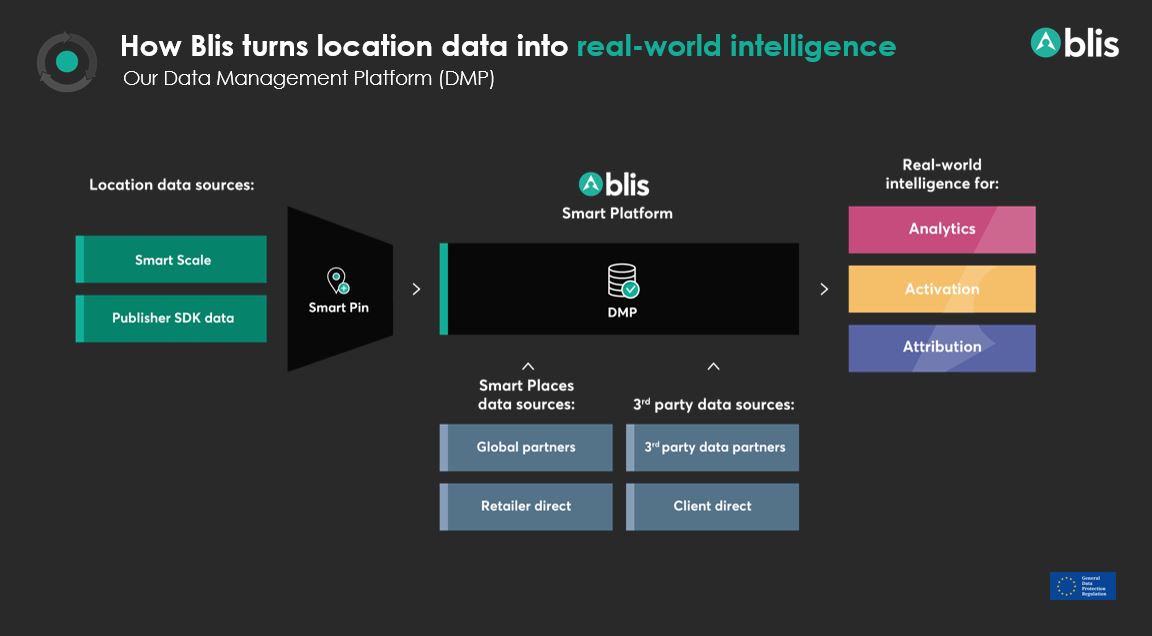 Why does this matter for brands?
As brands, this insight is hugely important, providing real-world intelligence in real time. This information helps marketers understand the intersection between people and places, charting behaviour patterns, habits and lifestyle indicators. 
Today's consumers live in a post-truth world. What we say and share with the world is not always a reflection of our actual lives. For marketers and brands seeking to build consumer loyalty and engagement and to drive foot traffic and sales, it is a mistake to rely solely on these curated versions of consumers presented online.
Using real-world intelligence helps marketers:
Get a real picture of your customers
It's only human to say one thing and do another and the digital world makes it increasingly more difficult to see what people actually do, not just what they say or show. Physical signals – what we see – are the truest indicators of intent because they are much more telling about consumers actual habits. Just because someone searches for a high-end car, or looks at a movie review, it doesn't mean they will buy that car or go to the cinema.
Reach customers at the perfect moment
Understanding when customers are most likely to be near your store, or your competitors, helps to understand competitive crossover and loyalty. 
Using real-world intelligence, brands can identify market challenges and opportunities to help inform business strategy and plan campaigns that deliver the most impact. 
Measure the correlation between your marketing, store visits and sales
Brands and agencies alike must be able to measure their return on investment (ROI) to prove the value of every marketing dollar spent. Using real-world intelligence across media plans will allow marketers to see the impact their mobile campaign has had on driving consumers into stores, the effectiveness of their OOH plans and placements and even the efficiency of their stores by looking at the correlation between product sales and store foot traffic.
Stay tuned for the next instalment of our educational week content. Throughout the week we'll be delving into data accuracy, transparency and blockchain.