As we settle into a second year of COVID, a lot has changed. And changed back. And changed again.
Every global region has handled the pandemic differently. In the US, the contrast has been especially stark. While some states have been extremely conservative in their measures to reduce the virus's spread, others have taken a more laissez-faire approach.
At opposite ends of this spectrum are New York City and Florida. While New Yorkers have been holed up in their apartments, it seems many Floridians have been enjoying the sun and surf without reservation since the pandemic began. This is particularly evident in how the regions have addressed school openings: New York City schools have been gradually reopening since November, with high schools reopening in late March. Florida schools, by comparison, have been open fully since August.
If we view schools reopening as a "Trojan horse" for the return to something like normal, it's interesting to see how the rest of the old routines follow. The Blis team endeavoured to look at how parents who walk or drive kids to school might return to the habit of getting a coffee on the way to (or from) drop-off. Will they order that morning coffee like they used to – and will it be a first step to getting back to the old routines? Will this gradual return to confidence produce a halo effect that benefits other sectors? 
We measured foot traffic to Starbucks and Dunkin Donuts in New York City and Florida over one-week periods each month – and two separate weeks in March 2021 – to observe the shift in greater detail.
Here's what Blis data revealed in New York: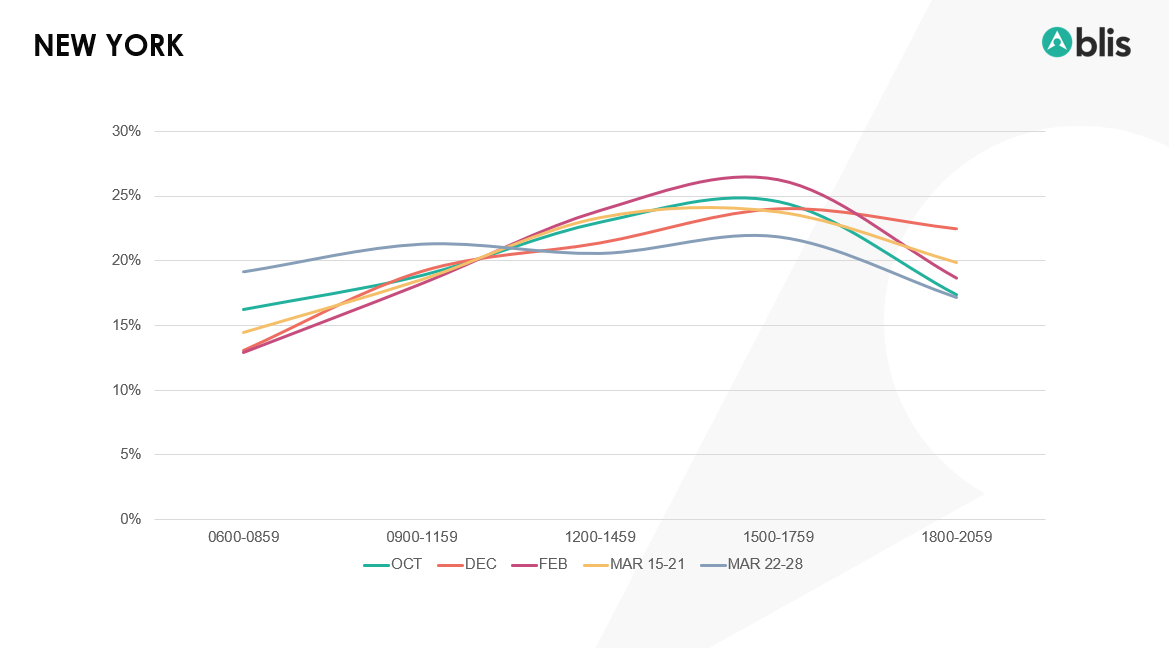 The blue line representing late March, when schools reopened, shows a rebalancing of visits towards the morning between 6:00 AM and 9:00 AM and then again between 9:00 AM and 12:00 PM, whereas in all the other periods measured during the pandemic, visits peaked in late afternoon.
Over the two weeks observed in March, there was an increase of more than 12% total daily foot traffic to coffee shops. In fact, early morning foot traffic exploded around March 22nd – up 48% compared to the same daypart the prior week.
In contrast, here's how foot traffic looked in Florida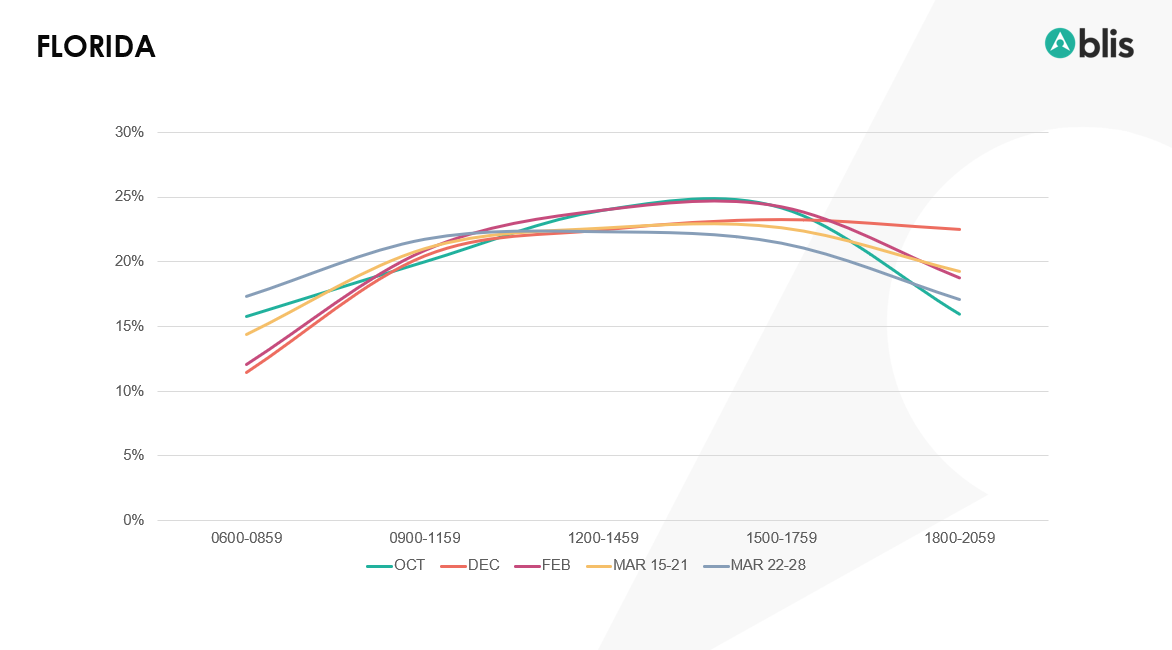 While the chart reveals data similar to New York, it is not as pronounced, and it certainly didn't change very much from month to month. The 12% hike we saw in March in New York was a jump of only three percent in Florida, and that massive spike in early morning traffic was halved – just 24% in Florida compared to 48% in NYC.
The good news for brands  in both regions is that people are starting to lose the sense of "taboo" they may have been feeling about venturing out for everyday luxuries like the morning latte. As vaccines in the US begin to speed up, there seems to be a light at the end of the tunnel for QSRs.
This will hopefully bring some optimism to brands, particularly in the quick-serve and fast-food sectors. Perhaps it's time for advertisers to begin front-loading impressions to the early mornings and leaning into proximity in addition to historical visits as traffic resumes.
Here's hoping this jolt of caffeine for the sector soon leads to  increased lunch and dinner traffic as Americans begin to slowly rouse and return to familiar behaviours.