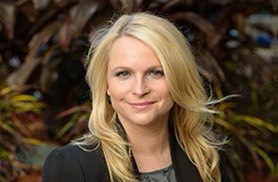 Today we will hear from Emma-Jayne Owens, our Managing Director in APAC. Emma-Jayne shared her thoughts about what #BreakTheBias means and how people can be better allies. 
What does #BreakTheBias mean to you?
It means a lot. As someone who grew up surrounded by strong role models and advocates for gender parity, moving the conversation forward to break down bias and inequity is critical. International Women's Day shines a spotlight on the issue of bias and it's a chance for everyone to join the conversation and make a commitment to action. Men and people who identify beyond the gender binary, should not be left out of the conversation either and are just as critical to breaking down stereotypes and discrimination as women are.

Breaking the bias makes a statement of solidarity and speaks to a more diverse and inclusive future. It means leading by example, being an ally and showing support as well as actively advocating for women's rights and equality by taking action as an individual as part of a group or an entire community.


What people can do to help #BreaktheBias or be a better ally?
First of all by acknowledging that gender bias and stereotypes exist. In many ways, these things have been deeply ingrained throughout  history and within society and culture, politics, economics and the workplace.

Calling out bias when we see it and hear it is a great start to making more progress. Having open, non judgemental and curious conversations that seek to understand someone else's experience makes an enormous positive impact. Individual efforts to call out bias can only take us so far though. That's why it's so important to build strong allyship through all communities. Advancing gender parity should be more than a cause for women by women.

And workplaces can play their part. Building a culture where feedback and discussion about bias is not only supported but celebrated, like we do here at Blis. Tracking metrics around salaries, performance and advancement and being prepared to take action when the facts show bias or inequity. Investing in training for awareness of both conscious and unconscious bias, starting with the way businesses recruit through to how they lead, mentor, promote and support talent within their organisations.

Fundamentally we are only going to #BreaktheBias if the approach is inclusive to all and if the commitment and actions to drive change are working together.