It was the most Australian of pandemic stories. After months of no community transmissions, it appeared that an infected man and his fruitless trek across Sydney to find a BBQ grill before Mother's Day almost single-handedly brought an entire city back into lockdown.
Events were cancelled, plans put on hold. Borders were closed, gatherings restricted and masks made mandatory again as governmental response was swift and severe. And presumably, the only grilling that occurred during that man's Mother's Day weekend came from NSW Health contact tracers.
This largely has been the (new) natural order of things. There has been a distinct rhythm to pandemic life – one of setback and recovery (and back again). In such a stop-start environment, it's any wonder that marketing approaches have been so varied.
So what should marketers do in such times? Over the past 13 months, Blis have been analysing the impact of the pandemic on consumer behaviour. Our most recent study conducted in February 2021 explores how consumers in Australia reacted during the setbacks – and what brands and advertisers should take note of during these moments. 
Reacting to setbacks
The first observation is just how different sections of Australian life have responded to pandemic setbacks. 
From snap lockdowns, border closures, to mandatory sign-ins in public spaces, government reaction has been one of caution. And it's fair to say that approach has been rather effective: in world terms, Australia (and New Zealand) has largely avoided the catastrophic infection rates that have devastated other countries. 
While evidence strongly suggests that this extreme conservatism has worked for governments, should we expect the same from businesses?
For most businesses, the pandemic experience has been incredibly difficult and uncertain. With survival so front of mind, it's little wonder that marketing approaches have been so mixed during this time. We've seen some extremely bold strategies. Other brands have been more considered. And still others have taken quite extreme and reactive measures, ceasing or postponing all marketing activity. This last approach is where we'll be focusing. 
This extreme conservatism is very understandable, but the question is, does it align with what consumers are actually doing? 
By freezing activity, it follows that certain assumptions are being made: that human needs and wants completely change during a setback and that any progress is lost entirely or reset. More critically, there's an assumption that consumers are waiting for a level of normalcy to return before re-engaging with brands and businesses. 
So, what does the data say?
Consumer confidence and sentiment
Let's first take a look into how Australian consumers have been feeling all this time. At Blis, we've been tracking consumer confidence for the past year across five markets as you can see in our Q1 pulse update. 
A cursory look at sentiment data reveals that, while the general trajectory for confidence in the economy and one's household finances has been trending upwards, the little troughs dotted throughout seem to roughly coincide with COVID setbacks over the past year.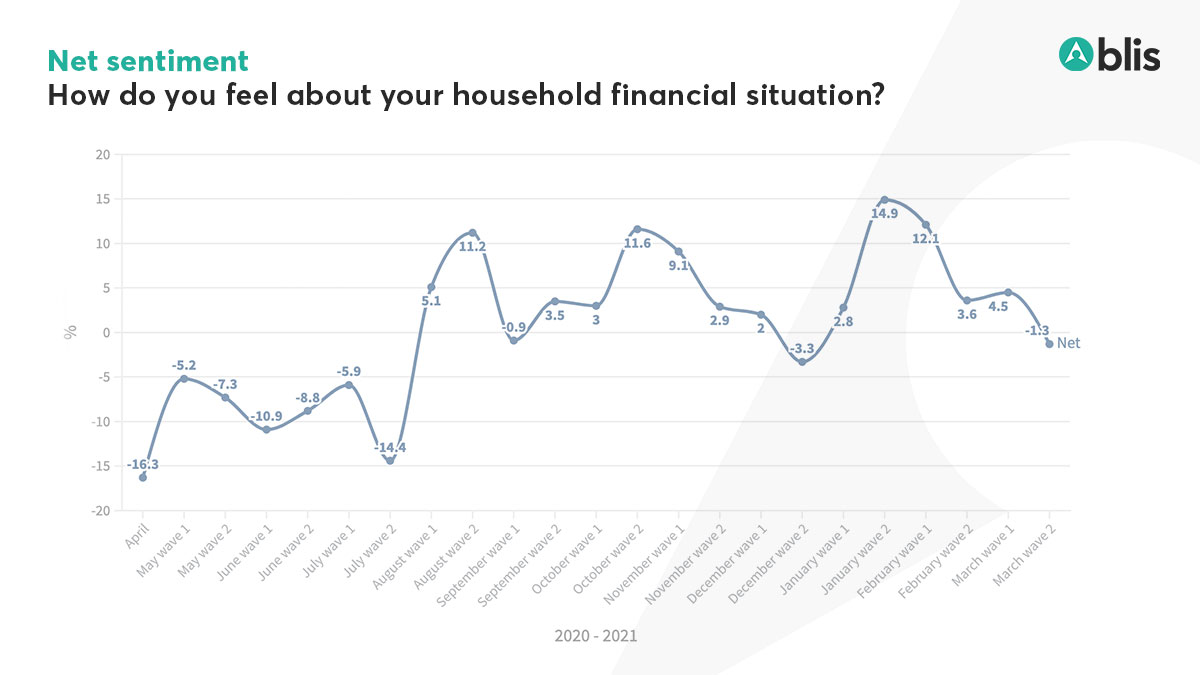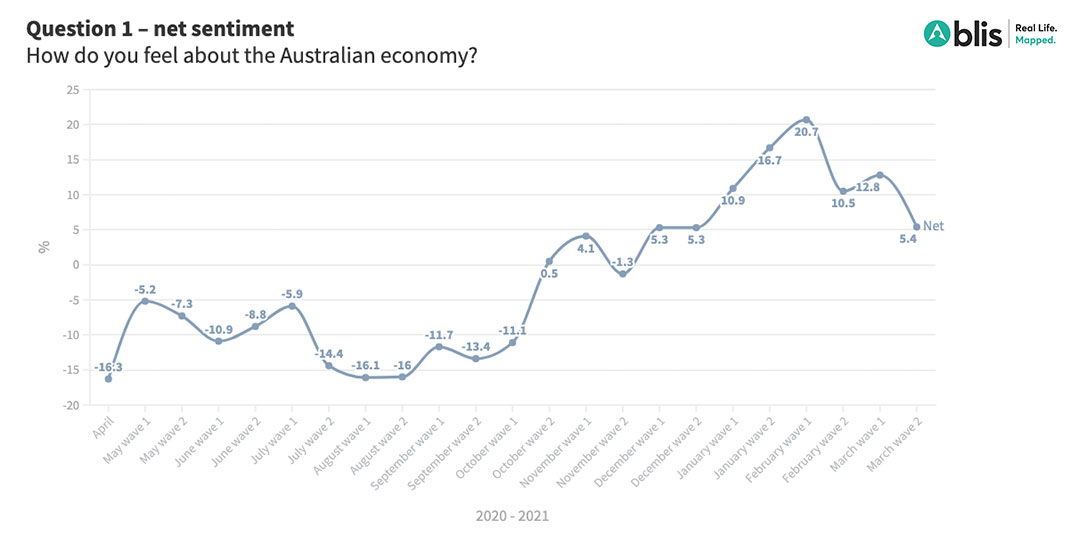 Even if we loosely accept that setbacks can affect sentiment, the question is, does it actually impact behaviour? Let's take a look.
Consumer behaviour – introducing the 'confident majority'
To measure changes in consumer activity, Blis measured footfall from a basket of retail categories across Queensland, NSW and Victoria, benchmarking to pre-COVID January 2020.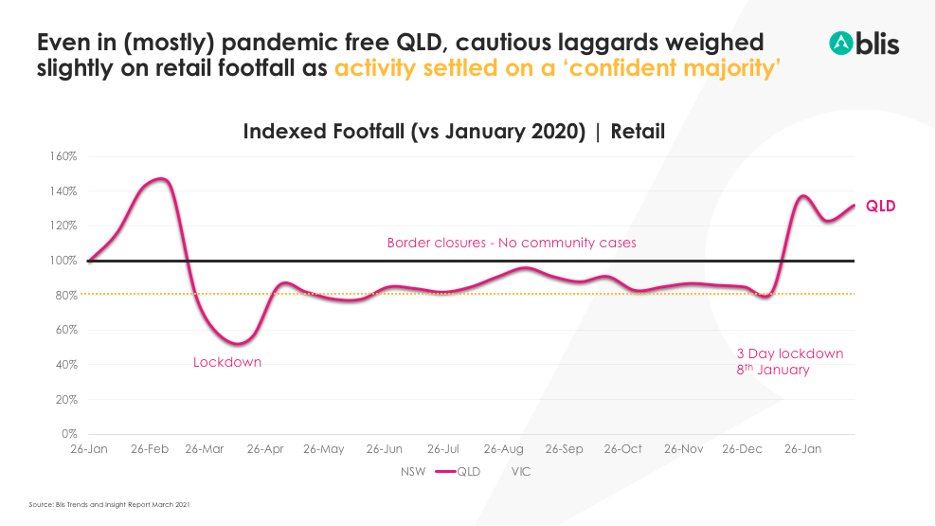 Like elsewhere in the world, Queensland saw a rush of retail activity right before the first lockdown as hoarding and panic buying took hold. During lockdown, retail footfall plummeted, as expected. 
But when the region came out of lockdown, footfall never quite returned to 'normal', hovering at a mark 10-15% lower than pre-COVID levels. This wouldn't be surprising if it wasn't for the fact that Queensland had little to no cases for most of this period.
It seems that just the hint of a threat was enough to keep a section of the community away, a segment we call "cautious laggards." On the flipside, footfall plateaued at around 85%. This "confident majority" kept up retail footfall and activity – and did so for most of the year.
The presence of a 'confident majority' appears in other markets too. In NSW, we saw a number of setbacks throughout the year. What was interesting about these setbacks was that activity never completely dropped off. The impact was not only minor, but footfall quickly returned, thanks again to that confident majority.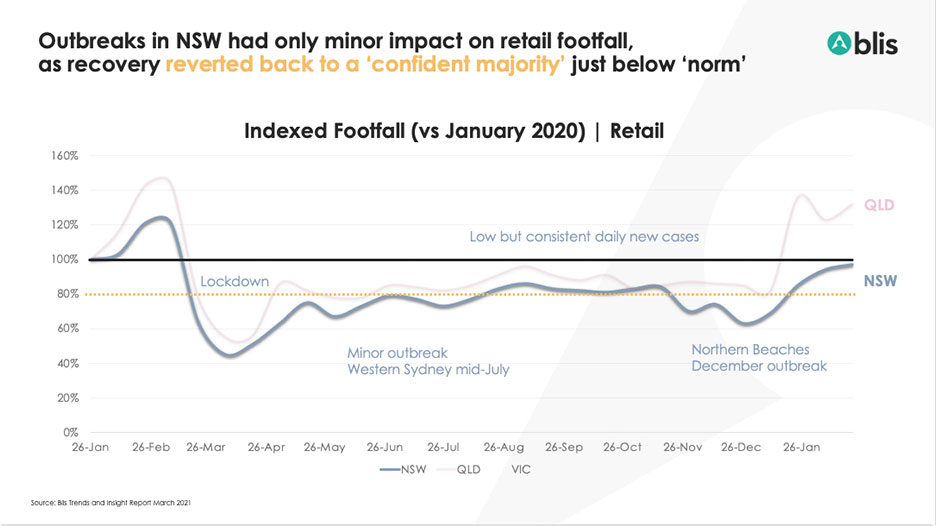 Victoria saw a much more severe second lockdown. However, when that eventually lifted, activity again reverted to a similar (albeit slightly smaller) confident majority.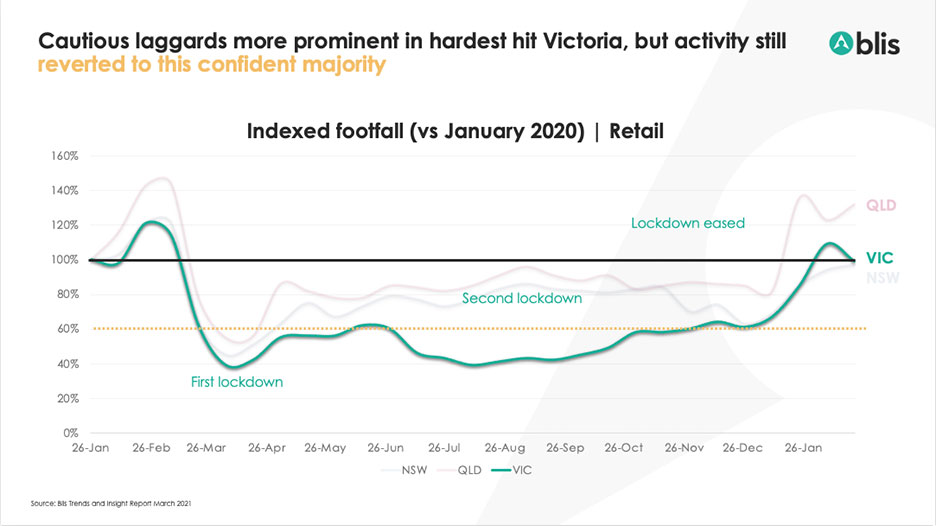 In the end, it took news of a comprehensive vaccine rollout – and two months free of community cases – for these laggards to catch up. Odds are, in the instance of another outbreak, they will be the first to exit the market.
Why should brands disengage, when consumers don't?
We can see that things don't typically reset or drop to zero during a setback. In each instance, there was a confident majority propping up activity almost immediately once restrictions were lifted. And chances are, even in "normal" times, this majority has always been responsible for the bulk of consumer activity. This begs the question, is there even a need to wait for laggards when the vast majority remain active? The evidence suggests not.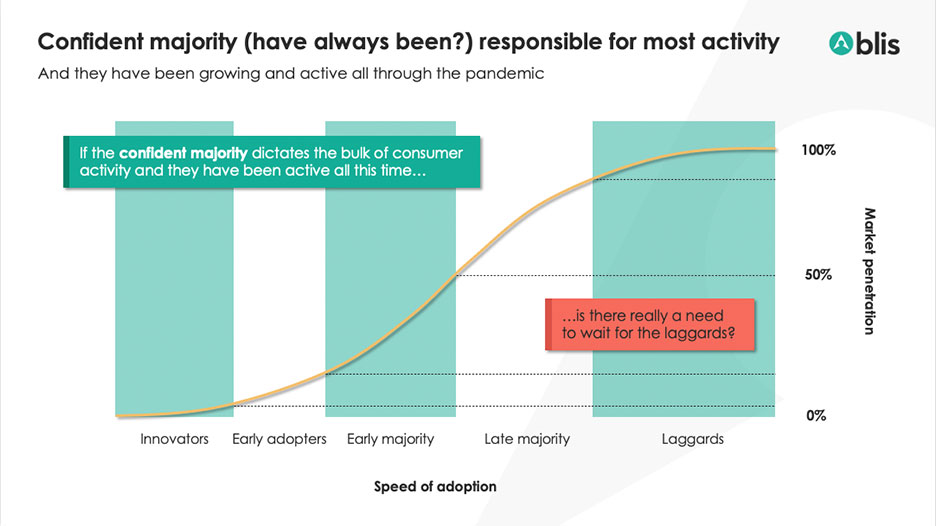 Returning to our original hypothesis, the directive for marketing activity during a pandemic setback becomes distinctly more clear: if consumers do not disengage, then why should brands?

Consumers have adapted to pandemic life. They will seek to satisfy fundamental needs and wants, even in a crisis. The vast majority of consumers do not disengage during a setback. In fact, the 'confident majority' seeks to resume consumer activity almost as soon as physically possible…
So rather than disengaging, or pausing activity, the most effective action for marketers during a setback is to remain engaged, and do so with a strategy informed by current audience and behavioural intelligence.
Use data and insights to understand and act 
In these times of uncertainty, quality data and insights can help provide clarity, and with clarity comes better decisions. At Blis, we do our part by leveraging reliable, accurate location data to get to the heart of what consumers are doing – and help the brands and businesses we work with to use those insights to take action.
If you would like more information on the above piece, or would like to discuss how our insights and data can help you during these uncertain times, we would love to hear from you at contactanz@blis.com.