Halloween is just around the corner, a time when millions of Americans will stock up on candy, costumes, and decorations. What other time of year do families open their doors to share freely with family, friends and, well, total strangers?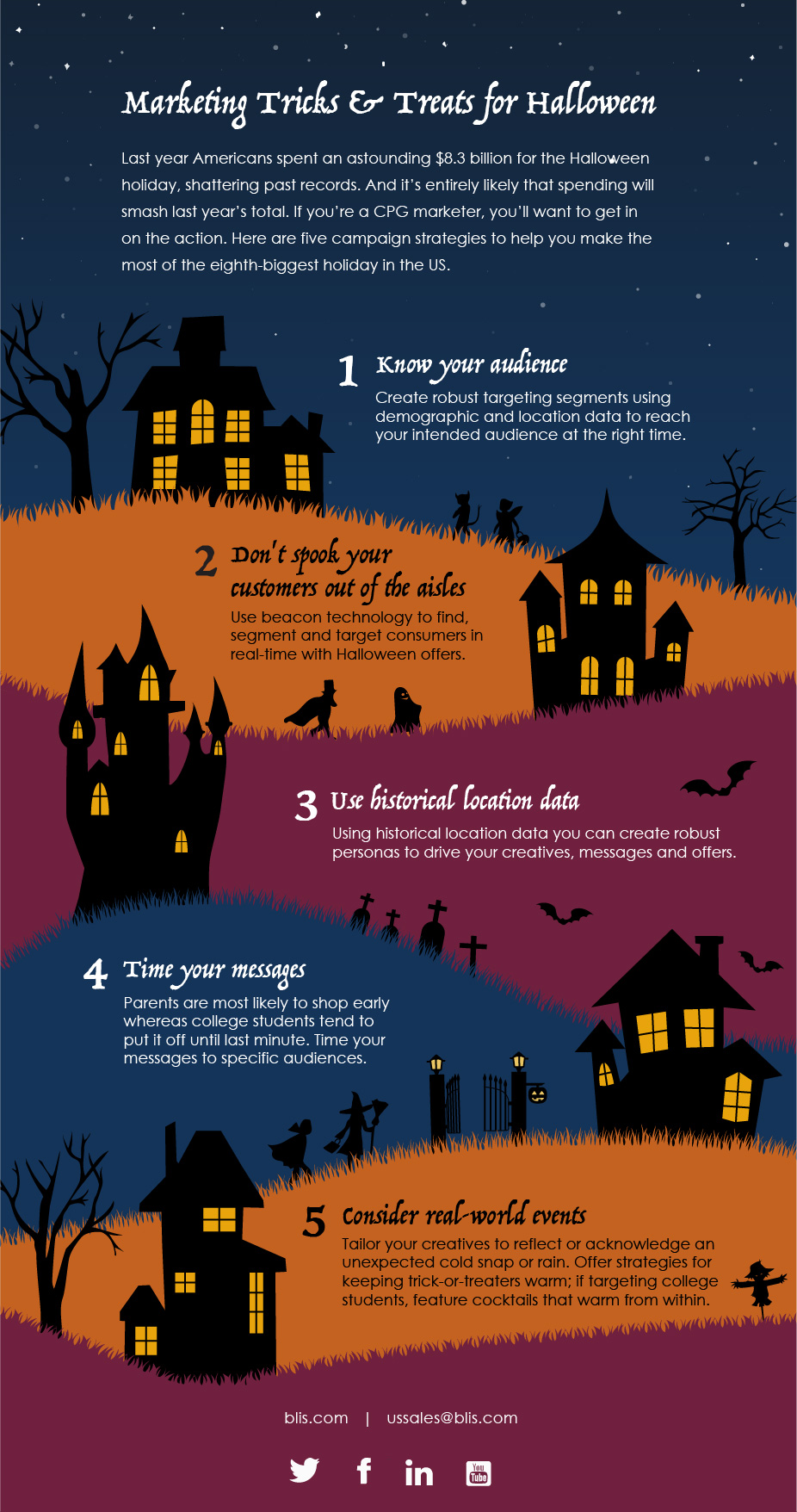 Thanks to the inherent generosity of the holiday, spending will be huge. Last year some 171 million Americans spent an astounding $8.3 billion for the holiday, shattering past records. And it's entirely likely that spending will smash last year's total. If you're a CPG marketer, you'll want to get in on the action. Here are three mobile location marketing campaign tactics to help you make the most of the eighth-biggest holiday in the US.
#1: Know Your Halloween Shoppers
National Retail Federation figures show 47% of people plan to dress in costumes this year, while another survey shows that 73% of households will buy at least one. Some 47% of respondents will buy them at Walmart, while slightly fewer (43%) will go online. Wherever they're purchased, online is an important channel for both inspiration and sales.
Costumes aren't just for kids – plenty of adults will don them at work, home and parties, and they'll spend an average of $31.03. Millennials take it even further, spending an average of $42.39 for theirs, thanks to the keen attention Halloween gets on social media. In fact, 28% of millennial's say Pinterest is their main source for inspiration, while another 23% look to YouTube.
Decorations and candy are purchased closer to the day itself, which means your window of opportunity is the two weeks prior. But don't miss it: research shows 76% of households will purchase decorations. As for candy, chocolate and soft candy are the preferred choice for 84% of households that plan to open their doors to trick-or-treaters. 78% of consumers plan to buy these in-store at Walmart. These items are purchased most often in store.
The takeaway? Let's start with the big spender: millennials. Research shows they spend their free time socializing in locations from trendy bars to art galleries. Create a targeting segment, based on demographic and location data, to reach them as they socialize. Your ads can serve as conversation starters, and get them excited about dressing up for Halloween. Follow up with mobile and social media retargeting during the hours they're most likely to shop.
Parents can also be easily segmented with behavioral, demographic, and location data, and there are ample opportunities for both online and offline retailers to reach them (see below).
2. Make Your Halloween Marketing Smarter
Consumers who've visited your brick-and-mortar store (or even your competitor's retail outlet) are excellent Halloween prospects. You can use beacons or sensors, to find, segment and target them in real time with Halloween offers.
You can also retarget them at home via any device connected to their WiFi, including their connected TVs (72% of households say they will watch Halloween specials on TV this October). This prime sofa time is ideal for delivering longer video ads that prompt consumers to your online store.
Historic location data is another targeting asset for marketers, revealing insights that help you create robust personas to drive your creatives, messages and offers. For instance, let's say location data shows a consumer visits a day care center twice a day, five days a week. We can easily assume that consumer is a parent, and will be receptive to ads for children's costumes.
Other data, such as historic location data and purchase history, can be used in sequential messaging across various locations, leading a consumer to point of purchase.
3. Timing is everything
October is a key time for purchasing all Halloween items, which means your campaigns should be planned, and your shelves stocked, at least six weeks in advance.
Parents are the most likely to shop early, which means your initial target audience will be audiences likely to visit kindergartens or schools. These shoppers will be interested in costumes, candy, and decorations for Halloween-themed parties.
Lots of people, college students in particular, tend to put off Halloween preparation to the last minute. Campaigns for this audience can wait until Monday 23rd, especially as Halloween falls on a Tuesday this year. Most parties (and therefore sales of alcohol and party food) will occur on Friday 27th and Saturday 28th.
Finally, consider real-world events in your targeting. For instance, you can tailor your creatives to reflect or acknowledge an unexpected cold snap or rain. Offer strategies for keeping trick-or-treaters warm; if targeting college students, feature cocktails that warm from within.
Halloween is the 8th-highest spending holiday in the US, and it's a theme brands have always had plenty of fun with. But you can up the ante by leveraging newer technologies, targeting consumers at the exact times and places they're most likely to consider their plans and ultimately purchase items for Halloween.