Memorial Day Weekend signaled that holiday travel is coming back in the US – but not across the board. Blis looked at California theme parks, Orlando theme parks, and the Las Vegas Strip (three American "playgrounds") to compare Memorial Day Weekend visitation data with April and May numbers. 
California theme parks were a clear winner. After experiencing one of the longest and most restrictive COVID-19 lockdowns, the state's theme parks enjoyed the benefits of pent-up demand. Over Memorial Day Weekend, California experienced a nearly 60% increase in visits to theme parks on Friday and Saturday and a nearly 30% increase on Sunday. 
While all three playgrounds saw visitation growth from April to Memorial Day, California stood apart. There was an average increase of 61% in visits to all three playgrounds, but the California theme parks enjoyed a nearly 200% positive change.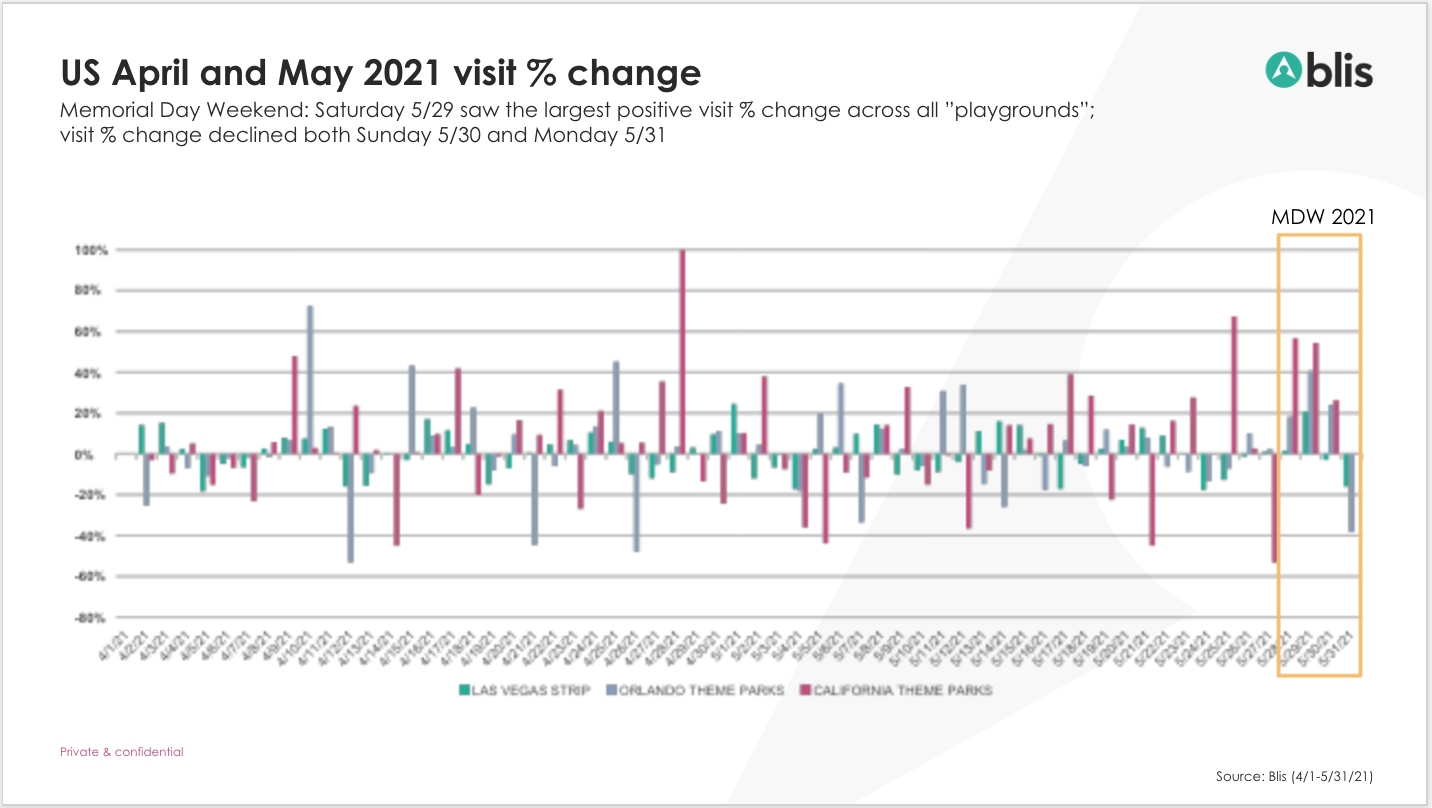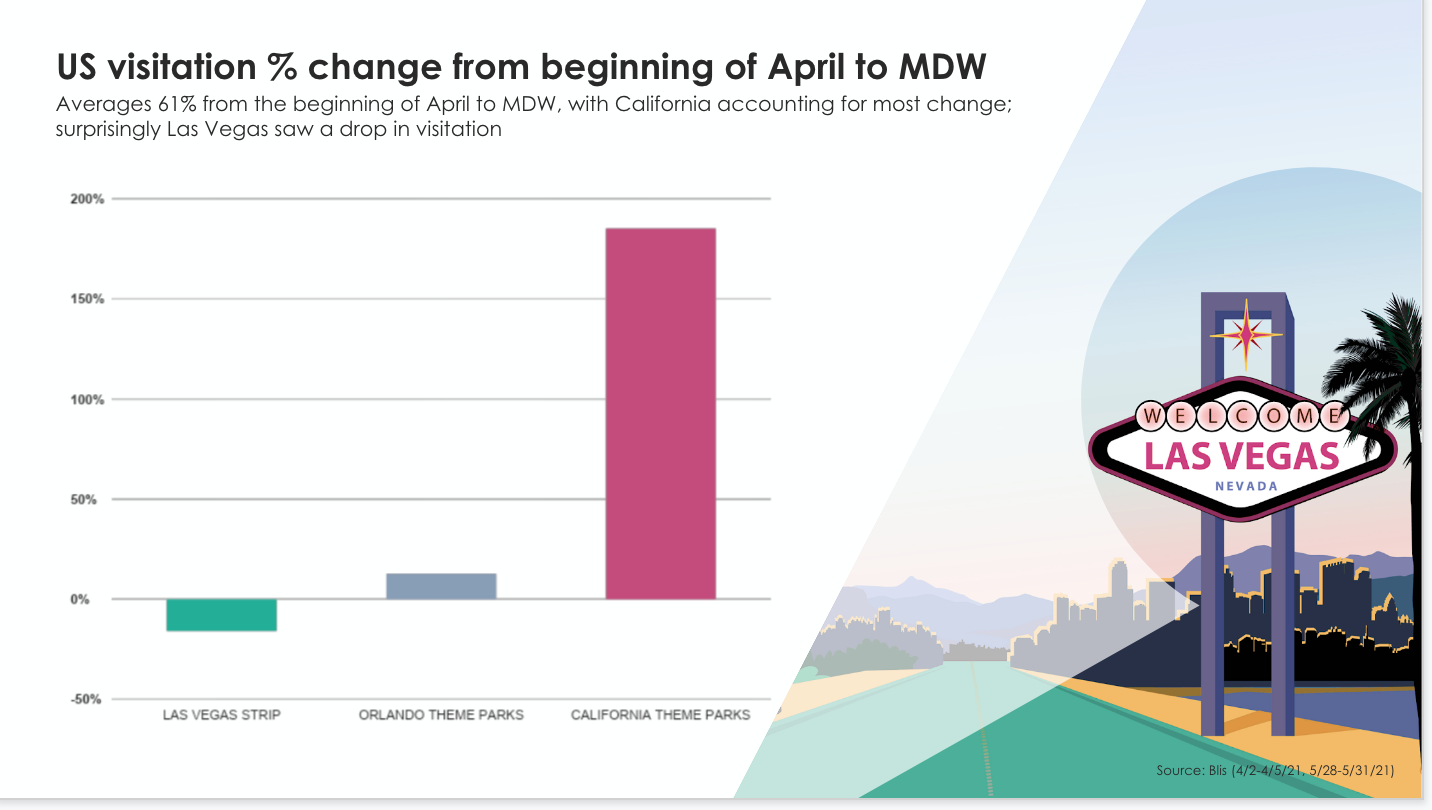 In Florida, Memorial Day Weekend saw a small boost for the parks–but not the kind of surge California enjoyed. Over the long weekend, Florida theme parks had roughly a 40% increase in visitation on Saturday, and on Sunday experienced an increase of over 20%. Since April, Florida theme park visitation numbers have only risen slightly, perhaps attributable to the fact that Florida has been open longer and the return to theme parks started months earlier. In The Sunshine State, park travel was less of a novelty across Memorial Day Weekend. 
However, interest across the Las Vegas strip on Memorial Day Weekend wasn't as high. Not only did the Nevada playground experience the smallest increase of visitation (about 20%) on Saturday, but the strip actually saw a decrease in visitation on Sunday and Monday of the long weekend. Of the three playgrounds examined, the Las Vegas Strip is the only one to experience a decrease in visitation numbers from April to Memorial Day Weekend. 
Beyond the sheer volume of visits, the data shows predictable trends in audience profiles. Visitors to Las Vegas primarily spend time enjoying nightlife and live sports, while visitors to California and Orlando theme parks are mostly interested in leisure travel and gaming & tech.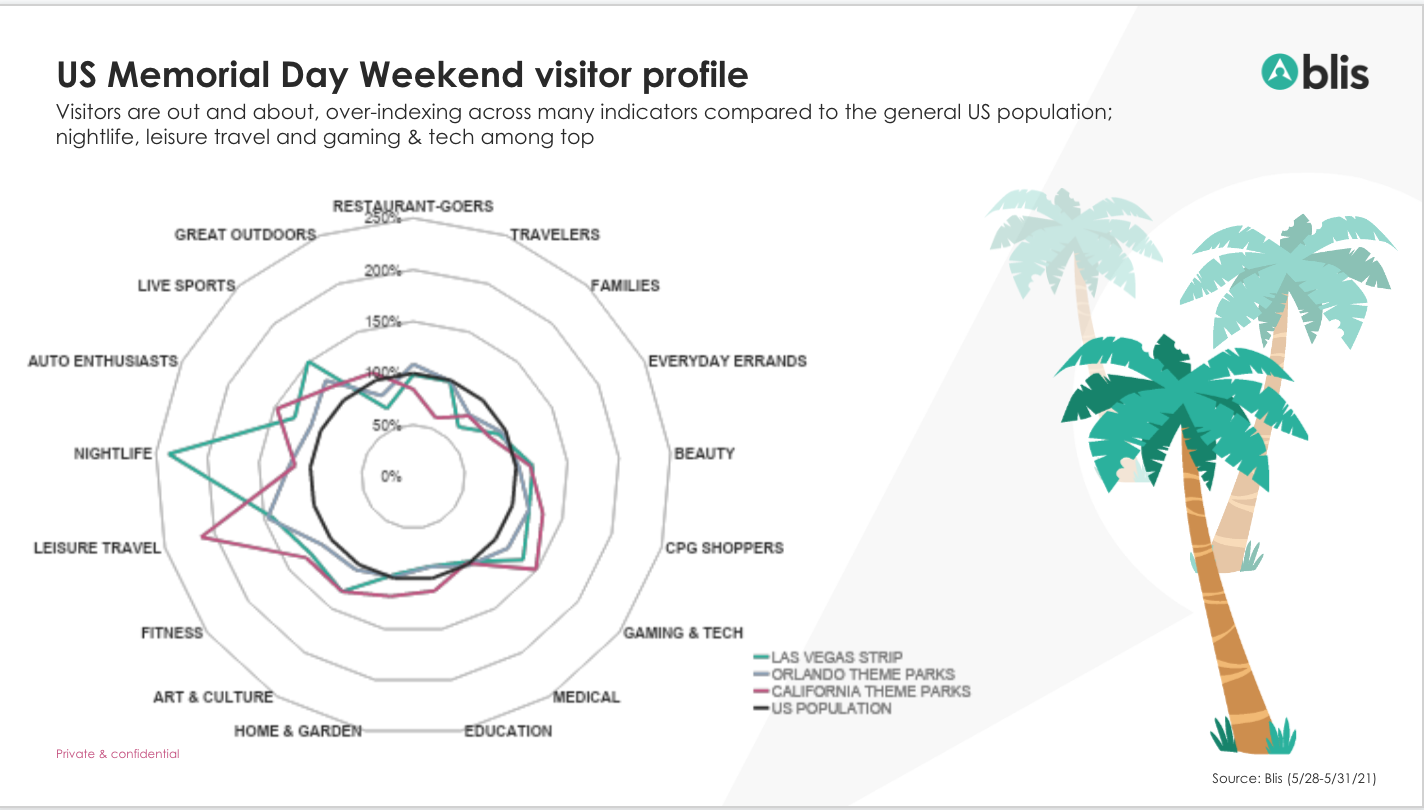 Memorial Day Weekend, traditionally the beginning of summer, suggests that Americans are still testing the waters of holiday travel but are getting comfortable leaving home again. The upcoming July 4th holiday will be the next big opportunity for businesses to take advantage of the American consumer's eagerness to return to recreation.