Download your copy of our State of the Nation: Auto UK whitepaper today!
The buyer's journey has changed dramatically in the last few decades, and while that's been most evident on the High Street, it's becoming even more apparent in the automotive market.
Auto Trader recently conducted research that looks into which types of media consumers use while car shopping. Unsurprisingly, the internet came out on top –  60 percent of a buyer's time is spending researching cars online. Most journeys start on third-party websites, but buyers also typically visit manufacturer sites, search engines, and finally, dealer sites. Ultimately, most buyers do go to a dealership – albeit after weeks of searching makes and models online – proving that the in-person experience is still a crucial part of the shopper's journey.
Deloitte estimates that 70 percent of UK car shoppers in the EU take less than three months to purchase a car; our research indicates that 10 hours of that journey are spent online. That provides ample opportunity for automotive marketers to persuade shoppers to come to their dealership – and real-world intelligence can play a crucial role in influencing those shoppers. When you consider that 70 percent of shoppers intend to purchase from the first dealership they visit, it's clear that marketers need to make it a priority to attract shoppers to their showroom.
Blis' report reveals that 84 percent of car buyers use their mobile device in the car buying process and nearly half of shoppers browse their mobile while in the dealership. This clearly demonstrates the power of location, as it gives brands and dealerships the ability to find and target those consumers who are actively looking to buy a new car. Whether that means geofencing the area around a dealership, targeting shoppers who have been to competitor dealerships or retargeting customers who've visited your dealership – or another tactic altogether –  location will play a critical role in closing the deal.
Blis research, included in our State of the Nation Automotive report, demonstrates the importance of leveraging location data to drive footfall to the showroom.
Over the last three years, there has been a gradual fall in the number of car sales in the UK.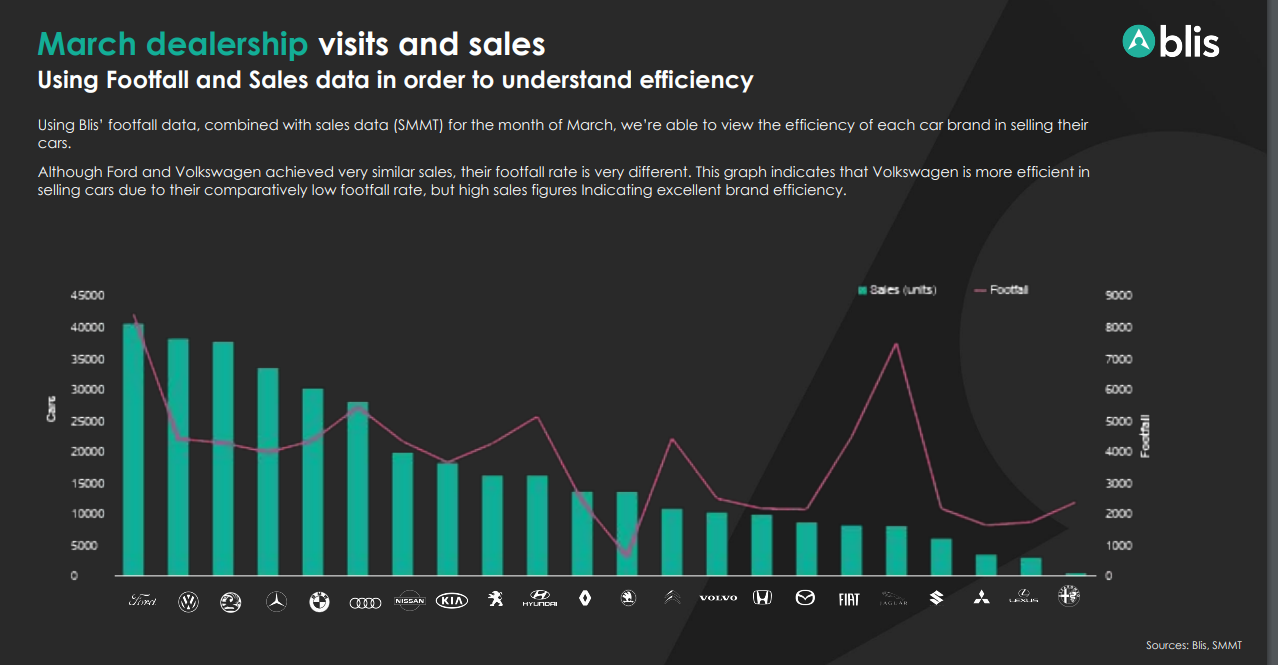 In March of 2019, combining our footfall data with sales data (SMMT), we were able to view the efficiency of each car brand in their sales and marketing efforts. Although Ford and Volkswagen achieved very similar sales (units), their footfall rate is dramatically different. The graph indicates that Volkswagen is more efficient in selling cars. While it displays a comparatively low footfall rate, Volkswagen's high sales figures Indicate excellent brand efficiency. Ford, by contrast, requires a significantly higher footfall to achieve only slightly higher sales.
So how can automotive brands become more efficient, and convert their footfall into sales more efficiently? Download our State of Nation Automotive Report to find out.
In this very challenging era for automotive, it is essential to understand how online is impacting the customer journey and what brands can learn from mobile. Using location data and the real-world intelligence that can be gleaned from it, automotive brands and dealerships can gain the insight they need to drive more foot traffic and convert that traffic into sales.