Is it necessarily detrimental for your brand's audience to also shop around elsewhere? Should brands aim for greater loyalty or can a less adventurous customer base actually limit you?
In marketing we are conditioned to value building and retaining brand loyalty, so it may seem counterintuitive to consider the potential benefits of customer promiscuity – the propensity for customers to visit competitors/alternative choices. In a recent footfall study of Australia's automotive category, Blis explored these concepts by analysing visitor crossover between dealerships to uncover clues as to what promiscuity means to brands.
The core value of customer promiscuity is that it is a real-world (read: physical) measure of a brands similarity and association to other brands.
If a potential car buyer is seen in both a BMW and a Honda dealership, on an individual level there must have been sufficient points of similarity between both brands that has placed these makes in the same consideration 'basket'. On a macro level, understanding the crossover of footfall between brands can provide an objective and measurable gauge of this association in a real world way – and as Blis discovers – there are real-world incentives to getting this equation right.
Context: auto-intenders increasingly value/price conscious in bearish economic times
For the automotive category, April 2019 marked the thirteenth consecutive month of year on year decline in new car sales, an unwelcome continuation of the annus horribilus that was 2018. This downturn reflects growing economic uncertainty as households are increasingly hesitant to spend and spend big, with the RBA taking unprecedented measures to stave off recession.
It is in this bearish context that potential car buyers have become more price and value conscious, directly translating into a discernible shift away from more 'premium' and mid level tiers to more 'affordable' offerings. While the likes of Audi and Mercedes-Benz (down -12% and 7% year on year respectively) saw significant downturn in sales, it was typically more affordable makes such Honda and Kia (+10% and +8% YoY) that experienced any type of growth. Volvo was the one outlier in the 'higher end' tier, reporting a +43% YoY increase in sales.
What are these brands doing differently (implicitly or otherwise)? What clues can footfall patterns to and from dealerships uncover that might help explain these results?
Using proprietary technology that accurately measures and analyses smartphone location data to understand footfall and audience crossover, Blis observed how customer promiscuity can mean vastly different things depending on a brand's price point and tier.
Close comfort: The value in being similar
The brands that drove footfall most efficiently are the same brands that saw their sales grow in 2018, despite market conditions.
Two of these brands, Honda and Kia continued to be the most efficient at driving footfall into dealerships in early 2019. A closer look at the promiscuity of their respective visitors reveals two contrasting approaches.

Making your brand distinctive is a goal for most brands, but for car makers in the more affordable tiers, there is value in a greater perceived similarity to more high-end offerings.
Honda has become a positive case study for having high visitor crossover with brands at a higher price point, taking advantage of a unique market opportunity where consumers are downgrading their expectations.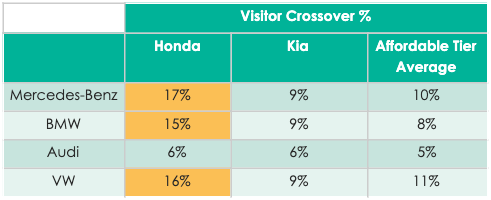 A high crossover with higher end makes such as Mercedes-Benz (17% of Honda visitors were also seen at a Mercedes-Benz dealer), BMW (15%) suggests that there is a degree of perceived similarity among consumers between Honda and these brands that is less prominent for others. By increasing its similarity to more premium makes, Honda has successfully inserted itself into the consideration of 'compromisers'- buyers that would have purchased a higher-end vehicle, but either can't afford to, or are unwilling to spend more in the current market.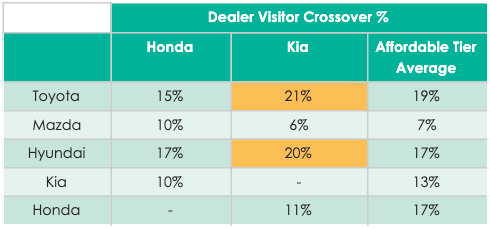 Kia on the other hand has a high crossover with the two biggest 'affordable' brands, Hyundai (27%) and Toyota (20%). It is essentially raiding from the biggest players in the affordable car market, drawing visitors away from the traditional leaders – and it looks like they are converting since the result has been positive sales growth.
But could they be doing more? Low crossover with brands that are more expensive suggests that they are still shut out of that specific conversation, and in a market where consumers are downsizing their expectations and becoming thriftier, there is a clear growth opportunity.
In the mid- to high-end European tiers, Volvo stands out for its marketing efficiency (very high footfall by dealership) but of even greater interest is its visitor promiscuity.

Volvo has a very low crossover with both immediate (Mercedes-Benz) and indirect rivals (Honda). Is this a good thing? Strong loyalty certainly eases the pressure on converting: Volvo is substantially less likely to lose intenders to other rivals and therefore more likely to convert visitors into customers.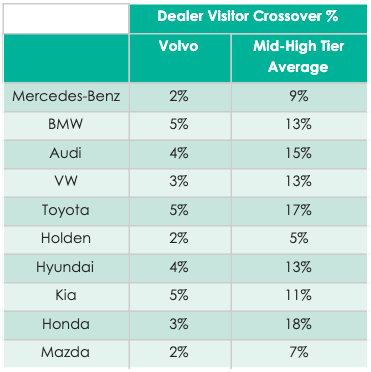 On the flipside, low crossover with other rivals (and vice versa) can also be detrimental. While there is a lower chance of being conquested, Volvo is also less likely to be considered by intenders looking at rival offerings. To move outside, Volvo needs to find ways to enter into the consideration set of shoppers visiting rivals.
Leveraging Real world intelligence
Real-world intelligence powered by mobile data can deliver the insights marketers need to understand which customers are in-market, as well as the conditions influencing their purchase decisions right to point of conversion.
Given that smartphones are a consistent, constant companion in the auto purchase journey, brands now have unprecedented opportunities to engage at the right moments:
9-in-10 car-buying journeys begin online, and 84 percent of shoppers use a smartphone during the process. 1
In total, the average automotive shopper spends about 10 hours engaging in online research.2
Half of shoppers use their mobiles while they're in the dealership.3
It is the same technology which allows platforms such as Blis the ability to measure, analyse and derive insights from footfall patterns in the real-world. Regardless of vertical, a firm understanding of customer promiscuity/loyalty and footfall can provide actionable insight on how to engage intenders at every stage of the purchase journey, from early stage researching, converting visitors, conquesting rivals, to bringing visitors back — the right mobile real-world approach can make a critical difference.
Like what you've read? For related Auto content, please download our State of the Nation 2019 Reports: US Automotive State of the Nation 2019 and UK Automotive State of the Nation 2019.
Learn how real-world intelligence can drive real results and get in touch today.
---
1. Automotive Insights- HPS Group, Weve Primary Automotive Research 2017
2. Ernst & Young – Automotive Retail 2030, 2019
3. Automotive Insights- HPS Group, Weve Primary Automotive Research 2017