Throughout 2020 we've seen how different nations around the world have reacted to the challenges brought about by COVID-19. Some countries, like New Zealand deployed strict national lockdowns and intensive contact tracing, while others like Sweden took a softer approach. The Netherlands, sat somewhere in the middle, with the introduction of an 'intelligent lockdown' earlier this year and a harder lockdown this winter. 
In this post from 'The changing behaviour series' we look at grocery shopping patterns in The Netherlands during two lockdown periods to understand foot traffic and loyalty for retailers in the sector. 
Compared to early February, foot traffic to grocery stores has generally declined. When we compare the effect of the two lockdowns we see quite different patterns of behaviour. During the initial lockdown, footfall declined quickly and remained very low for the duration. After measures relaxed, consumers did return to stores, but never more than to 50% of pre-COVID levels. 
During the current lockdown, consumer footfall did decline, but not to the same level as the first lockdown. Furthermore, it had already begun to increase, as Dutch residents grew accustomed to the extended restrictions and gained confidence in taking more risks.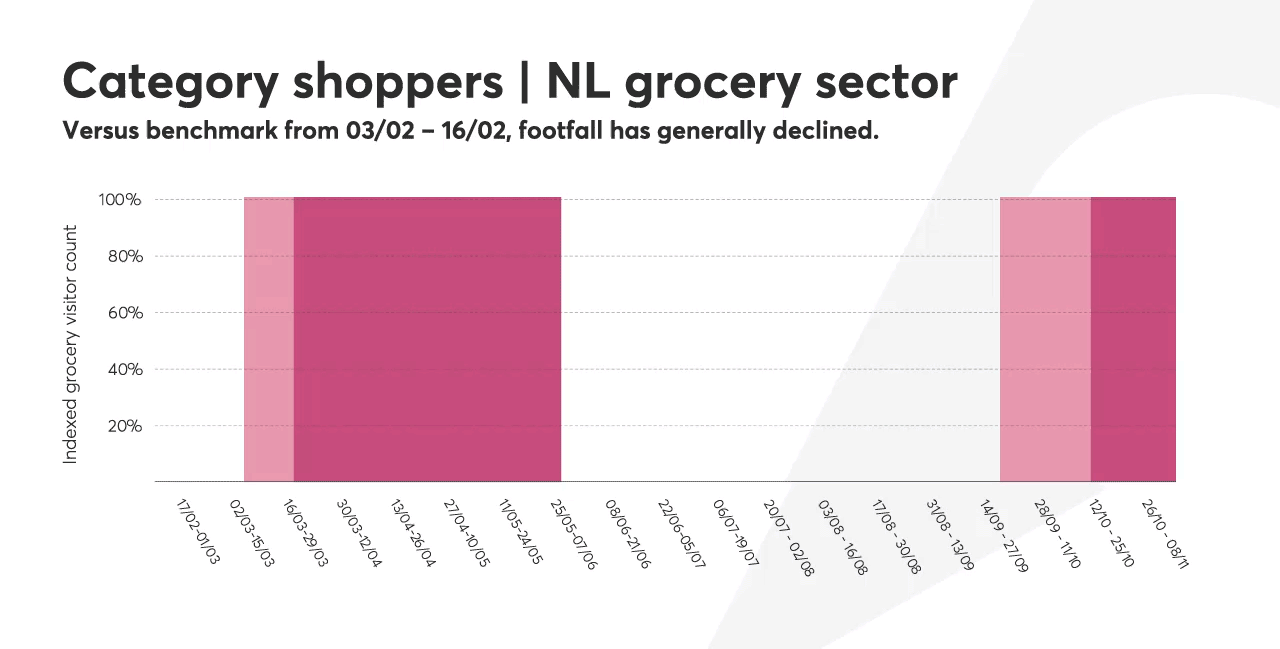 When it comes to consumer loyalty to a particular store, we've seen an increase of consumers returning to the same store during the COVID period in general. During the first lockdown, loyalty increased quickly once strict restrictions were implemented. As consumers had less freedom of movement and were being encouraged to limit the time they spent outside of their home, this increase makes sense and mirrors what we've seen across other European and international markets. When they did go out, they were more deliberate in where they shopped. 
After the initial lockdown ended, we see a dip in loyalty as people seem to have rushed back out to enjoy their new-found freedom and choice of where to shop. Despite this, loyalty remained high, as lockdown habits proved difficult to break and people remained cautious when returning to stores. In the current lockdown, loyalty initially increased, as it did in April. The difference this time is that it seems consumers are experiencing lockdown 'fatigue', and loyalty has started to dip, much earlier than before.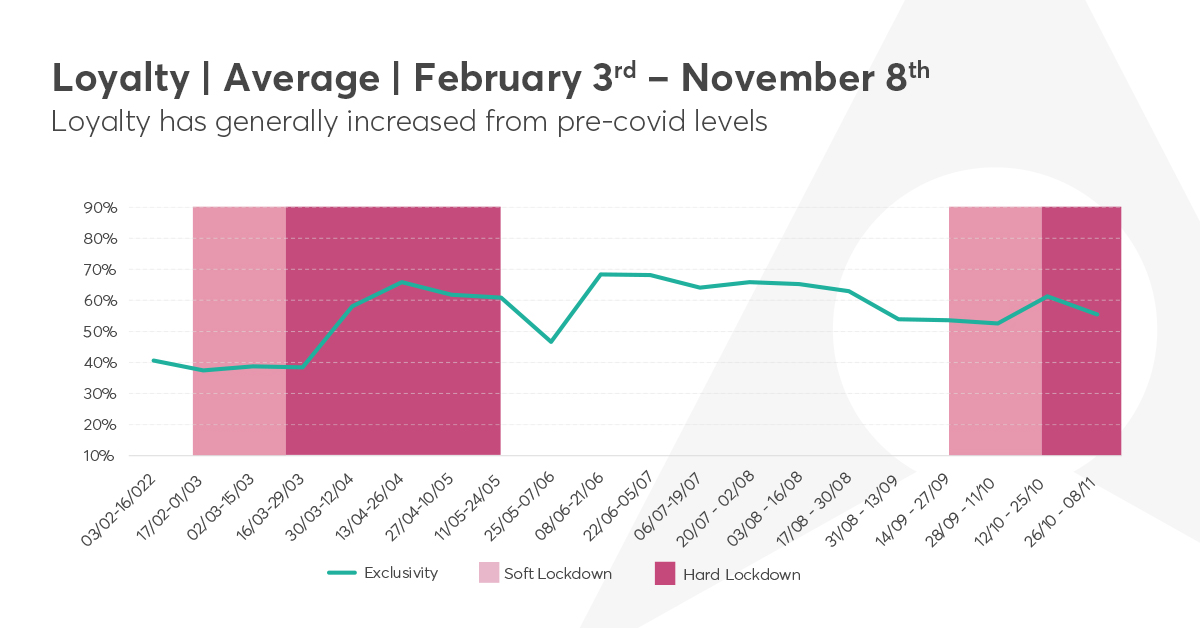 While the convenience sector is experiencing higher levels of loyalty, large supermarket chains are seeing the lion's share of foot traffic. Of these chains, PLUS has held the greatest share throughout 2020, with Albert Heijn seeing similar visitation levels, specifically in this latest lockdown. While considerably lower, discounters, Aldi and Lidl, are the next highest with 8% and 10% respectively of all sector foot traffic. Lidl has seen a threefold growth between pre-COVID levels and current levels. As the pandemic continued through the year, more consumers looked for a cheaper alternative, which may continue into the new year.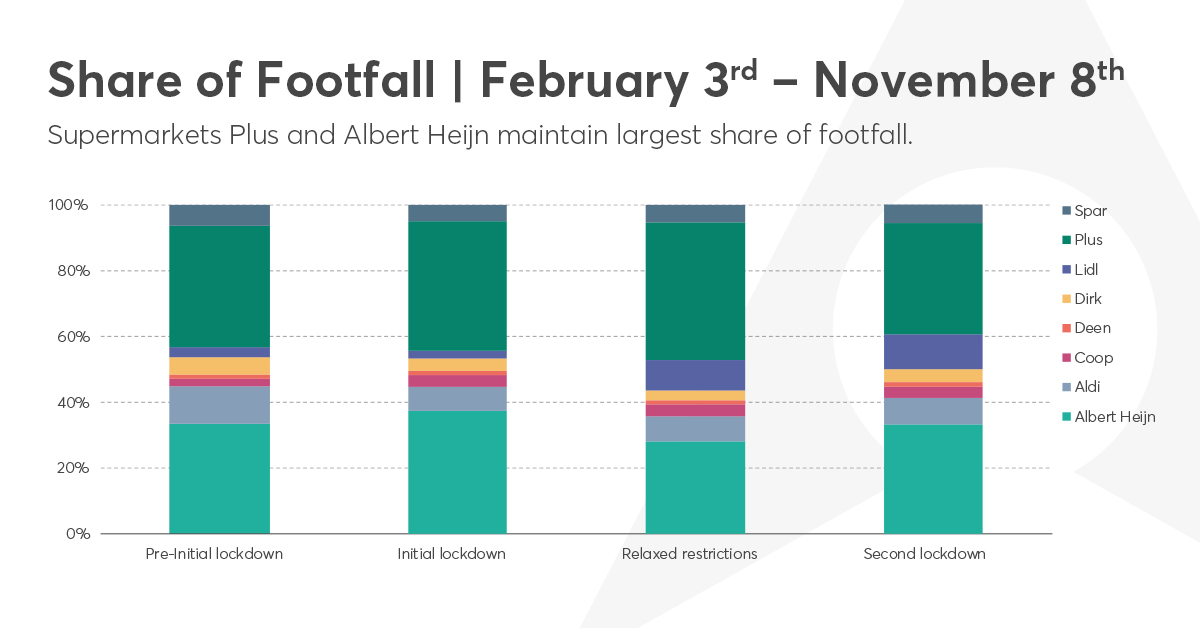 3 key takeaways for grocery retailers in The Netherlands
Targeting competitor's customers with relevant messages could help to grow your customer base.

The grocery market in The Netherlands used to be very open, with only about 40% of shoppers 'loyal' to stores before COVID hit. Since the first lockdown, loyalty has increased significantly, meaning that stores can no longer rely on passive footfall to stores.  

Focus on getting the basics right.

Consumers are demonstrating their willingness to shop in stores, even during a hard lockdown. Making sure that you are communicating how you're keeping them  safe while in-store is now an essential. Maintaining clear and consistent messaging will help attract them back.

Although large supermarkets PLUS and Albert Heijin still see the greatest share of footfall, discounters Lidl and Aldi are growing their market share.

This could spell trouble for other retailers, as these cheaper alternatives grow in popularity.