'The changing behavior series' looks at trends and observations as our team around the world see them in the coming days and weeks. In this post we take a deeper dive into how consumers across the US are adapting to what has quickly become the temporary "new norm".
COVID-19 is undoubtedly changing consumer behavior as people shelter at home, limit outings and practice social distancing. The impact of this has restricted shopping to visits to neighborhood businesses or venturing online. Indeed, businesses of all kinds, from restaurants and bars to airlines and department stores across much of the US have been shuttered with unknown reopening hours.
By monitoring foot traffic patterns across hotels, airports, grocery stores, QSRs, big box, pharma, auto dealerships and apparel retailers we noticed some obvious, but some interesting findings. We saw significant drops of up to 70% in apparel retail from March 1st to March 12th, when the number of cases in North America grew. Grocery and big box stores held relatively steady compared to other industries, as Americans stocked up on essential goods. Yet, as time continues and restrictions get tighter, the trip to the local store will likely become even more difficult to risk, and grocery app downloads in particular are already seeing record spikes.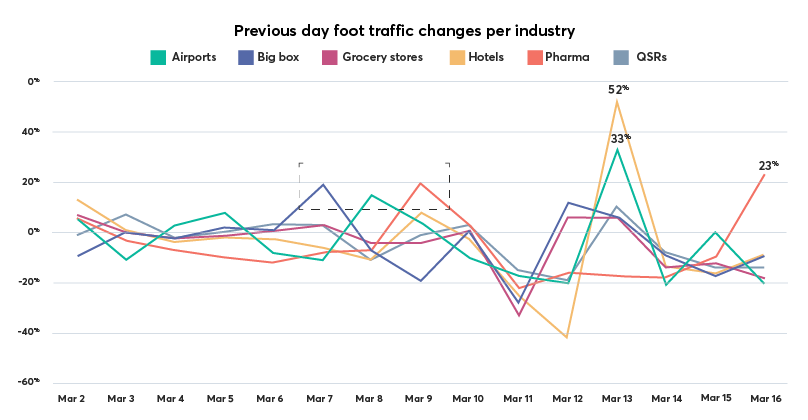 *Blis research showing daily foot traffic changes per industry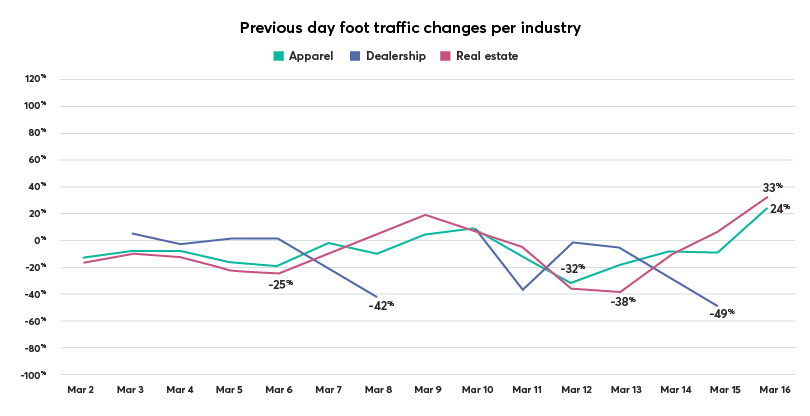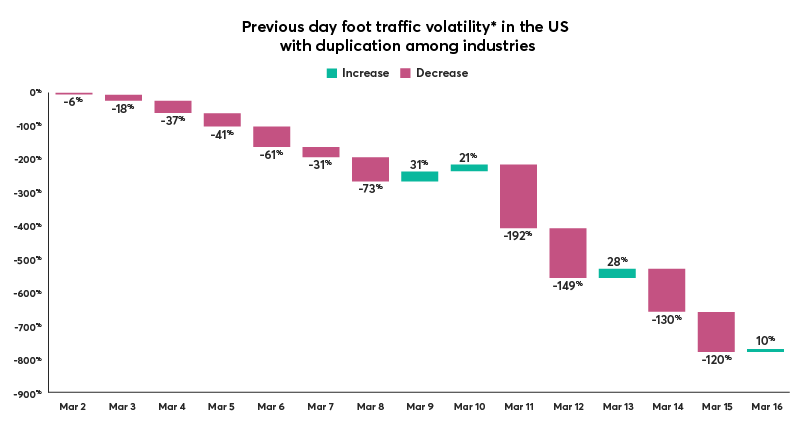 *Changes experienced versus the previous day. Base day as of March 1st 2020. Data excludes dealership foot traffic change from Sunday to Monday as it projects an outlier behavior.
Despite the observed downward trend in foot traffic, media consumption patterns are shifting as Americans spend more time on their phones — which is why brand share of voice is more important than ever. In the past two weeks, we've witnessed a 130% uplift in click-through-rates (March 9th to March 22nd), indicating that consumers are more engaged with their devices.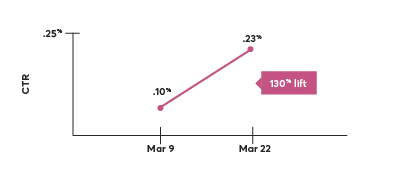 We know there are hard times ahead for the US and the rest of the world. As with previous epidemics and economic slow-downs, brands that adapt to the challenges by understanding how their consumers behave in unprecedented times will be able to provide real value to their audiences.
We'll continue to provide insights into those changing behaviors in this fast-evolving landscape.