Even as Australians first began to grapple with the pandemic in March, marketers have been scrambling to identify and plan for the 'new normal'. But how reliable is any notion of permanence to the changes we are currently seeing in consumer behaviour?
To unpack how consumer behaviour is evolving as we head into 2021 and the implications for brands, Blis conducted a sentiment survey and compared the results to our own movement data. In this post from 'The changing behaviour series' we examine the results of this analysis to see what's really going on. 
What we've seen is that Australians are adapting to pandemic life and evolution continues to be the central theme. According to our study, consumers are still learning to adapt and balance needs and concerns, as they attempt to return to life's necessities and luxuries. 
All of this change for consumers is mirrored by how brands are adapting and we found three areas that are having the most impact. 
Geography:

where consumers live and spend their time is informing behaviour

Mobility:

what needs are determining how and why people are moving around

Psychology:

how people feel about the world around them is revealing behaviours for current realities
Geographic location
Confidence and caution emerged as key influencers on consumer behaviour and these mindsets are still shifting. Using location behaviour data, geography has emerged as an accurate and useful way of observing and predicting these changes within the community at a micro level. 
At a macro level, confidence to get back out there is determined by the pandemic progress within each city. We can see the distinct differences between Melbourne, Sydney and Brisbane across a range of different location types. Even with lockdown lifted in Melbourne, people are taking their time before returning to regular activities. But confidence is not uniform even within regions due to the unique traits and characteristics of residents in each area.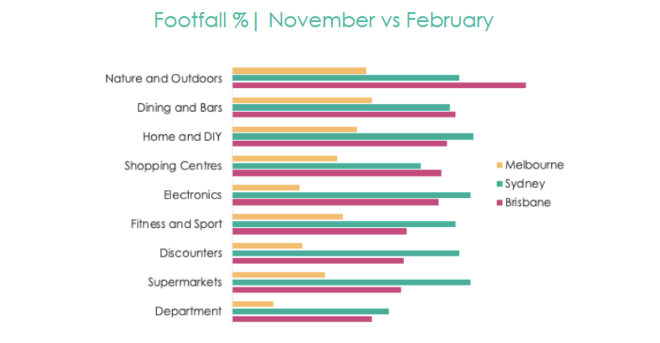 Taking a more micro viewpoint, regardless of a city's overall pandemic progress, from suburb to suburb, recovery is still not happening at even pace. After two severe lockdowns, Melbourne emerged differently each time when looking at footfall behaviours. Even in Sydney, where the second wave was not nearly as severe, 'recovery' across every category measured is still looking uneven from place to place.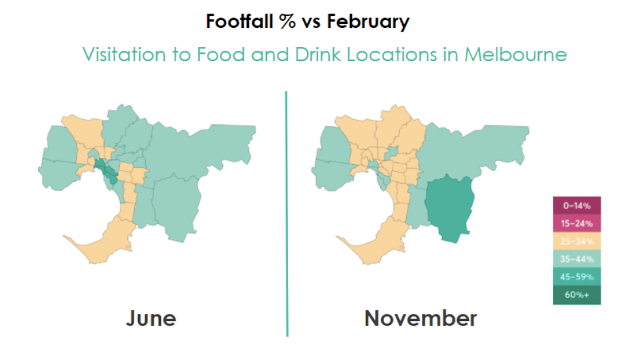 As a result, understanding the profile of each local area is more important than ever. Geographical areas provide useful information about the people who interact with the space. They're also a useful way for marketers to frame strategies around the 'uneven' distribution of confidence and caution at a micro level. 
As behaviours continue to evolve and change, the socioeconomic, psychographic, demographic and lifestyle characteristics of each area provide huge insights about the risk aversion of each place. For brands, geography can be used as a heuristic for understanding and targeting different confidence or caution levels. 
The impact of modified mobility
As to be expected, immediately after lockdown, people are still nervous about public transport. And in the immediate aftermath of severe lockdown, public transport is the most affected. But, as markets open up and consumers adapt, whether they are confident or cautious, people are eventually forced to carry on with the necessities of life: work, study, leisure and consumption. 
Overall caution about public transport use remains high, with almost 60% still feeling uncomfortable at the prospect of using public transport. But, as the need to move increases, so too does usage, despite the caution. We saw an example of this when outbreaks occurred in parts of Sydney in mid July. Behaviour was severely impacted where outbreaks occurred, but everywhere else, life carried on.
By identifying the consumer journey touchpoints of how, when and why people move in this current climate, brands can understand and leverage the mobility drivers to help address the concerns of their audience.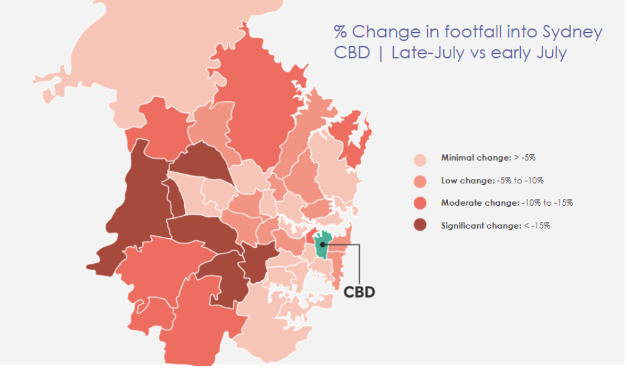 Human psychology and the balance between caution and confidence
The psychological context of moments outside the home and in different environments has a huge effect on behaviour. Consumers are increasingly becoming more selective in what they do and where they go based on how they feel – whether they are confident or cautious – and what the psychological benefit of each outside interaction might be. 
The difference in behaviour between transactional moments and quality of life moments provides clues for brands about how best to engage. In transactional moments, more direct, concise, and instructional messaging might be more effective. But for those quality of life moments where consumers are at home, relaxing and socialising, brands would be best served with more conceptual ideas that bring the user on a journey.
As consumer behaviour continues to evolve, keeping tabs on these changes and their implications for consumers, brands and advertisers alike will be critical. It's clear that environmental context matters to consumers and brands can harness these insights and use location data to inform their strategies.