This year's Diwali celebrations were a slightly more low-key affair amidst the concern about the surge of coronavirus cases in India and around the world. The festival, which aptly celebrates the victory of light over darkness, saw many in India hold small celebrations in their homes and communities, with temples around the country streaming prayer sessions. It's a time of celebrating relationships, homecoming, good food and drink and of course shopping with, and for, loved ones. 
In the run-up to the festival, consumers across the country prepared by shopping online during the 'Big Billion Days' with retailers seeing a 55% jump in online sales. According to Newzoo's Global Mobile Market Report 2019, India has over 502.2 million smartphone users and in this post from 'The changing behaviour series' we take a look at where consumers were spending their time whilst online on their phones and what the patterns of behaviour were when they did venture to supermarkets and shopping malls. 
The COVID case rate across the country saw a steep increase from July until mid-September, where a steady decline in new reported cases emerged.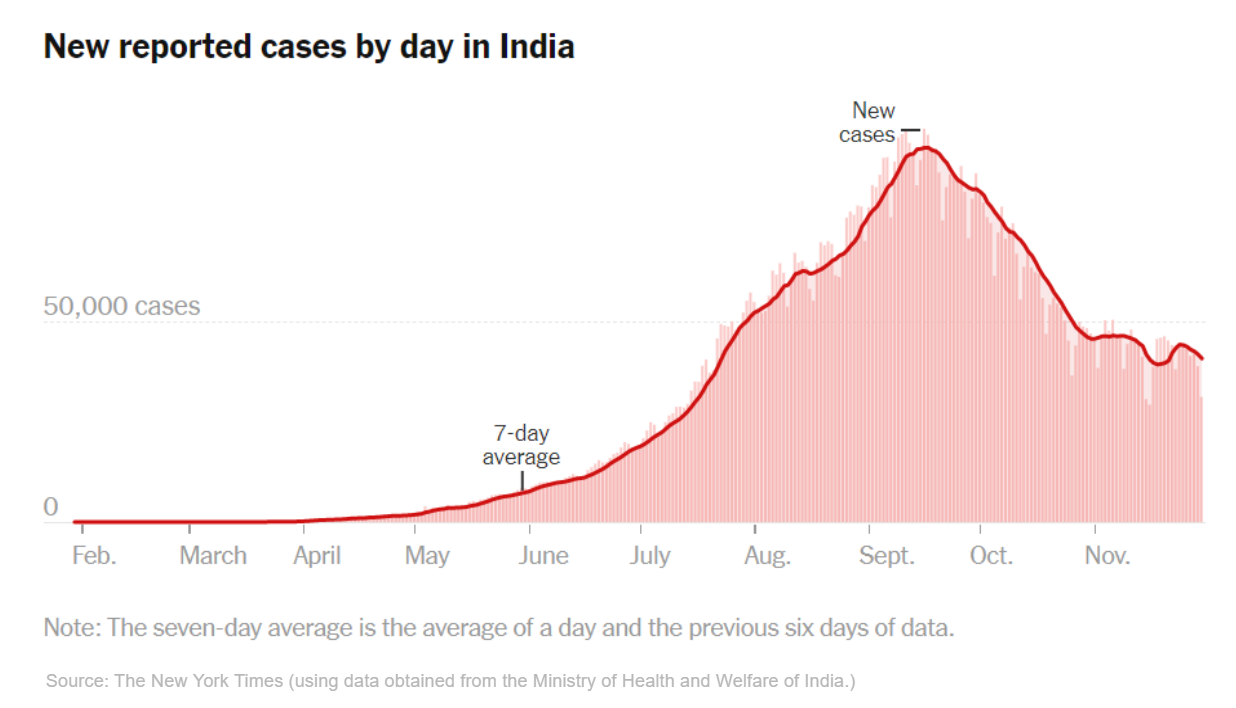 When we examine Blis data that observes users in accessing gaming content we see a similar trend, with more people interacting with online games as the virus became more prevalent. However, unlike the reported cases curve, Indian smartphone users continued to play games, with more and more users joining. Over the course of Diwali, this number jumped again.  This increased interest is an opportunity for brands to try more interactive formats to engage consumers while they stay safe. 
This pattern is slightly different for news readers, with more fluctuations. As the reported case numbers peaked in late August to early September the amount of consumers viewing news declined. And as the case numbers started to turn downwards, more users were observed consuming news, perhaps as a result of more positive stories emerging. Across the week of Diwali, interest in news content soared, over a 70% increase in activity.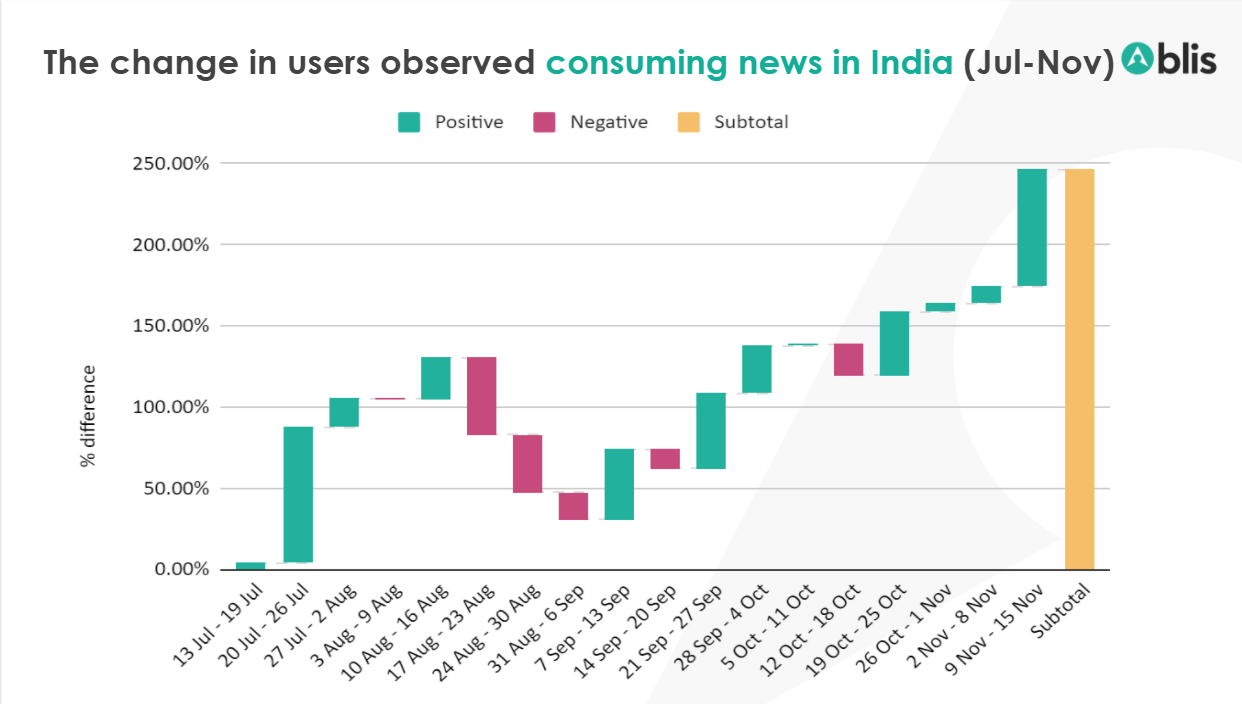 When this is viewed through the lens of patterns of foot traffic to shopping malls we see that despite rising cases in August people were beginning to return to stores. This positive trend continued with October seeing the third consecutive month of growth, almost doubling the footfall seen in September. Looking at data for the first two weeks of November and the signs are positive that the upward trend will continue.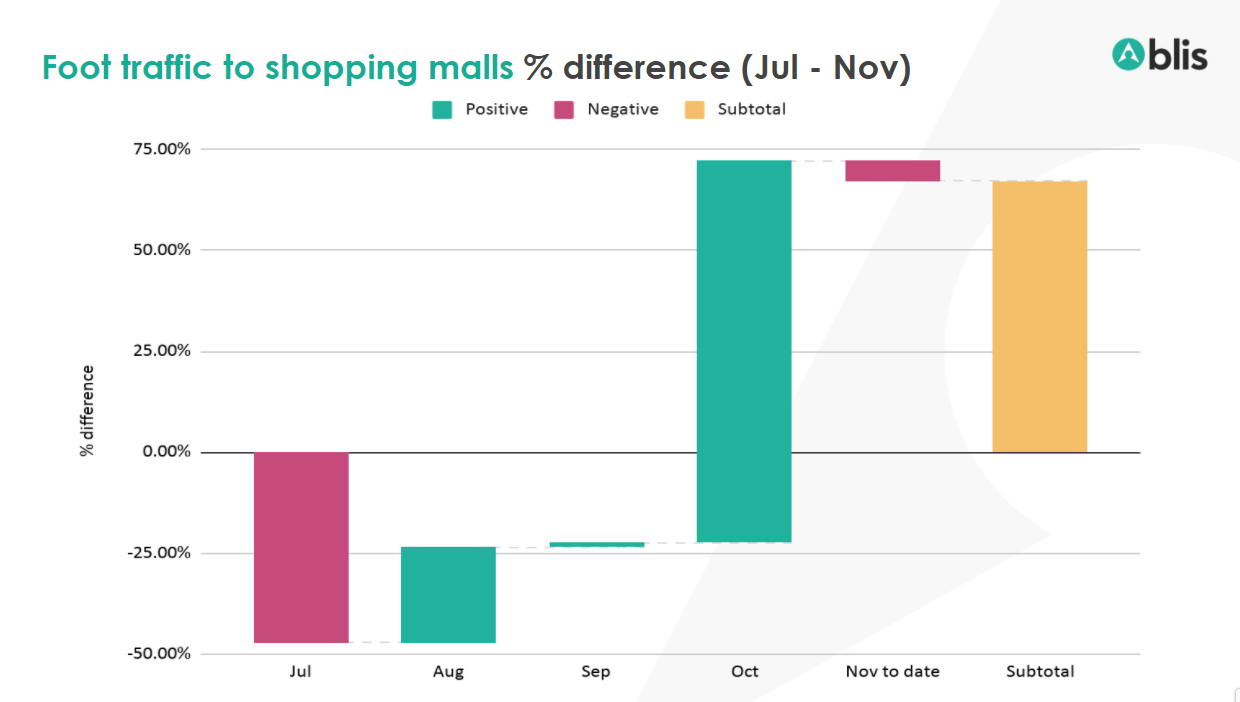 The recovery from this year's lockdown will be slow, as different states and regions deal with the health and economic impacts brought about by the virus. It has dominated the minds and conversations of Indians throughout the year and has led to real changes in consumer behaviour across the country, from social distancing and wearing masks to celebrating over zoom and shopping on smartphones. 
For brands, remaining front of mind is key and reaching people specifically where they are, with carefully targeted messages will ensure relevant ads are served to the consumer and efficiencies in campaign measurement. With huge increases in volume and engagement with mobile the opportunity abounds for brands to use gamification features and dynamic creative to entertain and excite audiences.   
As physical outdoor movements have not yet returned to normal in some parts of the country, it is crucial that the creative stands out against the noise on digital and social platforms. Now is the time to be bold and innovate. 
And, although movement behaviour has changed drastically, consumers are still consuming. Now is the time for agility in approaching consumers and when accurate targeting becomes crucial. Retailers who want to keep in contact with their shoppers from pre-COVID, or marketers who relied on OOH marketing previously and still want to keep up with the awareness built need to react quickly and adapt to meet new needs.