We are in the midst of change, driven more by uncertainty than precedent: What is coronavirus? How can I catch it? Have I already got it? How do I know if I've got it? What should I do if I've got it? What should I do if I haven't got it, and don't want it? How many toilet rolls should I buy? 
As part of 'The changing behavior series' we're looking at trends we're witnessing around the world and what that means for businesses over the coming weeks and months. In this post we focus on grocery shopping in the UK to understand consumer behaviour.
Our team has been monitoring foot traffic patterns across major supermarket chains right across the UK from the beginning of January. With this week's news of a nationwide lockdown to prevent the spread of the virus, grocers around the UK can expect to see drops in visitation to supermarkets. 
Check out these insights in this new 10 minute video or read on for more details.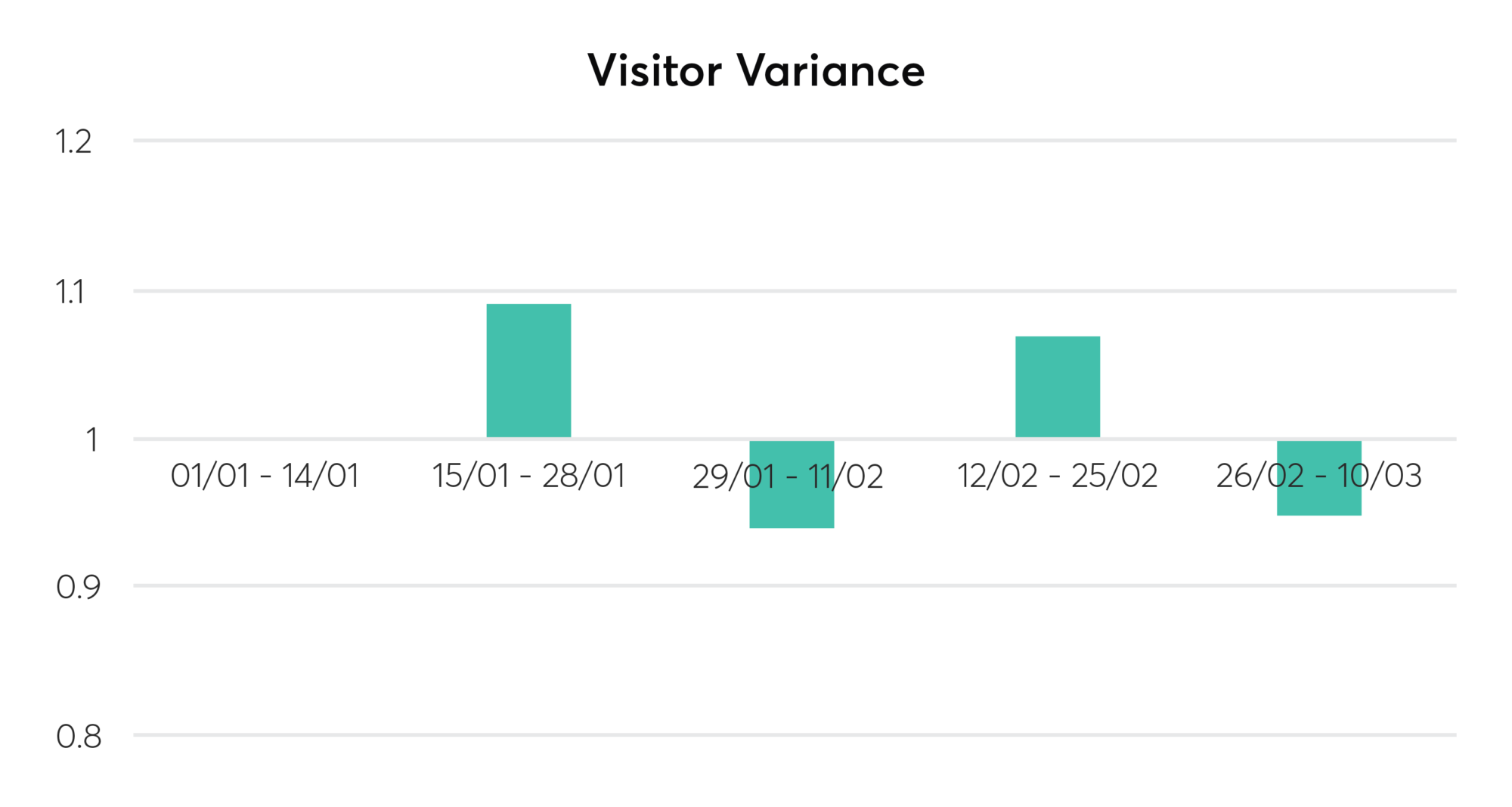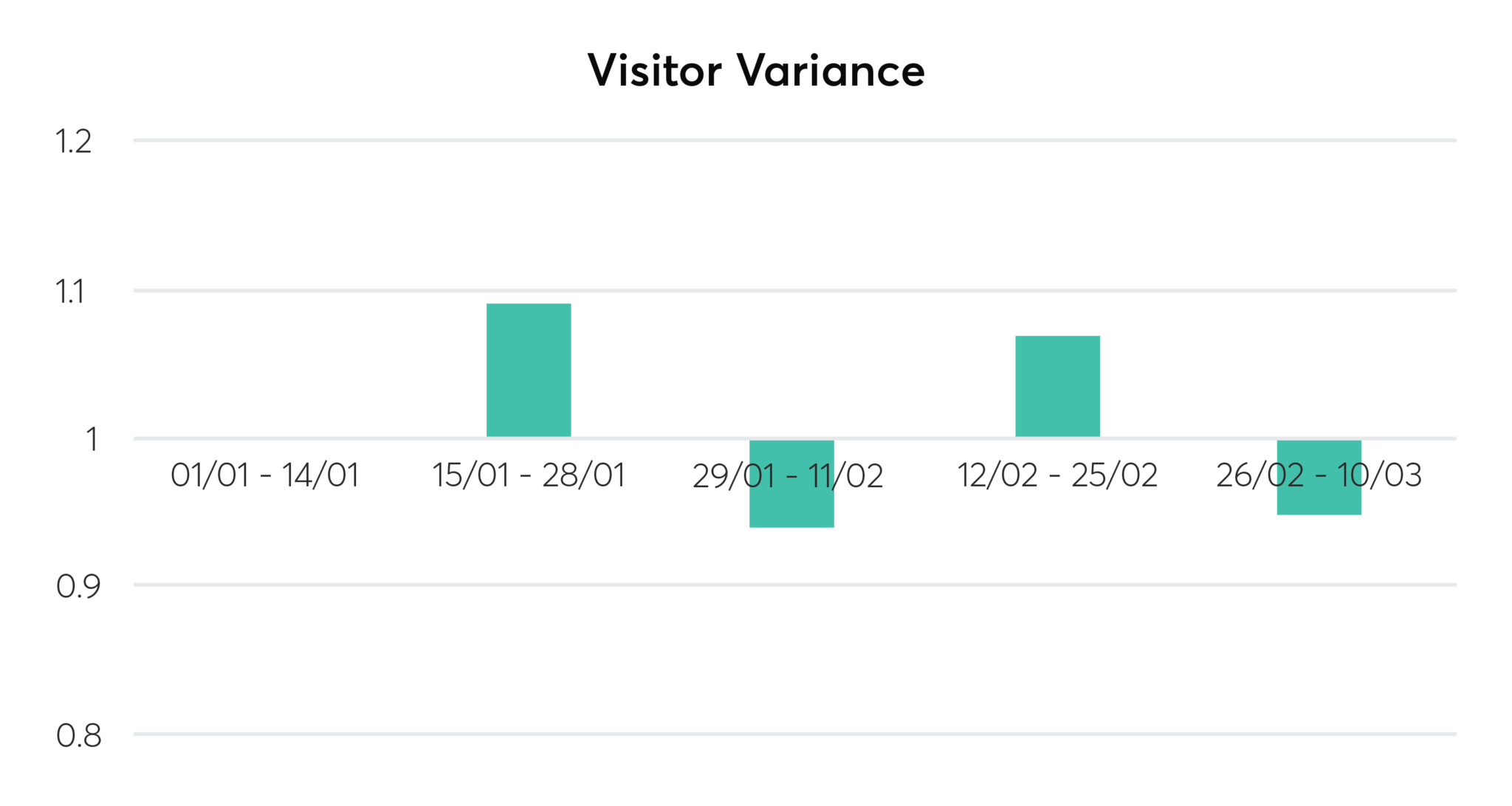 *Comparison of visitor counts to supermarkets in the UK (baseline collected during the first two weeks in January). 
This subtle but steady decline has been visible since workers increasingly began working from home. 
However, while visits are declining, visitors are not, as consumers still need to purchase daily basics. This follows a stockpiling rush and supermarket home delivery services being overwhelmed due to a surge in demand.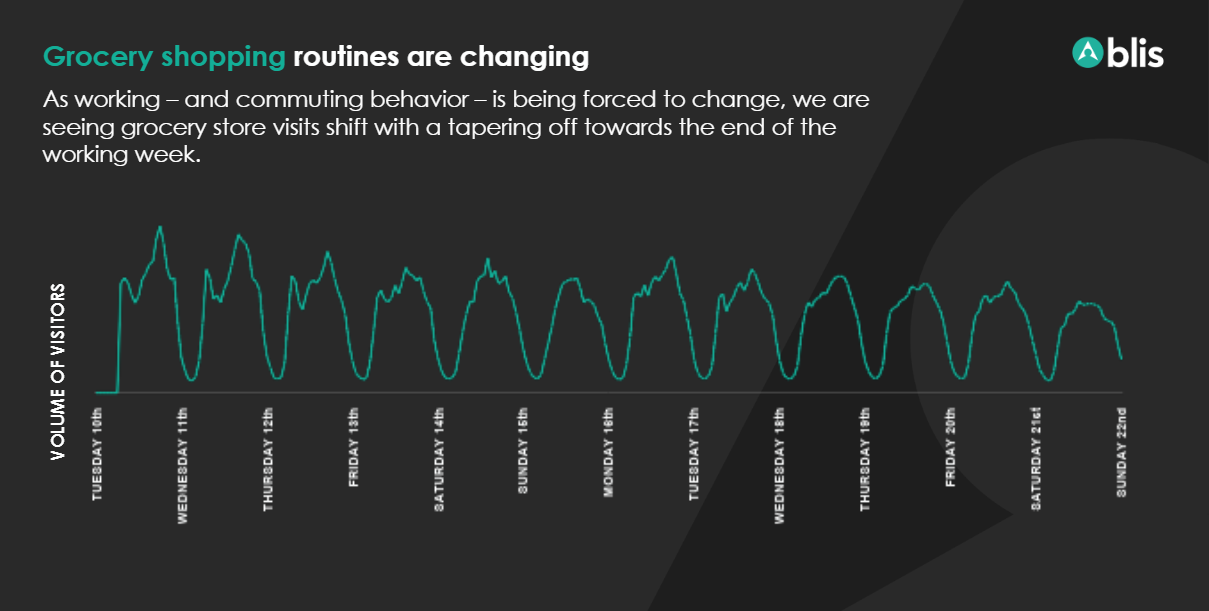 *Volume of visitors to grocery stores in the UK
Alongside this shift in frequency and daily visit patterns, we're seeing increasing 'loyalty' in the sector as consumers revert to trusted – and convenient – outlets. Across the sector, this loyalty  has increased 11% since the first collection period.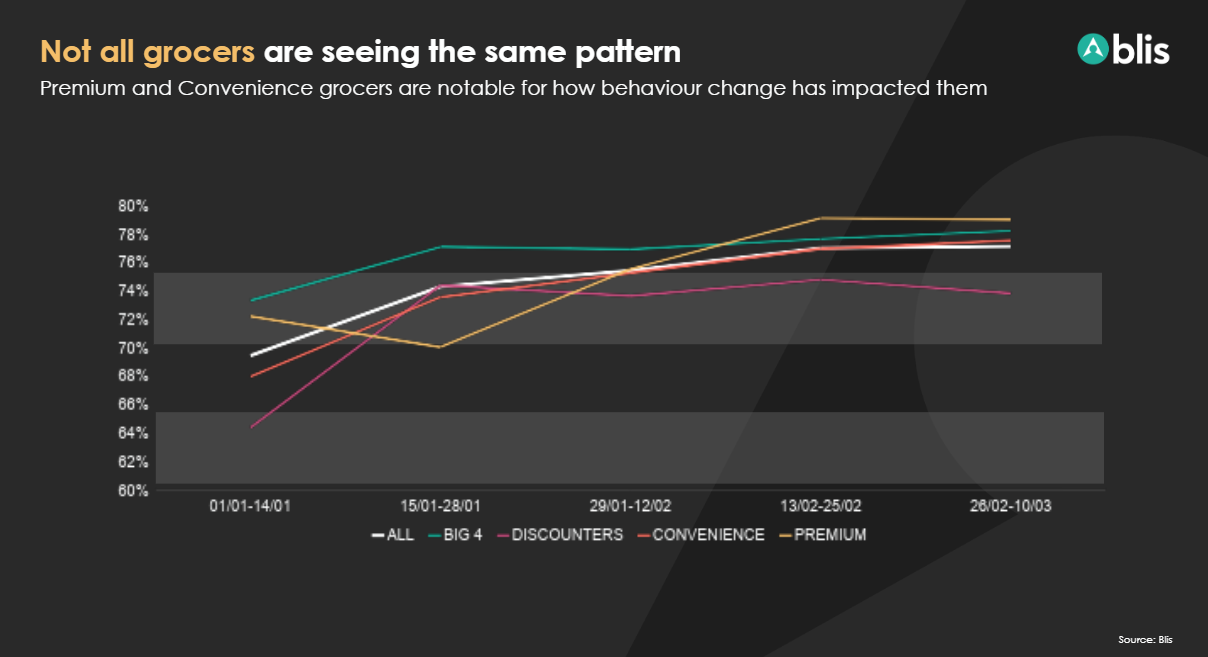 The greatest loyalty is towards the Premium stores, with the Discounters appearing to plateau after a sharp increase in the second half of January.  However, it is the Convenience sector that remains on an upward trajectory for loyalty, and with many people set to be spending more time at home it is one we'll be keeping an eye on.
The players in this category face some interesting challenges. Discounters, without an established online offering will be impacted, while home delivery fulfillment for the major grocers requires about £60 of sales to make a profit on the service.  Much depends on the mix of online vs. offline. Should the increased dependency on home delivery continue, grocers continue beyond the government restrictions what impact will that have on the current capacity and can those that do provide delivery services maintain the loyalty of the customers acquired during this period. 
The nature or longitude of this change is not yet clear and with the UK entering a nationwide lockdown to prevent the spread of the virus, grocers around the country are facing new and unprecedented challenges (e.g. fulfillment) and opportunities (e.g. revenues exceeding those at Christmas). Consumers still have brand choices to make when in-store, except perhaps in certain aisles where it's a case of take what you can get,  so it's more important than ever to keep your brand top of mind both on the physical shelf and the virtual shelf… not just for now, but for when the recovery begins and choice becomes a luxury we never appreciated as much before!