Understanding the frequent changes of government regulations, both national and international, and their effects on human behaviour is a core focus for many brands around the world. To successfully reach customers, brands rely on a plethora of insights, interpreting them to make sense of the shifting landscape.
The current state of 'new normal' means we are serving a new kind of consumer whose mentalities have changed and what may have caught their attention previously may not be viable now.
Since the onset of coronavirus in the country, Singapore has experienced changes in regulations week on week. In this post from 'The changing behaviour series' we take a step back to observe how Singaporeans have adapted their daily habits over the past 4 months.
In late-February, most companies in Singapore implemented Business Continuity Plans (BCP). The workforce was split in two groups, with 50% physically travelling to the office for two weeks and alternating with the other 50% for the second half of the month. As most Quick Service Restaurants (QSRs) are located by travel hubs or shopping malls, foot traffic to these stores dropped in line with the split in employees travelling to and from work. The rate of decline remained consistent for all brands at approximately 25%.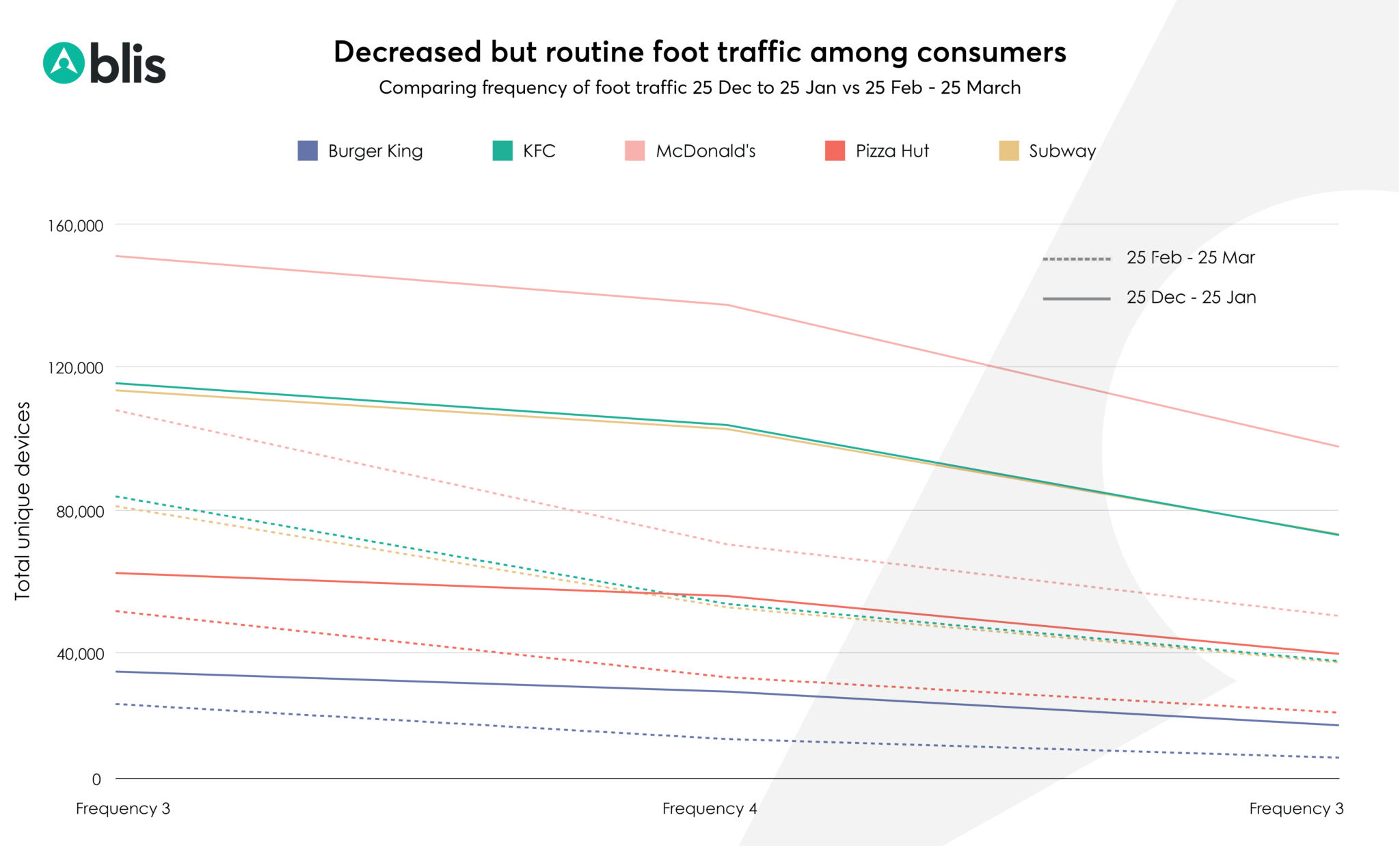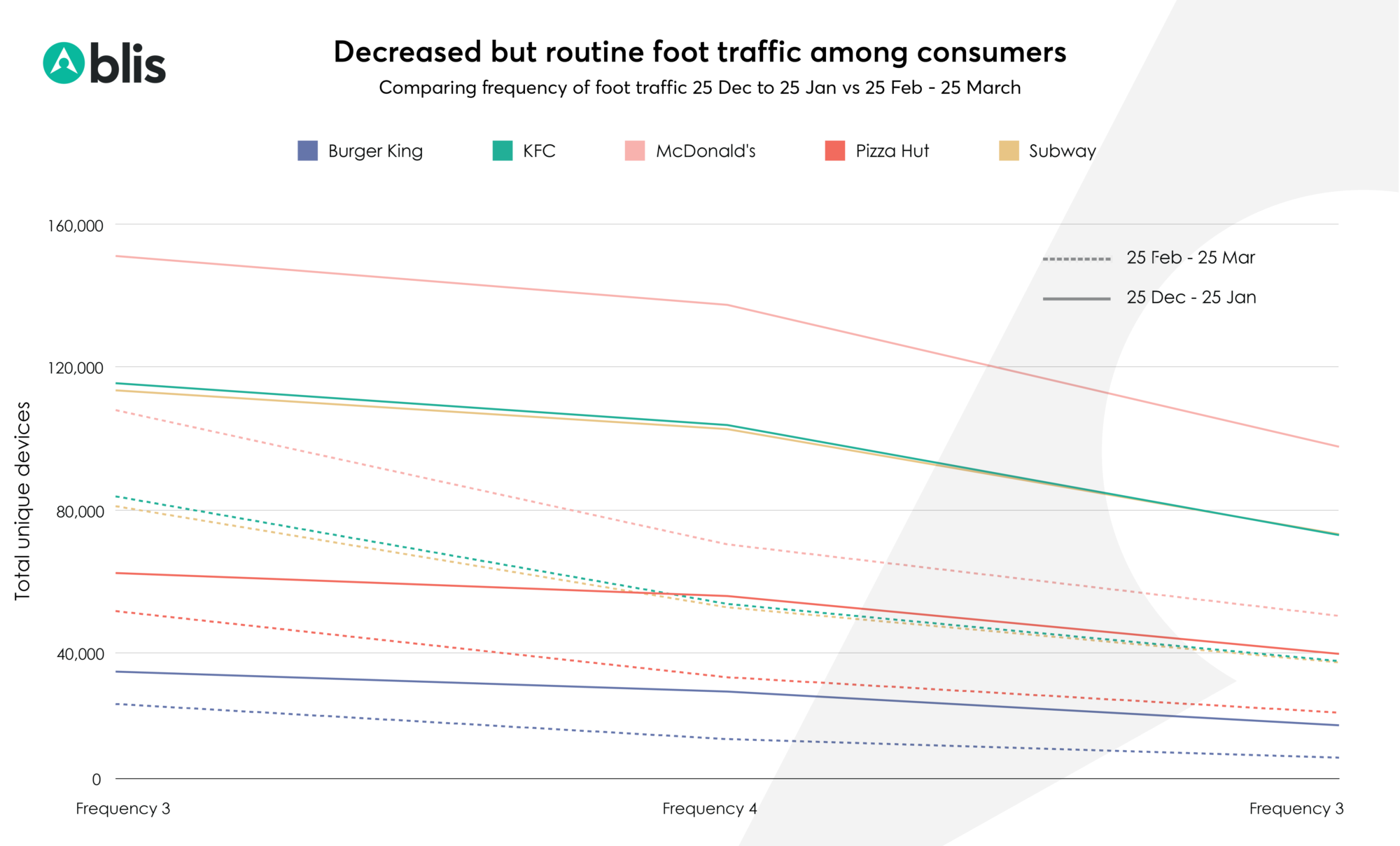 While there has been a general decrease in visitors and their visits, there are nuances to be found by examining the data patterns. There has been a flatlining of consumers visiting a QSR 3 times or more across the two time periods, 25 Dec to 25 Jan and 25 Feb to 25 Mar. 
Following trends we're noticing in different sectors and across different regions, one person from the household is leaving to pick up goods in one go. So, where traditionally a family may have gone to a favourite QSR together, or colleagues grabbing a quick bite for lunch, the routines have changed, resulting in a downward trend of 40% for all brands.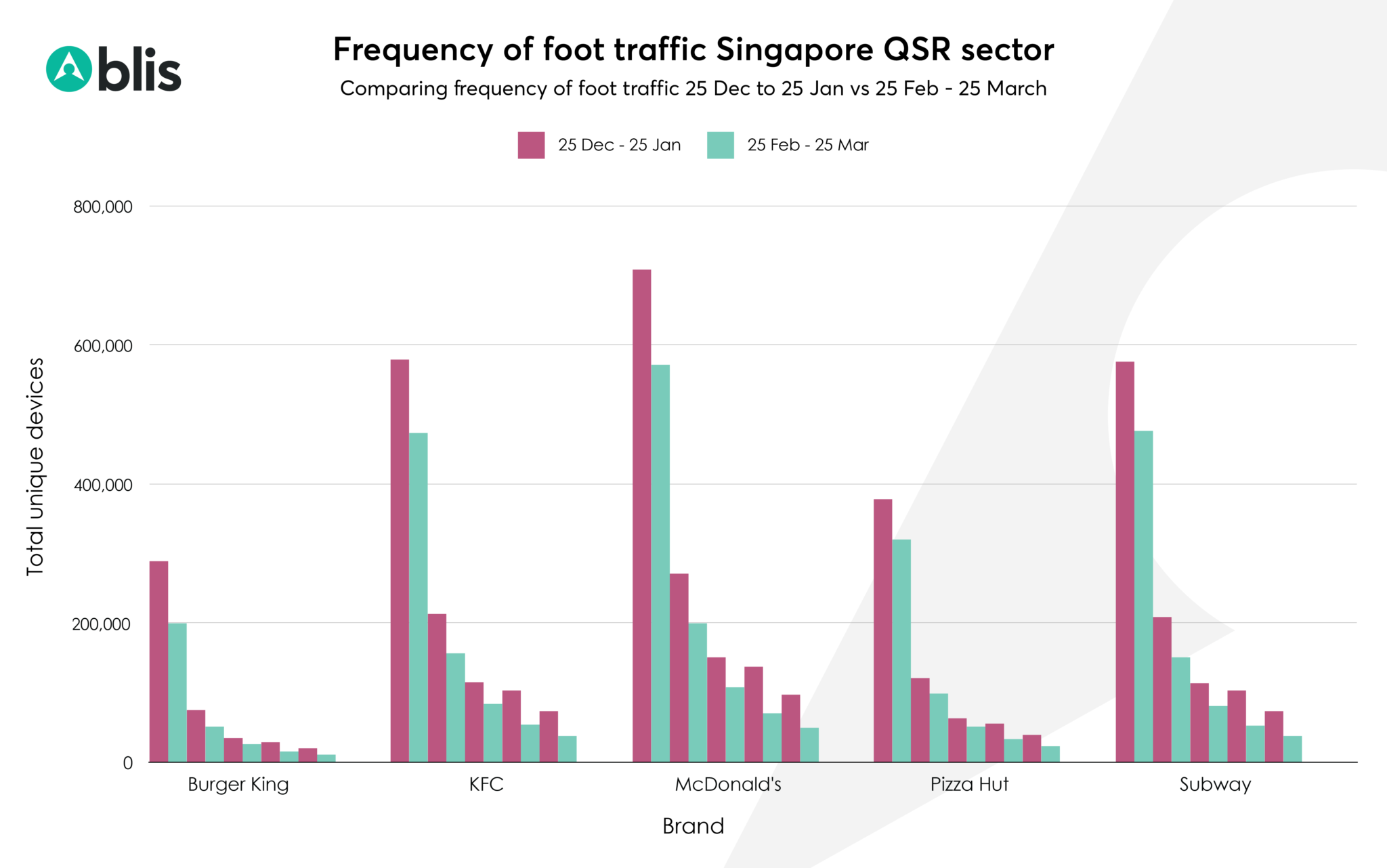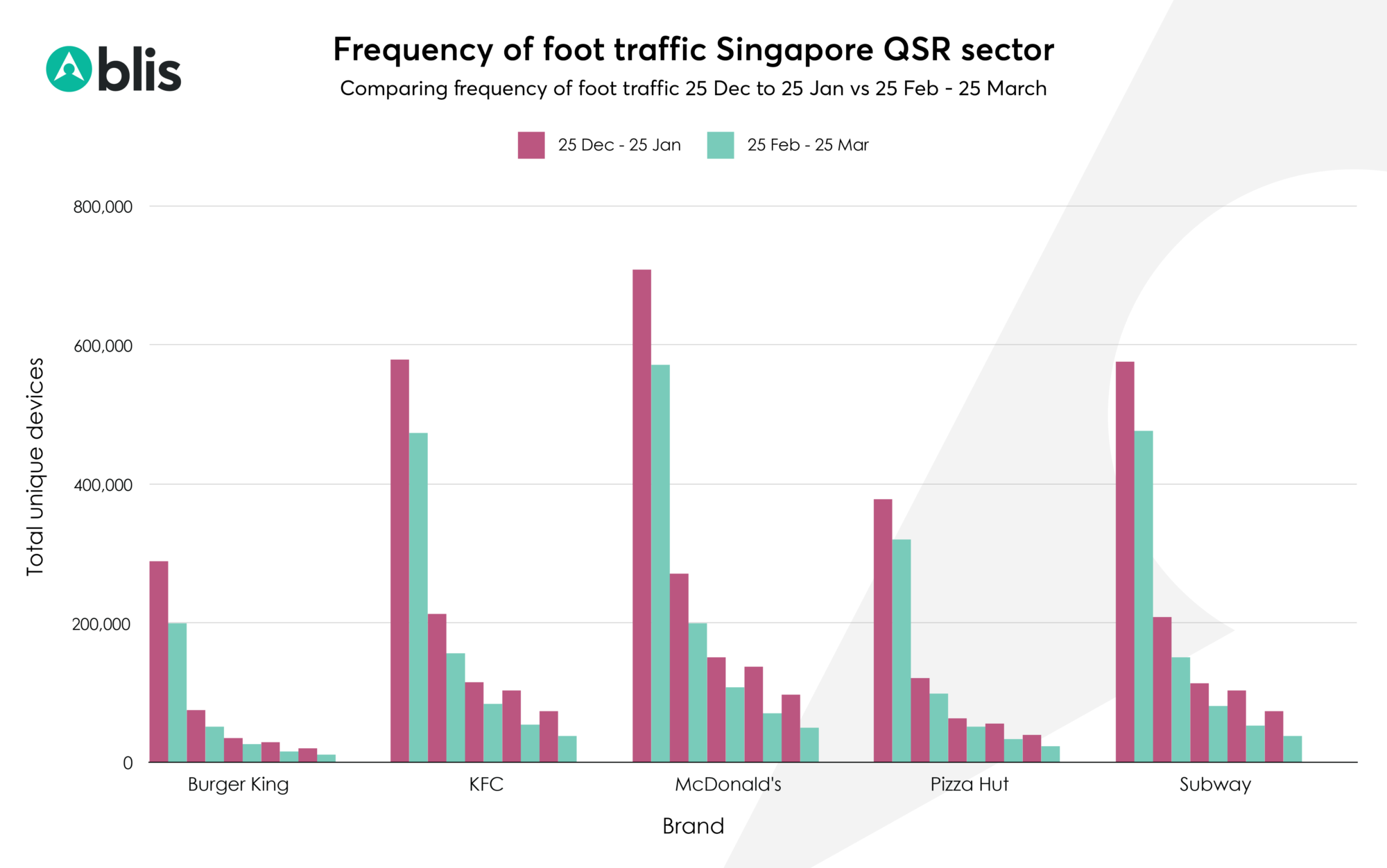 For QSR brands in Singapore, whilst not ideal at the moment, it does send a clear signal of routine foot traffic to each of the popular brands. Interestingly, there is negligible differentiation between each brand for visits more than 3 times in both time periods, hinting at a level of consistency of  the consumer journey of fast-food fanatics in the country, where they are likely to pick up meals or snacks on their way home or to work. 
What will this mean for other QSR brands as consumers look elsewhere for fulfillment? The nature of this change is non-conclusive at the moment, as circuit-breaker measures remain in operation in Singapore until 1 June. Various QSRs in the region have reacted differently, which will impact these charts going forward, primarily McDonald's who have suspended all business operations across outlets in Singapore. 
Looking at how QSR brands can respond, Fernando Machado, Global CMO of Burger King gave some guidance, "As fast food service shifts to delivery, drive-thru and mobile ordering, digital media offers greater attribution and great targeting." 
Fast food brands can cut-through a crowded category by embracing the unexpected. As budgets shift from offline to online channels, this opens up opportunities to explore connecting with consumers in different manners – from engaging creative formats that make use of gamification to focusing on purpose-driven marketing specific to local communities. Finding ways to keep entertained and brands demonstrating real value to the people they serve are two key expectations of consumers when choosing a brand. 
The key question for brands to ask right now is, 'How, and in what ways, can I continue serving my customers during this time?'