And suddenly everything changed. From the way we work (Weekday CBD foot traffic across major Australian cities was down -62% in March vs Jan 2020), where we spend our time (activity in mid-suburban areas went up 23% on average) to the way we travel and move (public transport use is down over 70%) has significantly shifted since COVID-19 escalated in Australia
As we have previously observed, the dust is beginning to settle on consumer behaviour and is revealing a great deal about how consumer needs and wants have changed in light of COVID-19. For this edition of 'The changing behaviour series' our team use Blis data to examine what these new patterns of behaviour say about the evolving wants and needs in the Australian market and how brands and advertisers can adapt to meet these new demands. 
Consumers are demanding more convenient, faster and easier interactions and experiences. And while these brand qualities are not exactly new, they have become more exaggerated in their importance to consumers now. 
Interactions have become more purposeful, direct and brief. 
In the lead up to lockdown, dwell time in public spaces declined markedly across the board in March, from retail to public transport, pubs and restaurants.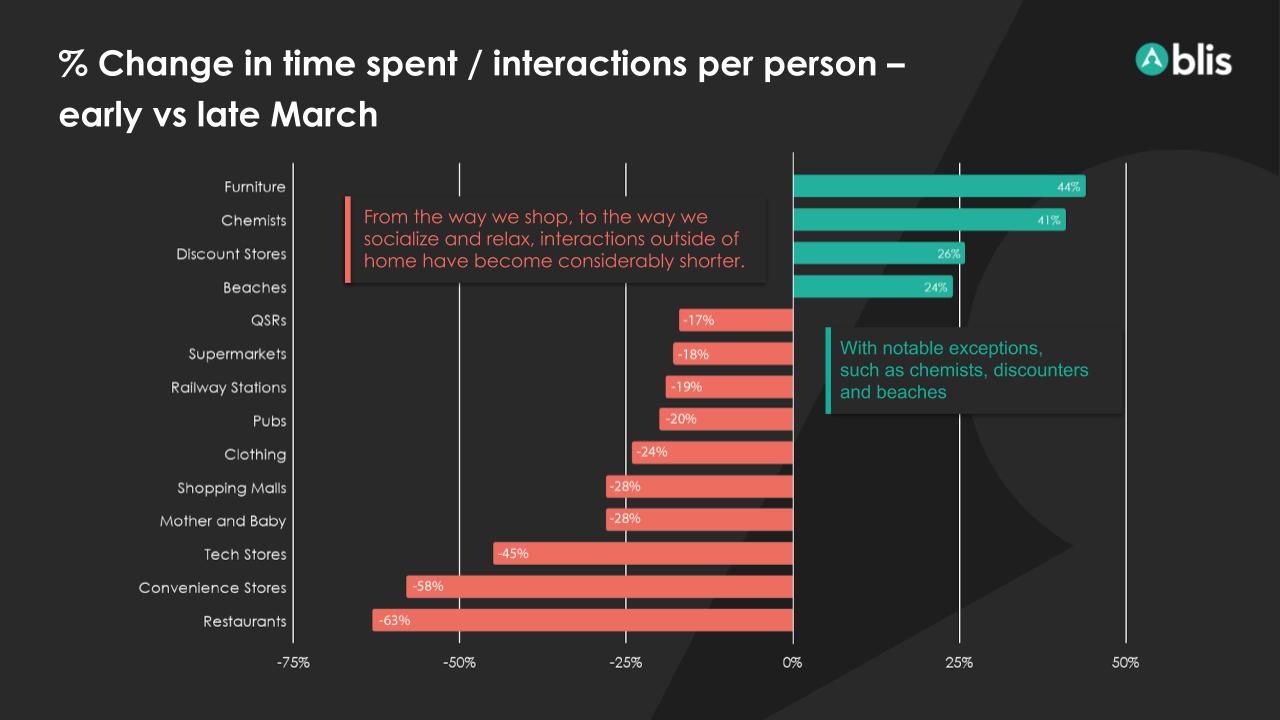 Even in supermarkets, where hoarding and panic buying has taken hold, people choose to spend significantly less time out and about than they normally would. For brands, this is an opportunity for more succinct and practical messaging that reaches the right customer at the opportune moment. More and more, people are looking to make fewer decisions outside the relative safety of their homes, so understanding and reaching audiences before they are in purchase mode is crucial.   
Consumers are branching out from usual habits and loyalty to a favourite brand has not been a choice. 
Scarcity and increasingly limited options have compelled consumers to become more open to brands that are new to them. This presents a moment to get their attention and gain share of mind with a receptive audience looking for a brand to trust in times of need.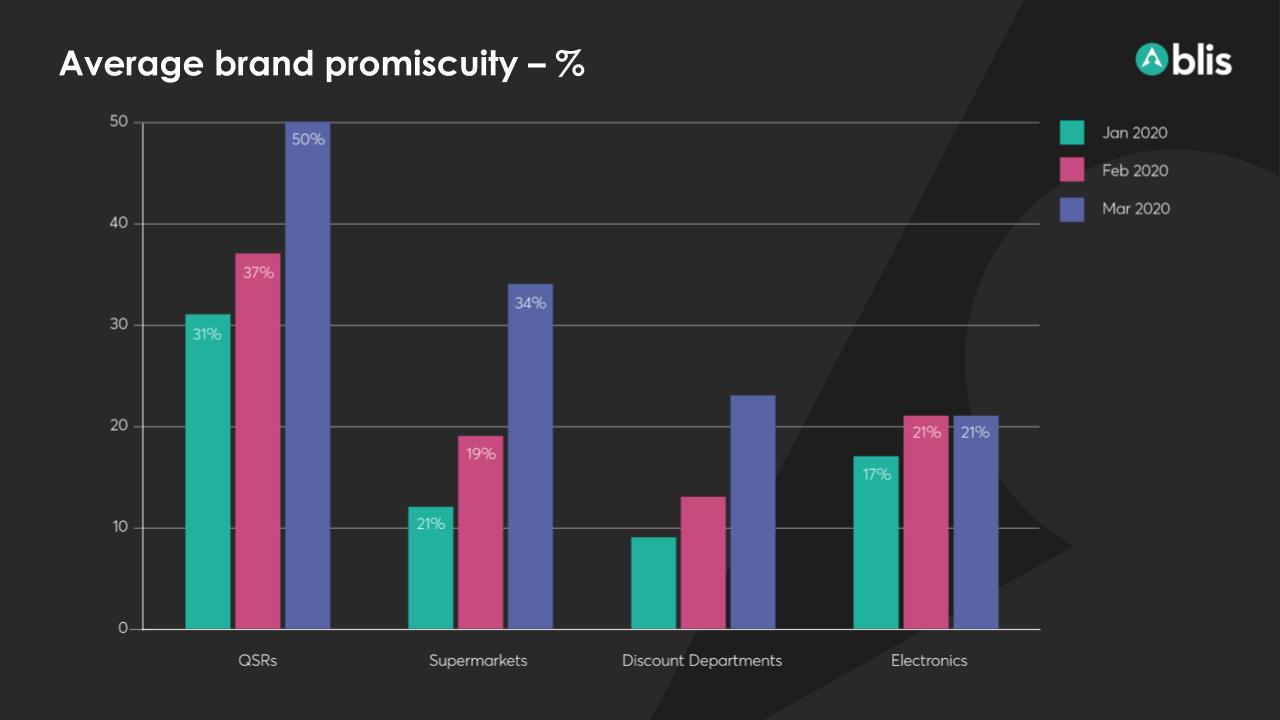 Looking at historical movement data we noticed a significant shift in loyalty for one particular brand. In January of this year the average supermarket brand could expect 12% of its customers to visit rival stores. Since the COVID-19 outbreak, this figure has grown to over a third of customers visiting rivals. Quick Service Restaurants (QSRs) in Australia can now expect that half of their customer base is visiting the competition, compared to January when less than a third shopped around.
Interestingly, this trend of increased promiscuity is in contrast to what we're seeing across markets elsewhere, potentially because more people are driving cars further afield to get their supplies in Australia than in other regions. The importance of understanding these nuances of specific local behaviour rather than applying blanket pan-market 'solutions' can't be understated. 
Retaining share of voice in a noisy marketplace has always been difficult and perhaps now even more so. But really understanding the target audience will help brands to take brave, decisive action when planning their media and creative campaigns. Understanding the new patterns of behaviours and using previous human activity to predict the new movement of people is key to brands being present and purposeful.