The automotive industry in the UK is getting back into gear with socially distant selling, incentives to buy energy-efficient cars and initiatives to help those financially impacted by the virus. In this post from 'The changing behaviour series' we look at how auto brands are adapting after lockdown. 
With the UK reported to be in the deepest recession since records began there is reason for concern within the industry. However, there is also a lot to be learned from previous recessions that brands can, and have, started to implement. 
After the 2008 financial crash substantial discounts were offered by big brands and the UK government introduced a scrappage incentive scheme, encouraging car scrapping in exchange for up to £2,000 off a new car. Consumers responded by choosing smaller, cheaper and more fuel-efficient cars. 
Cut to the present day and we are seeing similar trends appearing. Brands such as Ford have begun offering flexible payment options and a draft plan has been drawn up for a Government-backed new car buying incentive scheme designed to stimulate sales and protect jobs in the wake of the coronavirus crisis. While car dealerships were closed and people were abiding by lockdown regulations, energy efficient cars such as Tesla were the car of choice for fleet buying. 
When car dealerships reopened in June we saw a steady build in the first few weeks. This was followed by a plateau of around 40% of pre-COVID foot traffic for a number of weeks. This coincided with the busy summer months and reopening of pubs, restaurants, hairdressers and some leisure facilities and tourist attractions.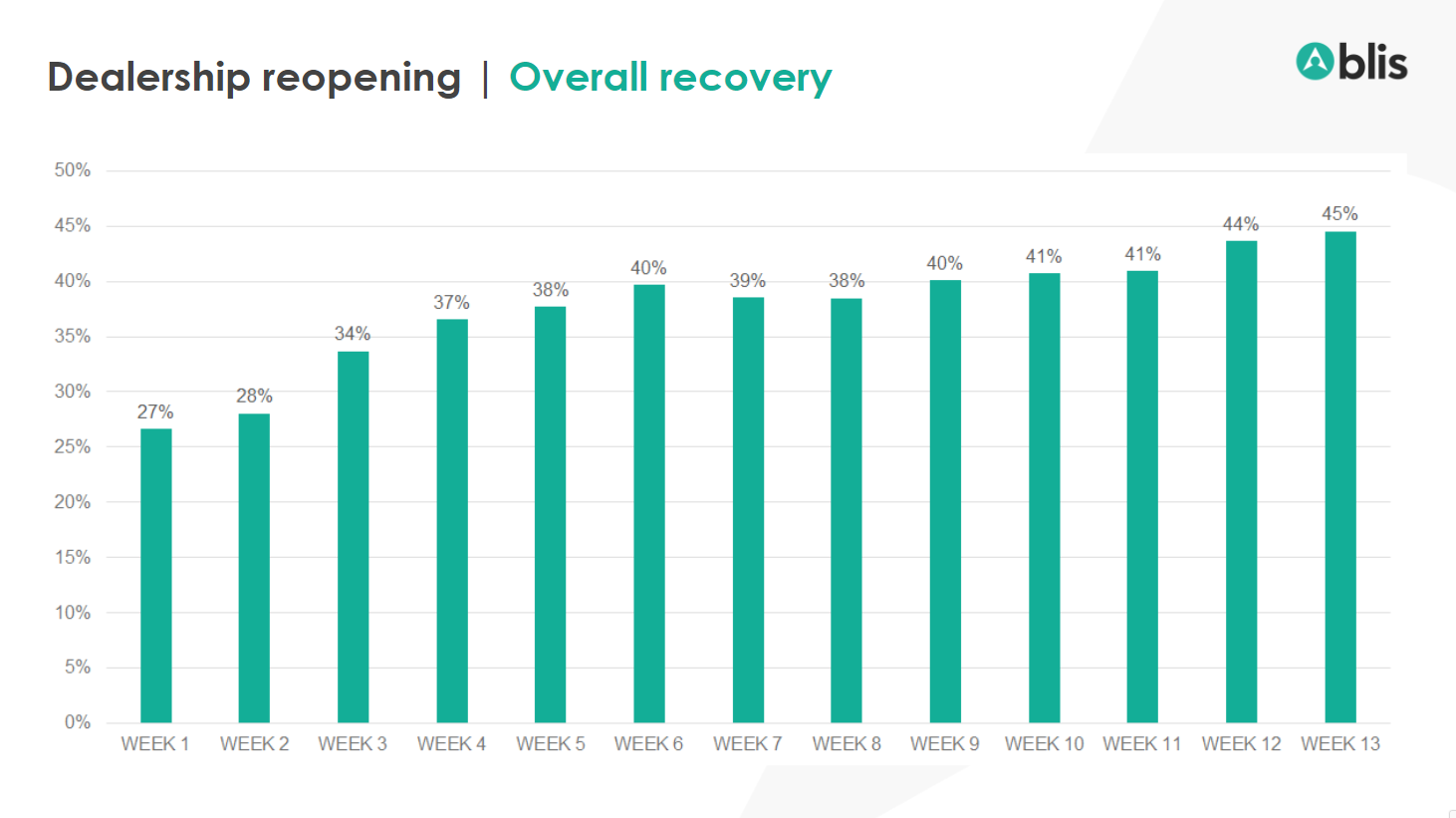 Looking into this upward trajectory in more detail, some brands fared better than others. Ford took the largest share of the footfall across these brands for each period. However, by week 3 (15th – 21st June) we saw Ford return to its pre-lockdown footfall share, while brands such as Hyundai, Mercedes and Nissan bumped up slightly.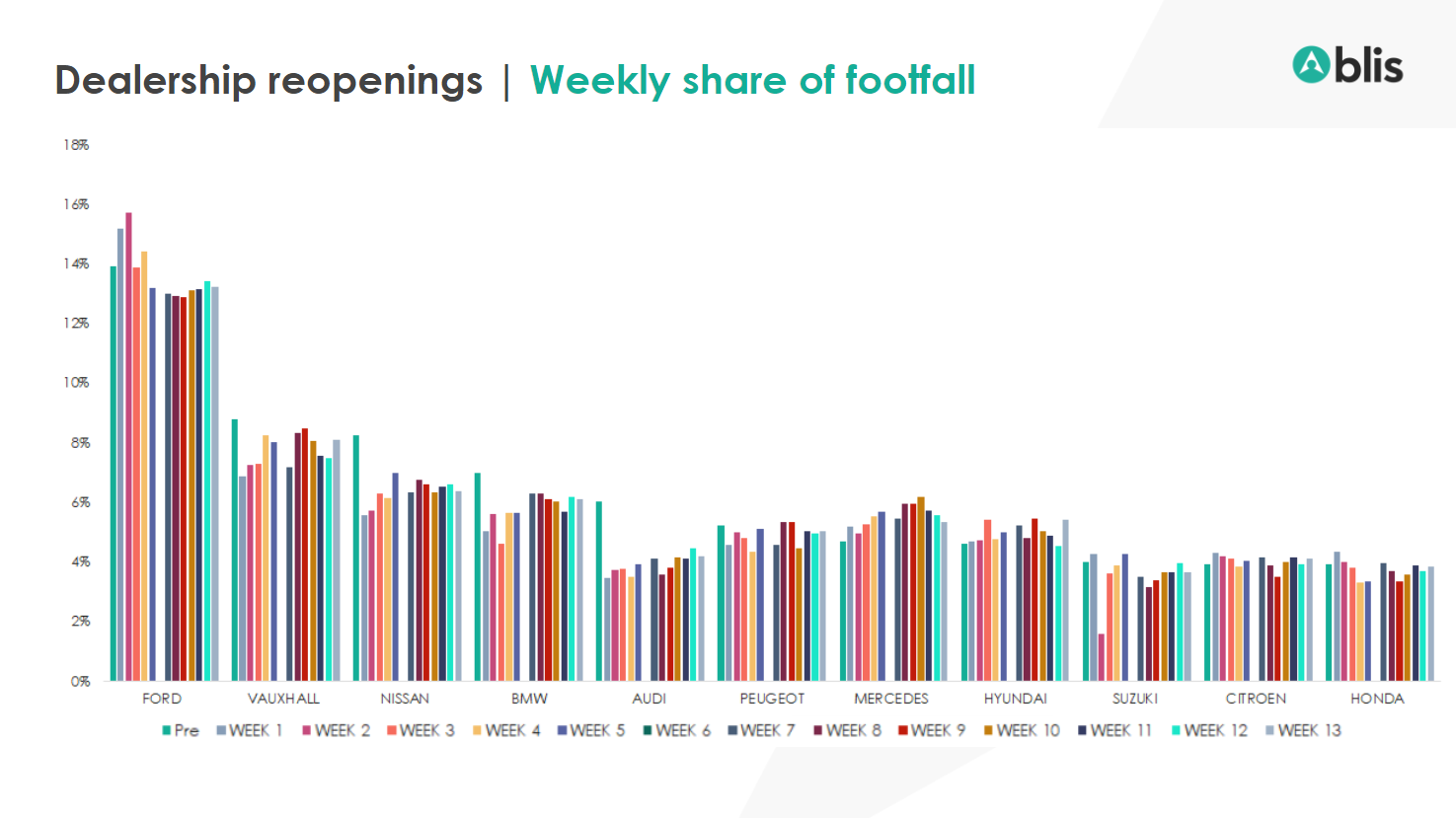 Brands such as Kia, Renault, Alfa Romeo, Fiat and Volkswagen look to be doing better than in the pre-COVID week we measured. Apart from Volkswagen, these brands tend to experience lower footfall share normally. New and different needs, financial uncertainty and limited ability to travel to dealerships may all be factors in which these cars will be popular in this post-lock down period. Perhaps unsurprisingly, the majority of these brands have electric and hybrid car ranges and are running offers promoting uptake to address consumers' increasing desire for affordable eco-friendly automobiles.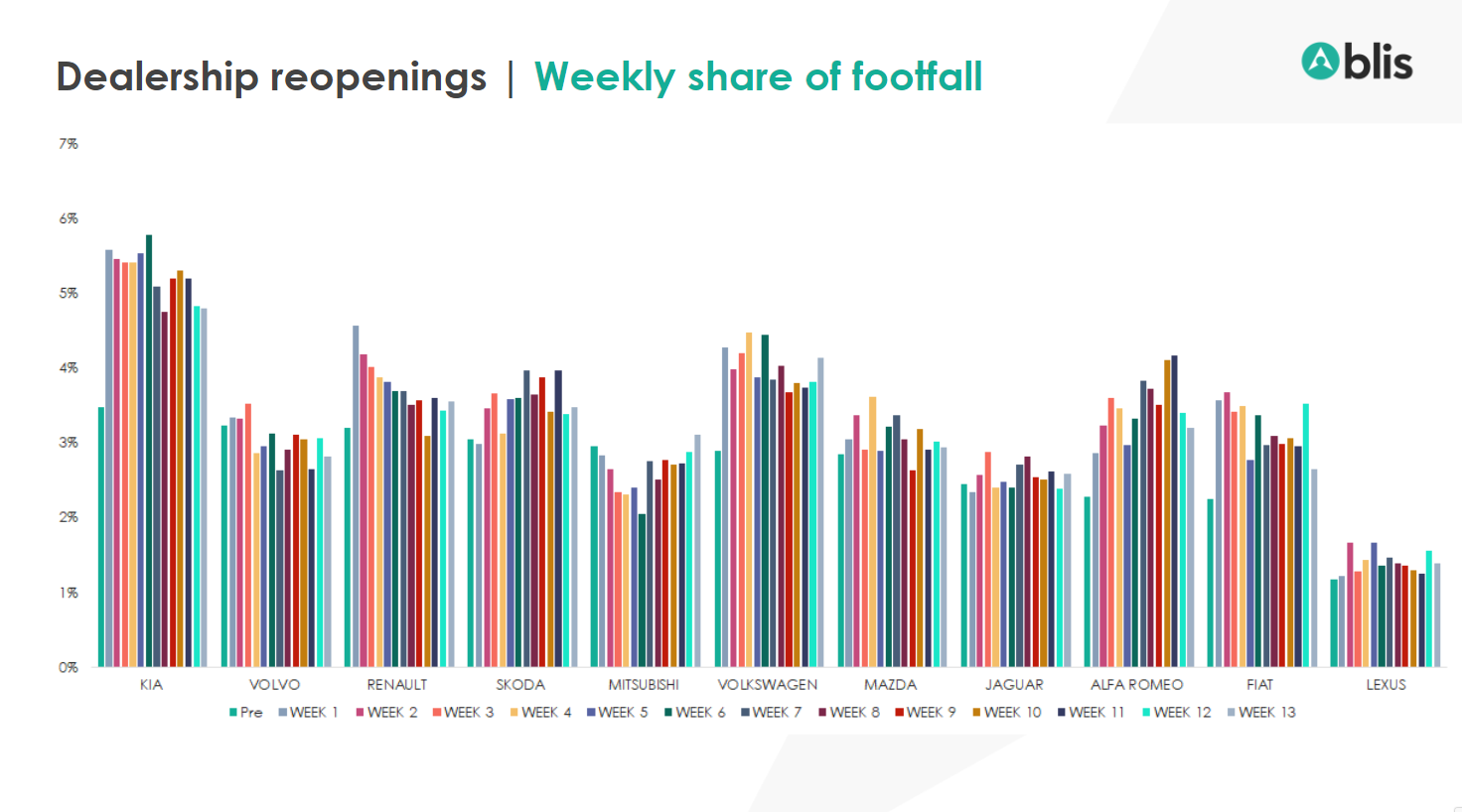 With further restrictions imposed just this week, foot traffic to dealerships may result in a further plateauing of foot traffic to dealerships. This is in line with the predictions and patterns observed in other sectors. As restrictions ease, people become more comfortable being out and about and visits to dealerships will inevitably return. 
Using granular customer segmentation based on mobile browsing and app usage behaviour will help reach consumers that are not only interested in purchasing a new car but also concerned about the environment or specific activities. Understanding this knowledge, brands can engage these audiences with targeted messaging that speaks to their needs. 
For newer contenders, now is a great opportunity to increase their market share. As a result of shifting consumer considerations and priorities, more flexible payment and ownership options will help incentivise buyers. Using historical data brands can see audiences that have visited dealerships previously and engage them and their households with information about these offers, addressing the concerns of all involved in the decision making process.