Companies from every sector have benefitted by engaging with apps and making mobile a core part of their strategies. The impact Covid-19 is having on app usage, content consumption and the wider mobile industry has been striking and swift. As part of 'The changing behaviour series' we're continuing our review of how consumers are interacting with content in light of the increased restrictions on movement around the world. 
Analysing Blis data, we found that news consumption in the UK has increased by 20-25% from the beginning of the month. This seems to be driven by people looking for regular updates on the spread of Covid-19 at home and around the world.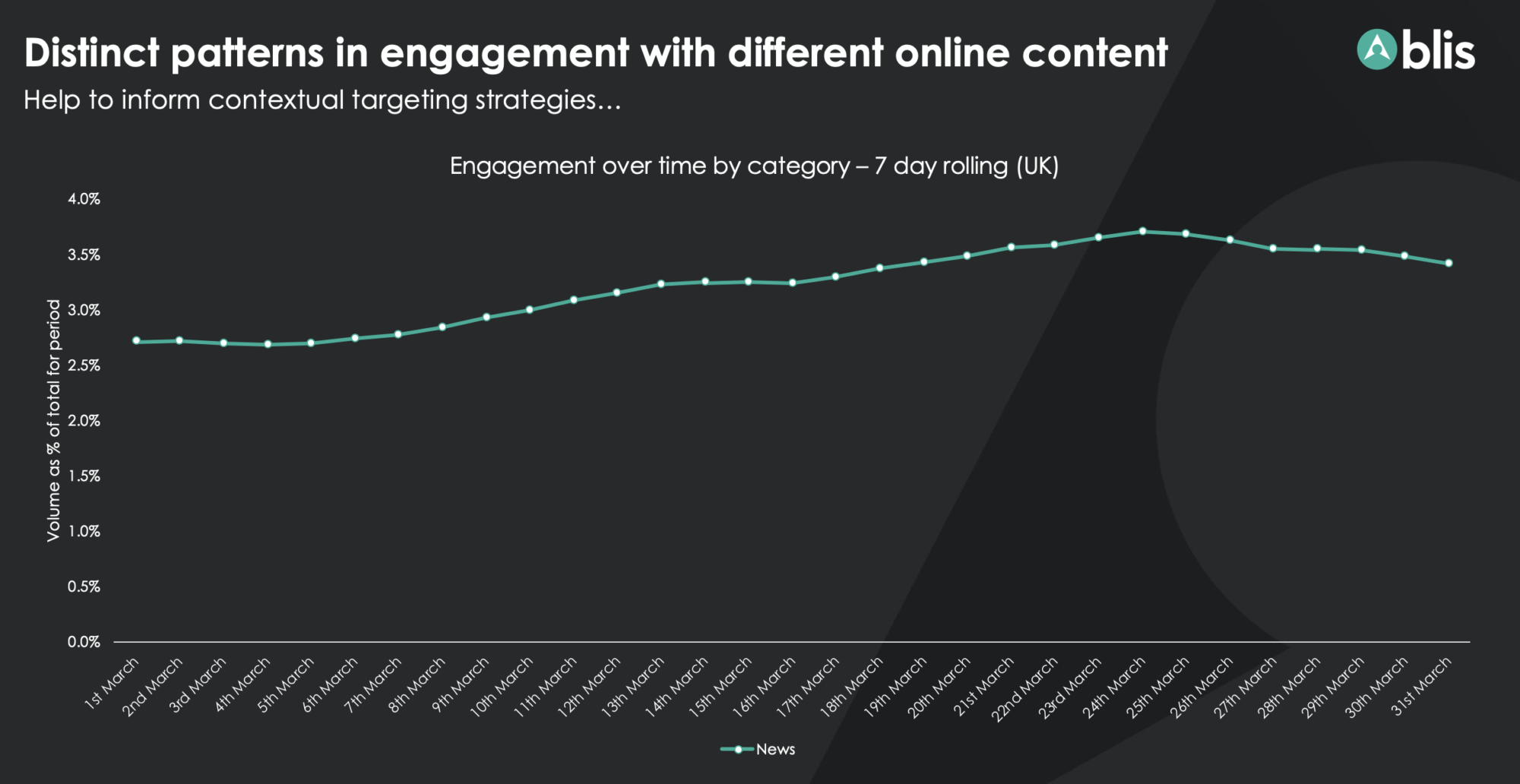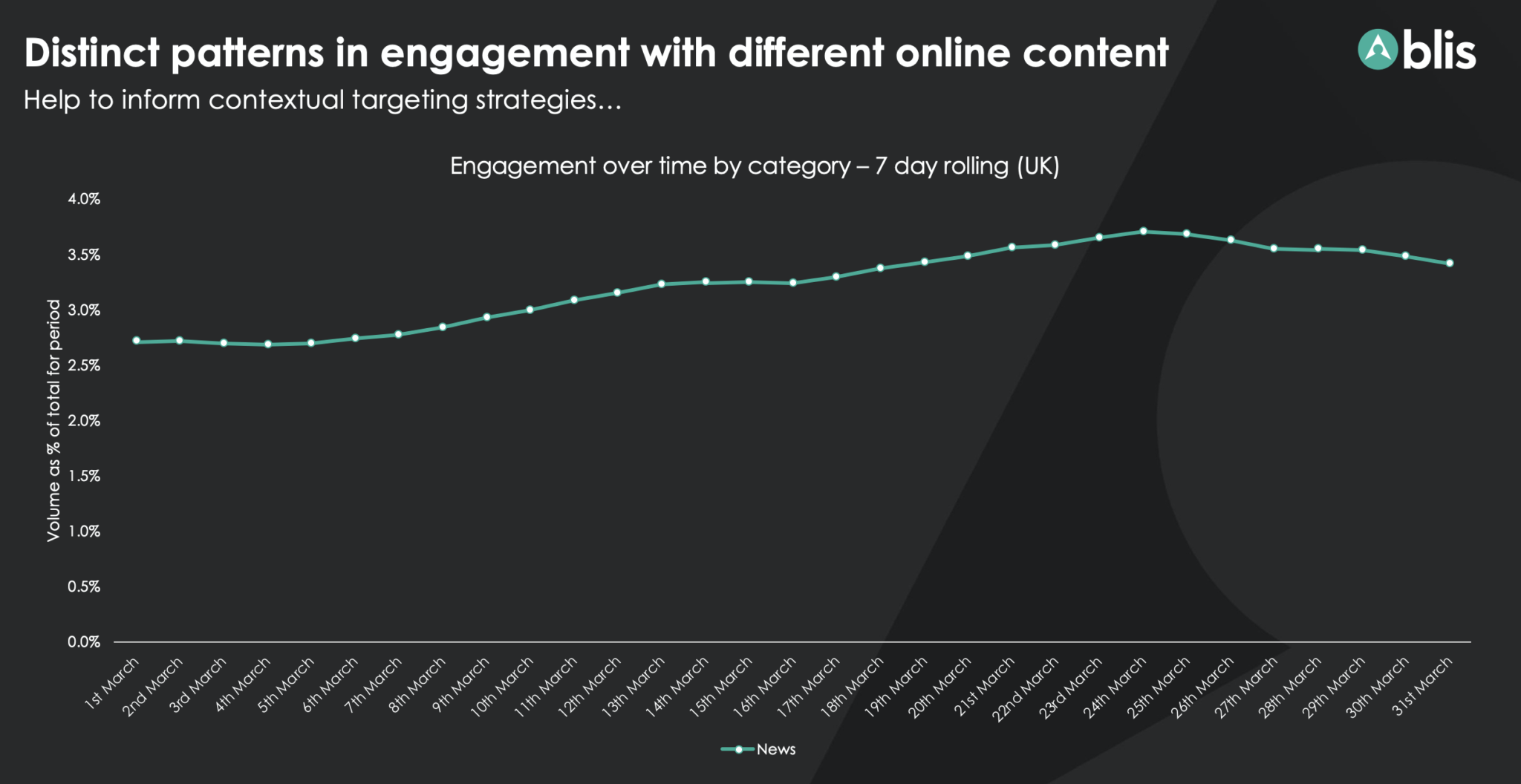 The news content sees the most consistent engagement throughout the day as people continuously check for the latest updates on the spread of the virus and the latest government directives. There are peaks between 7-8am and 5-6pm which suggests people are seeking an update first thing when they wake up and then when they finish work, and then a smaller increase between 9-10pm before they go to bed and following a number of government announcements.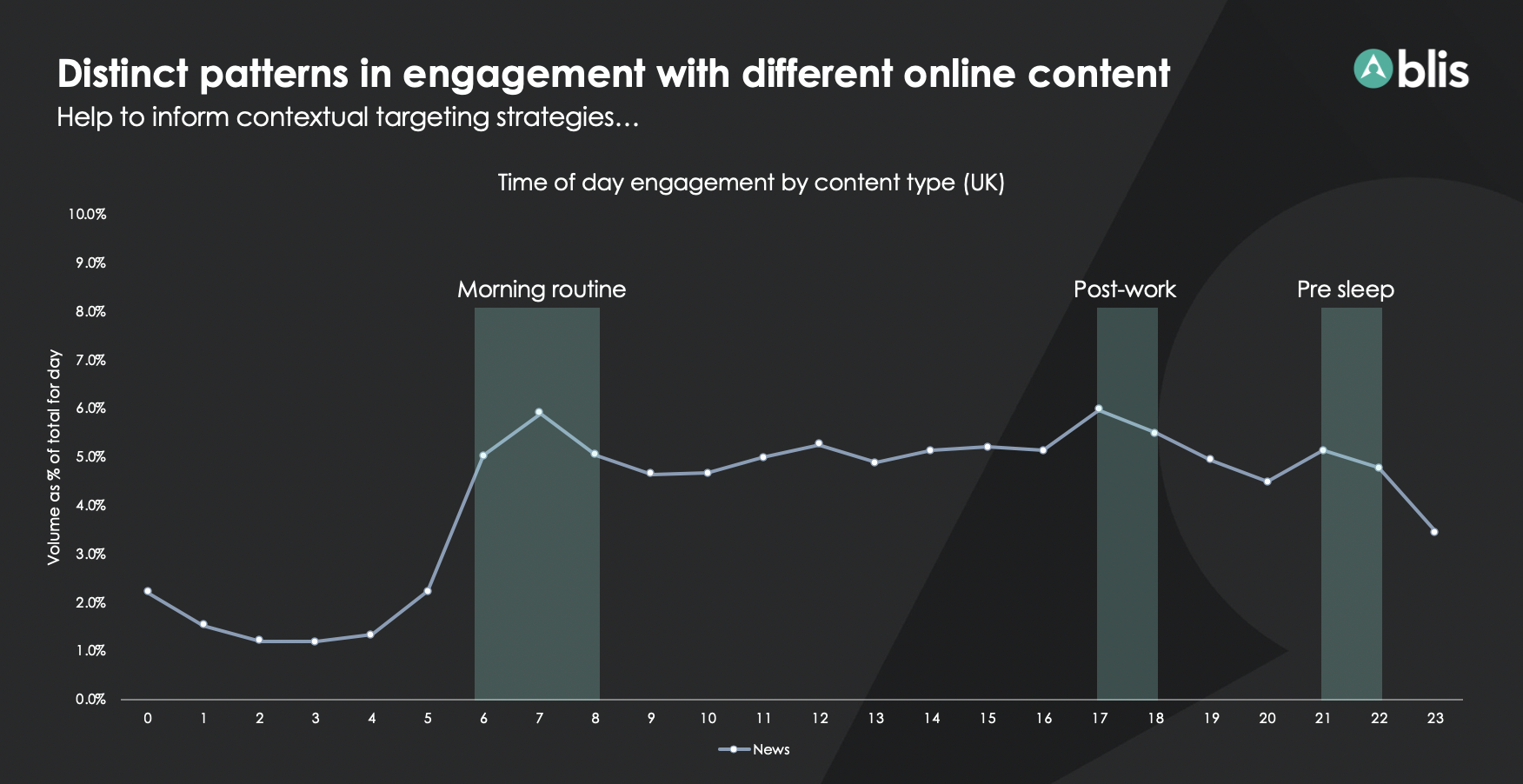 This pattern of engagement is replicated in relatively similar forms across the US and in Australia, suggesting that the quarantine lifestyle isn't restricted by country borders. People are tuning into news cycles first thing in the morning before "regular" working hours commence and again when they clock off in the evening.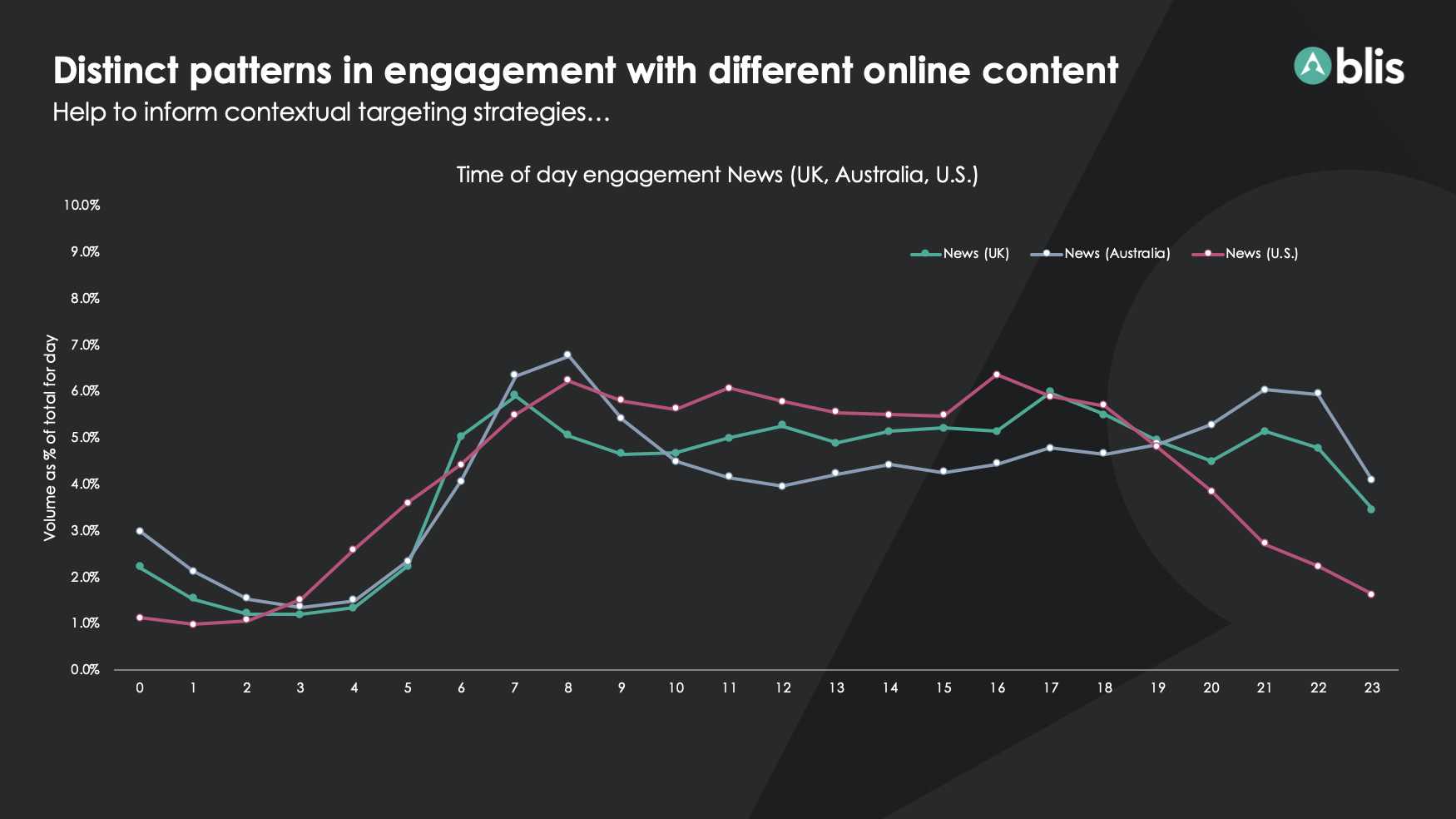 Looking at the various types of content across categories, news is experiencing a period of continual growth in engagement. Perhaps, unsurprisingly travel content is declining, at about 30% from its peak in the second week of March. With a number of major global routes now blocked, approximately a third of flights running vs. the same time last year, and the threat of quarantine upon arrival we might have expected these numbers to plummet even further.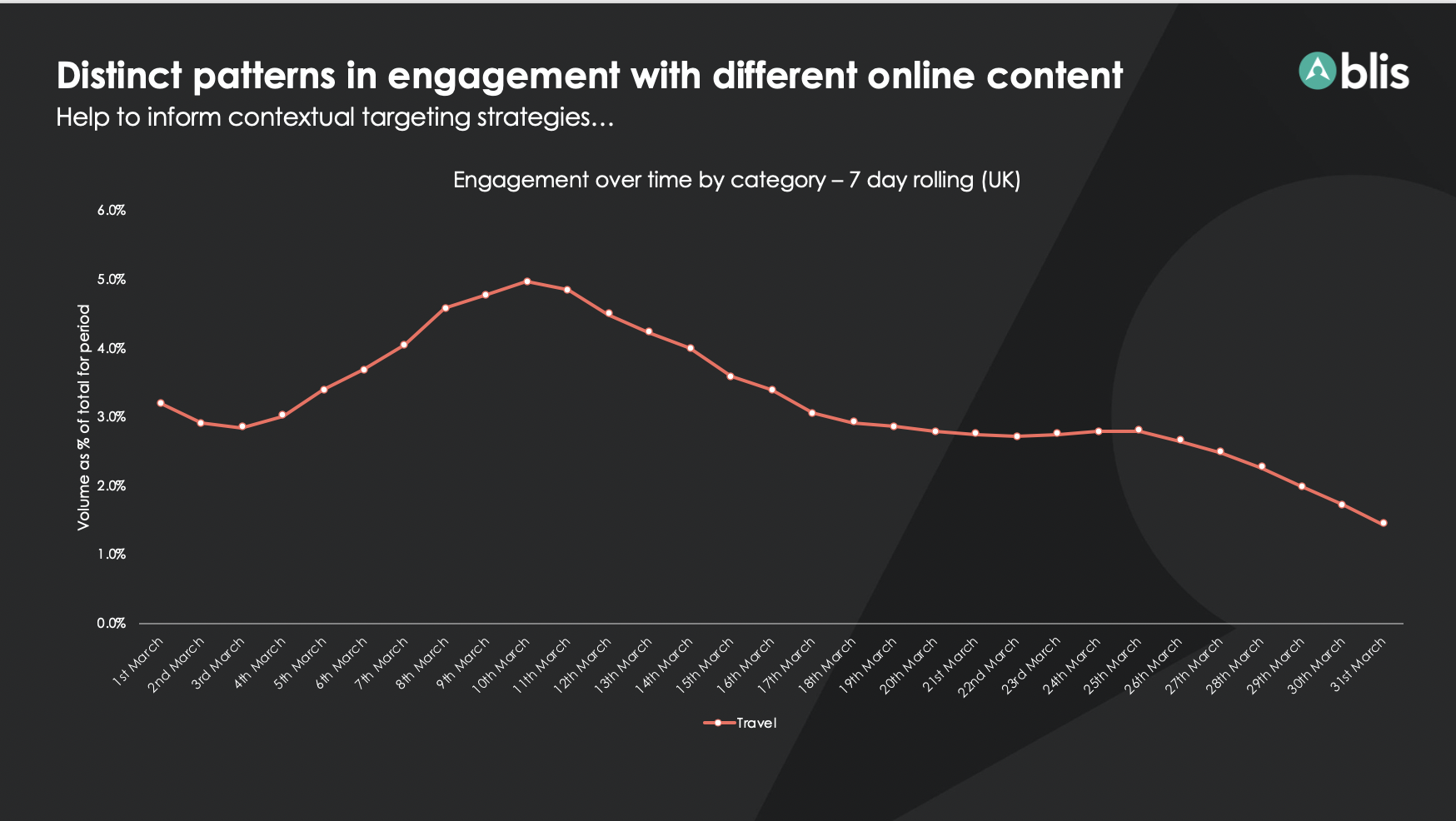 Looking into the data we see peaks in the morning after the news spike and again in the evening. This might suggest some consumer escapism and reviewing of travel plans in light of the latest news indications. Also travel companies may consider which routes or accomodation to offer consumers, and for which times of the year, based on the perceived risk for the consumer e.g. a £1,000 holiday may be worth a risk in August but a £2,000 holiday too much of a risk.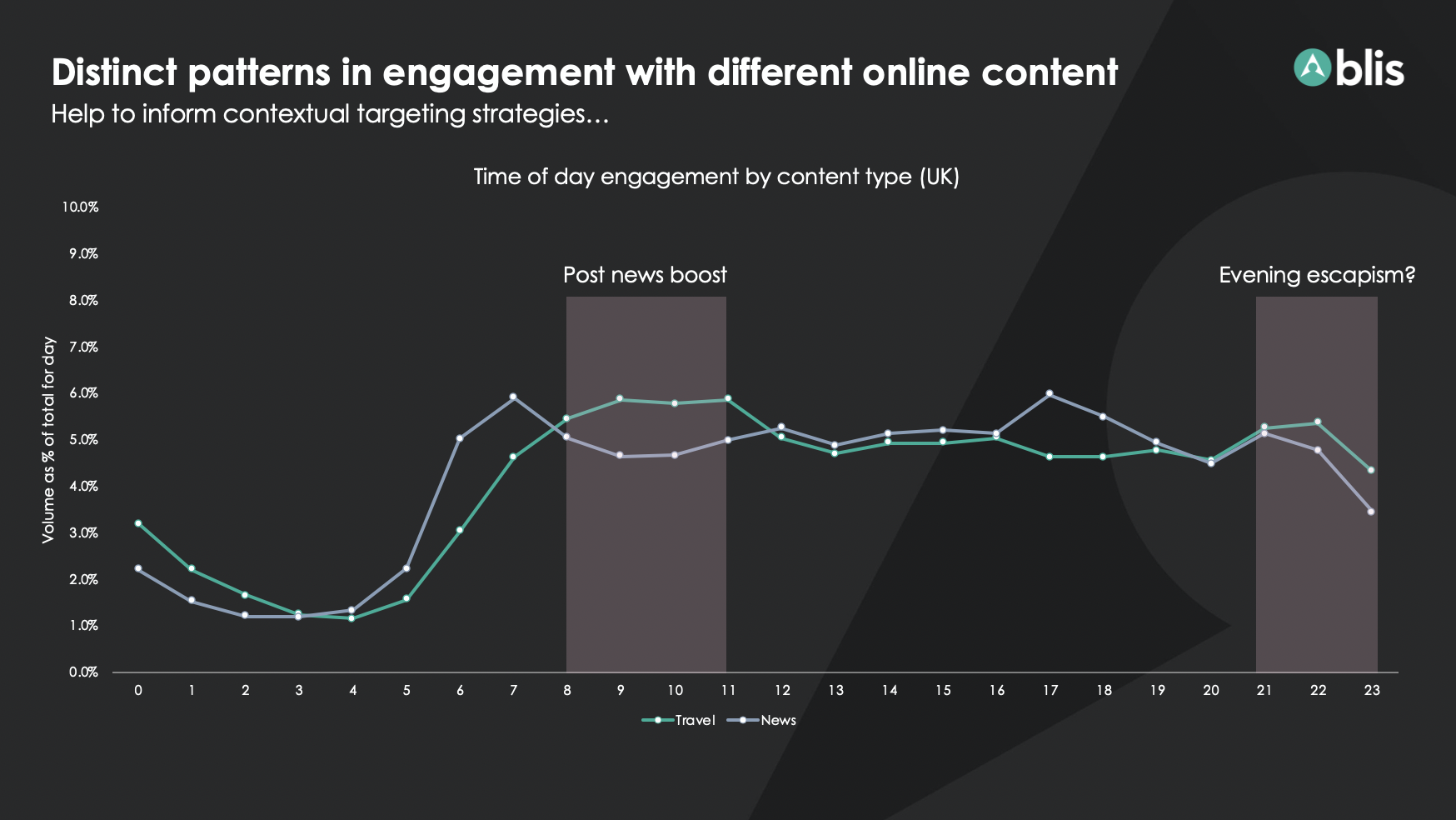 Potentially providing some solace for travel companies, despite the lockdown the levels of browsing would appear too high to just accredit to foreign nationals looking for return flights home. The figures may reflect individuals trying to find alternative holidays and future escapes when the situation improves. 
Understanding the balance between positive news stories and providing a sense of optimism in the future will build trust and excitement.