Traditionally, Americans gather with loved ones on the fourth Thursday of November, to reflect on the past 12 months, eat a little more than they should and, of course, give thanks. But this year, many plans ground to a halt and people avoided traveling across the country and opted for a virtual celebration instead. 
In this post from 'The changing behavior series' we take a year-on-year view of travel between states over the Thanksgiving period to get a better understanding of consumer migration for the holidays. 
In a 'usual' year we know that people tend to stay more or less within their region. What transpired in 2020 was an average of 3% decrease in movement between regions of the United States. And with a population of over 330 million people, 3% is a significant reduction in the number of people not travelling. 
This shift in 'loyalty' to a region is demonstrated below, where we can see that the crossover between regions is down year on year. This year, each region had a loyalty of over 93%, with some closer to 97%, up from an average last year of 85%. The largest proportion of crossover for each region came from the South as in previous years, although crossover is down across the board, indicating that fewer people are traveling to different regions.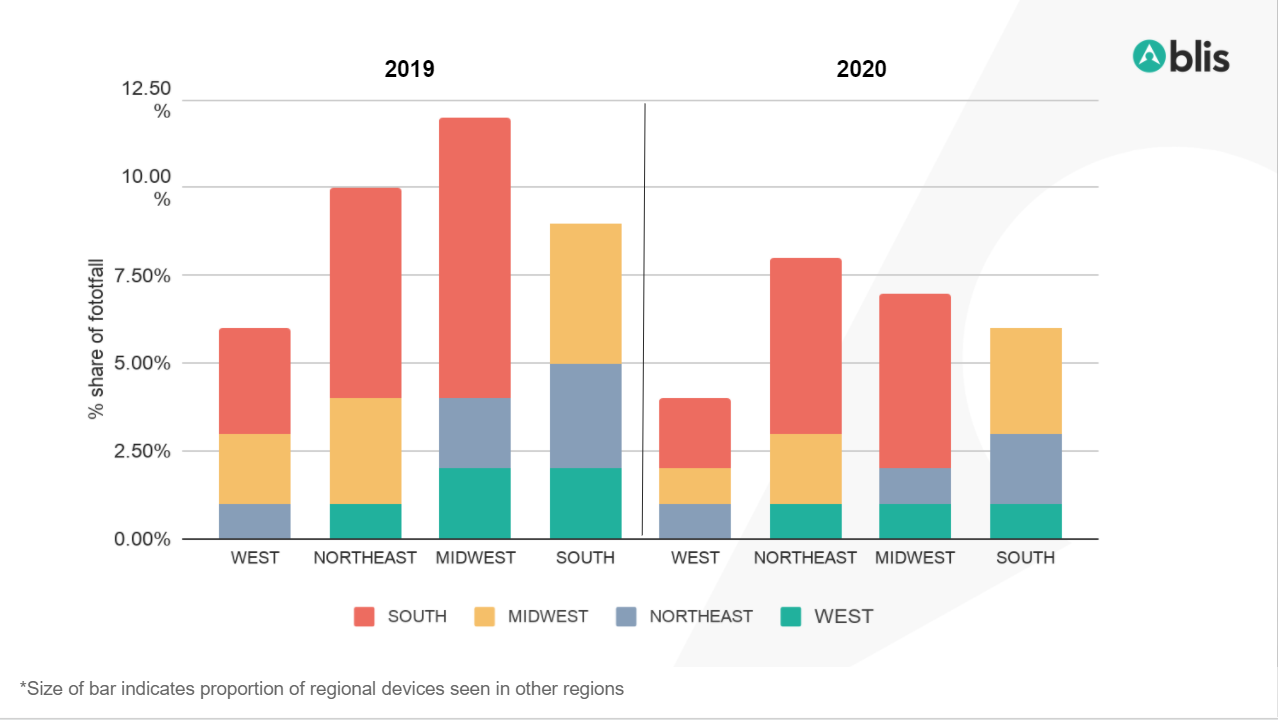 When we look at inter-state movement, however, there's been an even larger decrease in movement with an average of a -8% dip in people travelling between states. Even states that usually see a great deal of movement, such as Illinois, have seen a large reduction in crossover this year. This indicates people are actually being more sensible than the media is portraying with the vast majority of people seem to be staying in-state.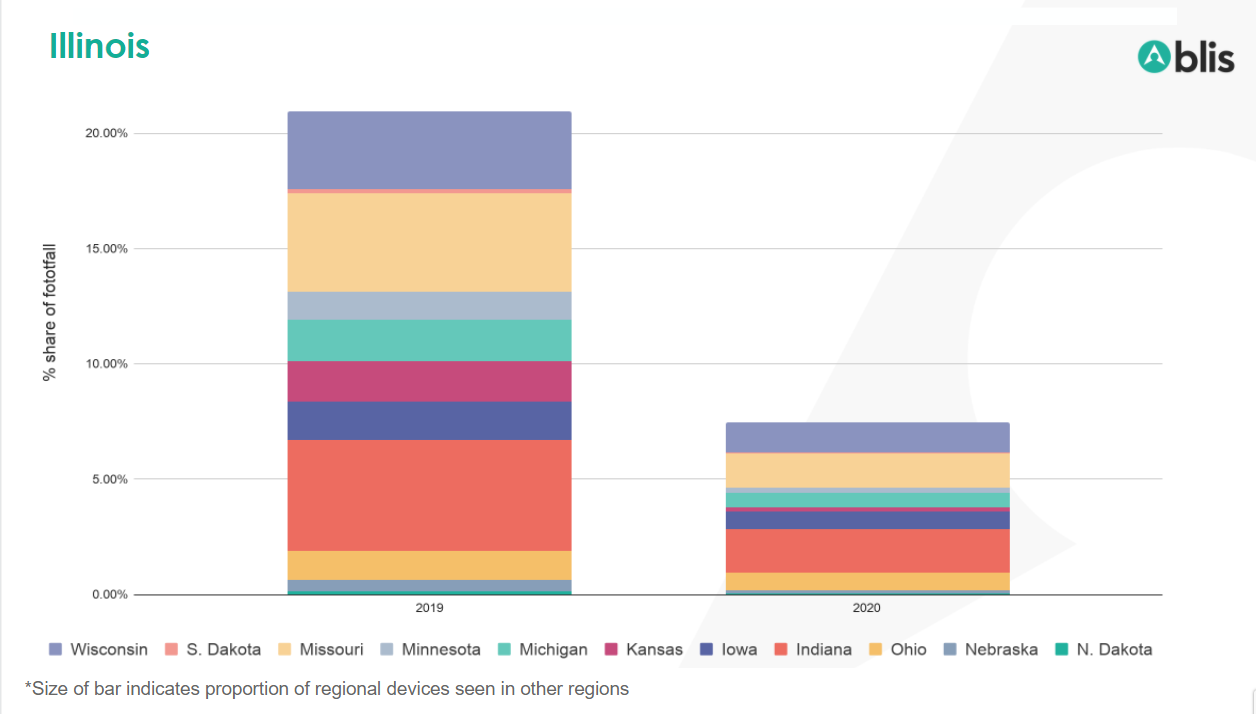 When we look at New York, which generally sees high crossover, this too has fallen significantly in 2020 (-6.4%). The vast majority of interstate crossover comes from New Jersey, with Pennsylvania in second as people cross state lines to exit the city for a more relaxed break. With more cities in closer proximity, movement between them seems to be more common than in larger states like Texas for example.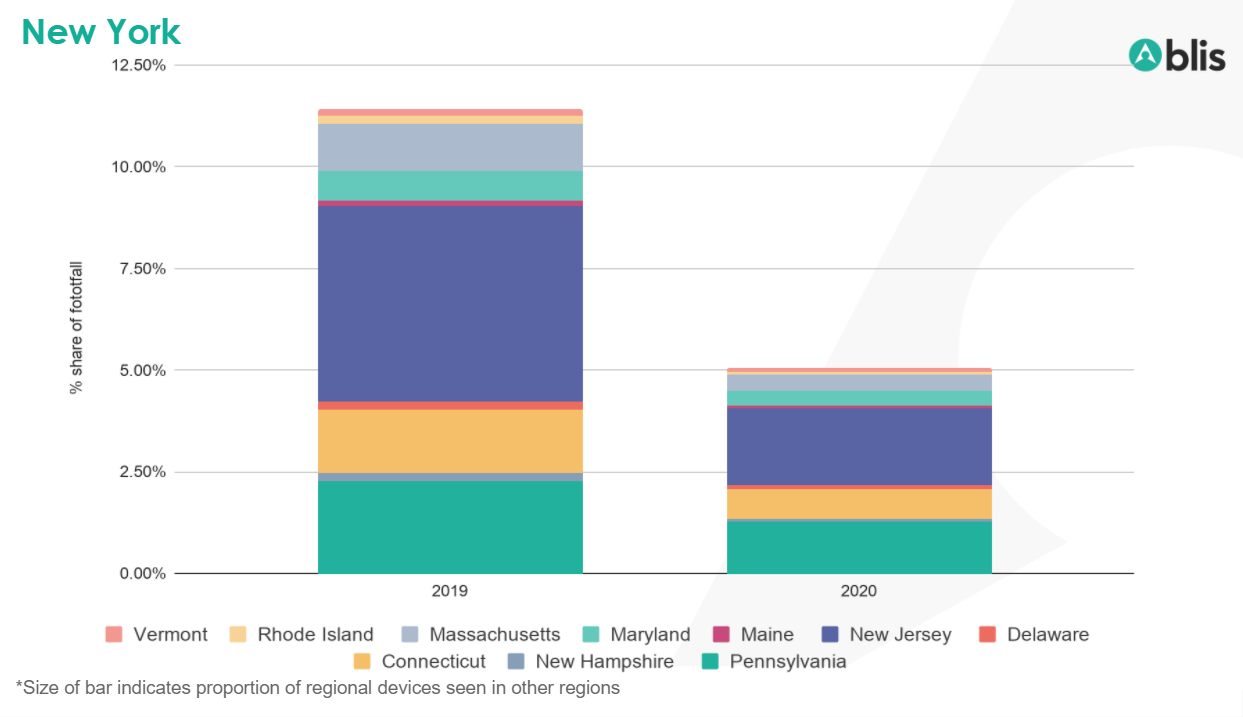 While the full impact of any gatherings that did take place at the end of November have yet to become clear, these trends in movement will provide a guide for brands and businesses around the country as to what to expect for the upcoming December celebrations, with Christmas, Hanukkah and New Year festivities about to begin.
Keep‌ ‌the‌ ‌focus‌ ‌local‌ ‌
While‌ ‌previously‌ ‌brands‌ ‌may‌ ‌have‌ ‌focused‌ ‌on‌ ‌global‌ ‌or‌ ‌national‌ ‌audiences,‌ ‌right‌ ‌now‌ ‌brands‌ ‌need‌ ‌to‌ ‌focus‌ ‌their‌ ‌efforts‌ ‌on‌ ‌localisation.‌ ‌At‌ ‌this‌ ‌stage,‌ ‌how‌ ‌people‌ ‌react‌ ‌is‌ ‌primarily‌ ‌driven‌ ‌by‌ ‌how‌ ‌the‌ ‌pandemic‌ ‌is‌ ‌impacting‌ ‌their‌ ‌local‌ ‌region‌ ‌–‌ ‌particularly‌ ‌in‌ ‌
states ‌where‌ ‌case numbers are growing and restrictions on movement are more stringent, such as California.
Address the shift in movement
The very fact that people are leaving their homes has now become a point of interest for brands. For those who take a more local state approach, finding ways to keep the festive cheer at home when travel isn't possible will be top of mind. This shift means even greater changes to media plans for brands and a more granular approach when targeting audiences.
We know that people are resilient, adapting and changing behavior to meet the needs of themselves and their families. But right now they're out of their comfort zone and concerned for an uncertain future that makes it difficult to plan. Brands that focus on how consumer behavior has changed and harness it in their strategies, will be well positioned to survive and thrive this upcoming holiday season.