Lockdowns have been imposed in most major cities around the world. Personal movement across these cities has disappeared virtually overnight, with transport app Citymapper reporting as much as a 96% reduction in travel over the past number of weeks. And gaming and news apps are having their moment, in terms of content consumption and engagement. This restricted movement has led to an uptick in app usage of 70.1% in the UK, 15% in the US and 23% in Australia, according to Blis data. 
What does this mean for consumer behaviour? How can brands best reach the at-home consumer and what are the trends we're seeing that could be useful for brands looking to reach this at-home audience during the global lockdown? As part of 'The changing behaviour series' our team of experts are using data to find the answers to these questions. 
At Blis, we're seeing new and different app engagement patterns emerge. Looking at our data, gaming app activity is skyrocketing, up 41% in March in the UK compared with February, although for now, this activity remains concentrated in the evening during after work hours. This suggests that people aren't yet slipping into 'bad' work from home habits. However, evening usage is really peaking when, presumably, people are switching off laptops and relaxing on the sofa. 
As could be expected, gaming content has seen a gradual increase in the number of users since the start of the month as the crisis has accelerated. We're seeing peak gaming engagement between 8-11 pm, suggesting consumers are switching away from news and more serious content in the evenings and ready to mentally switch off. This is an indication that they are relaxed and more open-minded.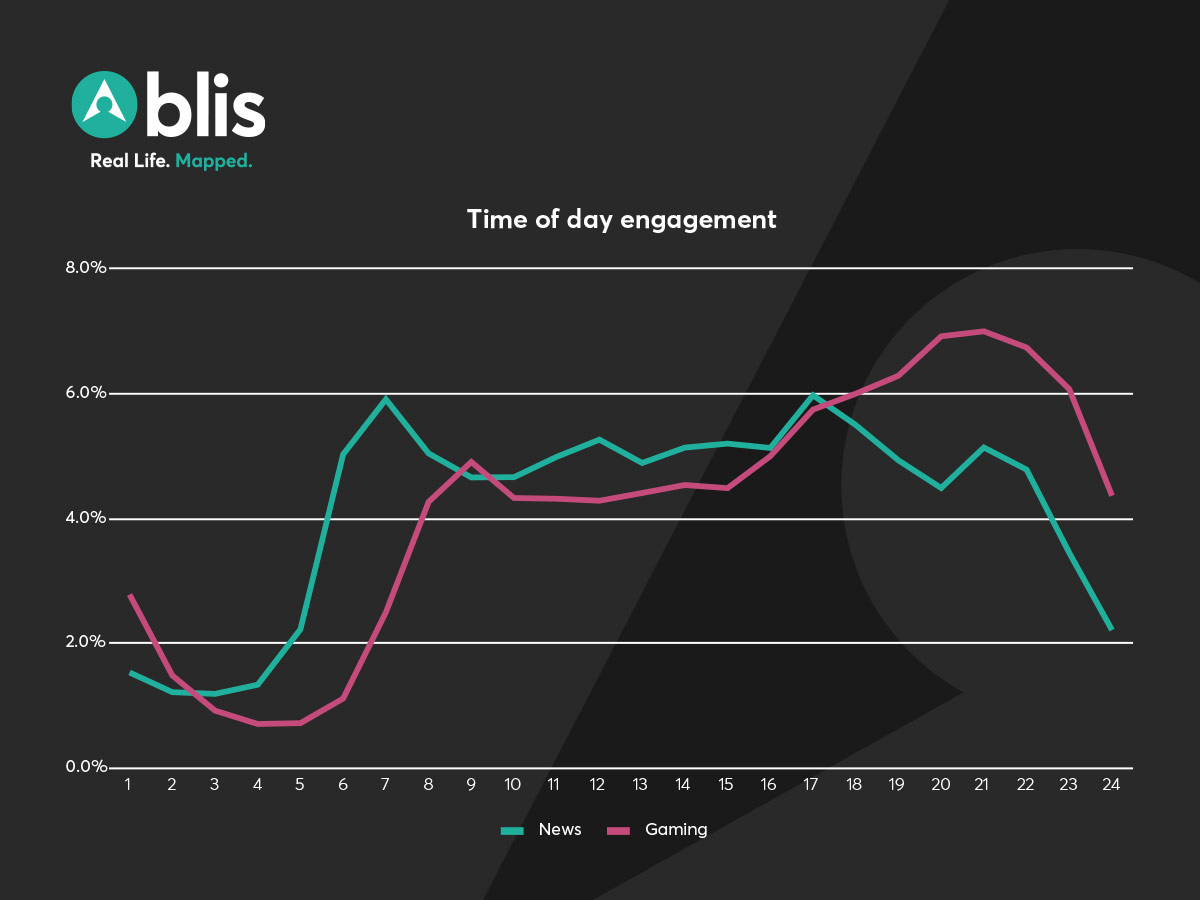 We are also seeing an increased peak between 7-8am post-Covid impact when people who would have been commuting are now online. With these morning and evening peaks, news consumption has increased by 20-25% vs the previous week, as people look for regular updates on the spread of Covid-19. 
According to Russ Budden, Business Development Director at OnePoll, "Gaming is clearly in a boom period and arguably will continue to thrive whilst countries are in lockdown. Recent OnePoll research shows that almost 60% of UK adults have increased the amount of time they spend online gaming over the last month, with the North East seeing the biggest increase.  Not only is the amount of time increasing but also what we're spending on gaming with nearly a third of UK adults having made some sort of gaming purchase in the last month".
For brands looking to engage, we see the highest opportunity areas are for brands to focus on mass news consumption, e-commerce, social messaging and gaming. For gaming in particular, the key window is 1-2am. This means brands can be laser targeted in terms of time slots to ensure they are targeting the at home consumer at the right time with the right message.