With one of Australia's most iconic landscapes as a backdrop, the sight of thousands of beach-goers enjoying the Bondi surf in late-March represented a turning point in how Australians appraised the severity of pandemic life. A month on, the tentative re-opening of the beach is a testament to the actions that followed that weekend.  To analyse this response, Blis leveraged our proprietary location behavioural data to uncover what human movement can tell us, why community-minded cooperation matters to everyone, and how Australians have responded to a life of increasing restrictions.
Surf's up (for now)
Unlike our flag waving American cousins, Australia clearly favours a more spirited, good-humoured rebel. From the infamy of Ned Kelly, the antics of Shane Warne, to Bob Hawke giving the nation a sick-note after the America's Cup — this rebellious streak is less driven more typically by a cheeky but well-intentioned middle finger to tradition and authority. Given this predilection for sheer bloody-mindedness, perhaps we should not have been too surprised when thousands defied calls for social distancing by descending on Bondi Beach on March 20th and 21st, unwittingly exacerbating an escalating health crisis in the process. 
While these revellers clearly meant no harm, the alarm they caused was justified. Sydney's eastern suburbs have since become a hotbed for COVID-19 transmission and pockets of infection that day could (and may) have accelerated the spread of coronavirus throughout the city.
Words like 'irresponsible' and 'ludicrous' have been used by commentators to describe the event. The official response was both severe and immediate: 
The rationale was simple: during a pandemic, even the most innocuous of social gatherings have the potential to impact the wider community in devastating ways. When you consider the fact that Bondi Beach receives 3 million people a year, plus growing evidence that COVID-19 infection can often be asymptomatic, the potential for Bondi to be a silent but explosive petri dish is both frightening and real.
A month on, restrictions are now being slowly, and tentatively eased, but Australia would be well-served to exercise extreme caution. To demonstrate just how rapid and far-reaching a viral outbreak could be if left unchecked, Blis analysed the dispersion of those Bondi visitors in the week that followed.
Blending in
One of the biggest fears specific to COVID-19, is how easily and unwittingly the virus can be spread through mundane, everyday activities.
From catching public transport, shopping to dining/eating out, visitors to Bondi Beach on the 20th and 21st of March subsequently interacted with other Australians in a wide variety of ways in public spaces in the ensuing week.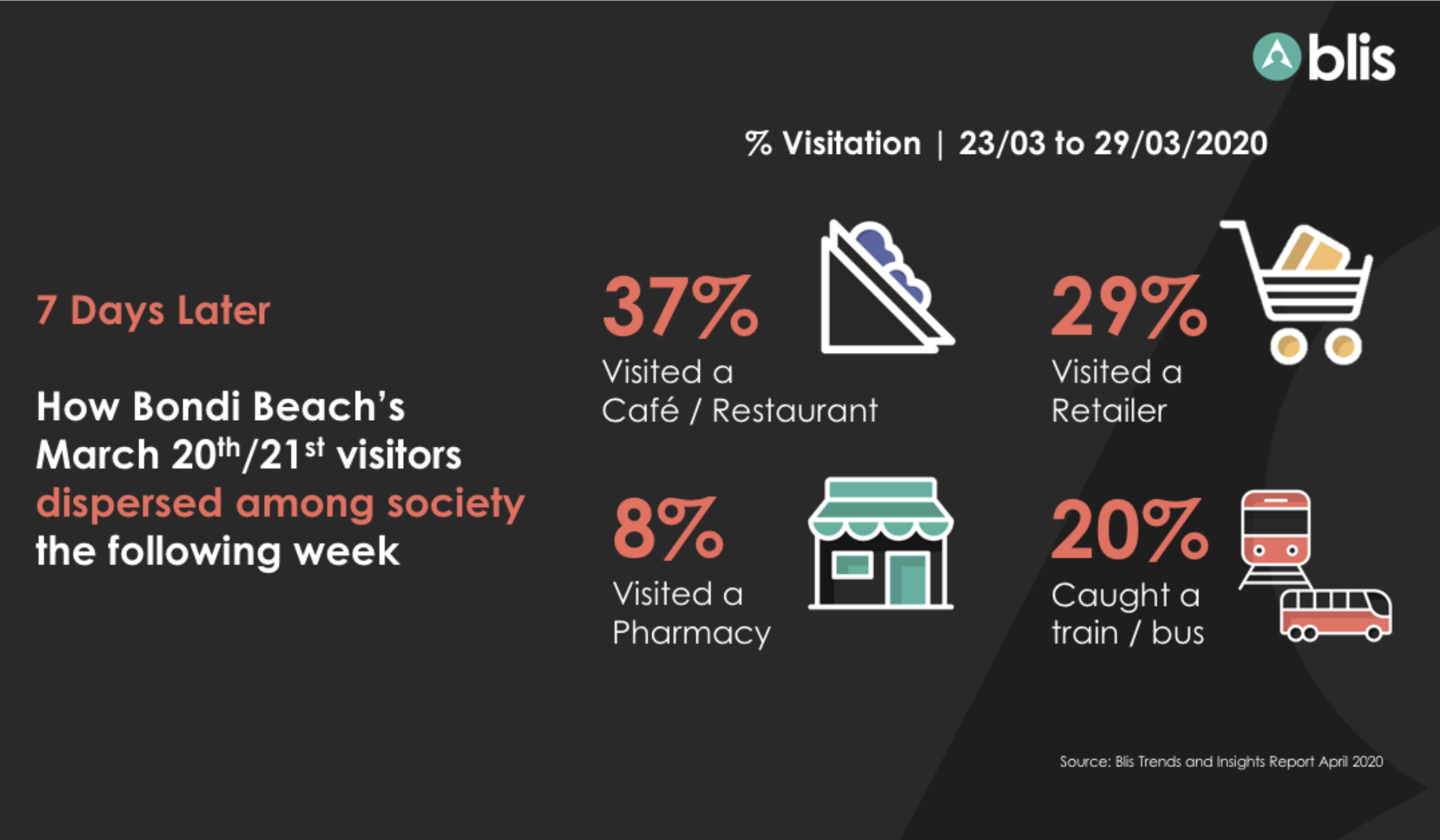 From the 23rd to the 29th of March, 37% dined at a cafe or restaurant. Over a quarter were found shopping across the city. This dispersion extended beyond the coast, with 1-in-5 catching public transport to other parts of the city.
From the surf to the suburbs
Bondi attracts visitors from across the city, especially in Sydney's suburban heartland to the west.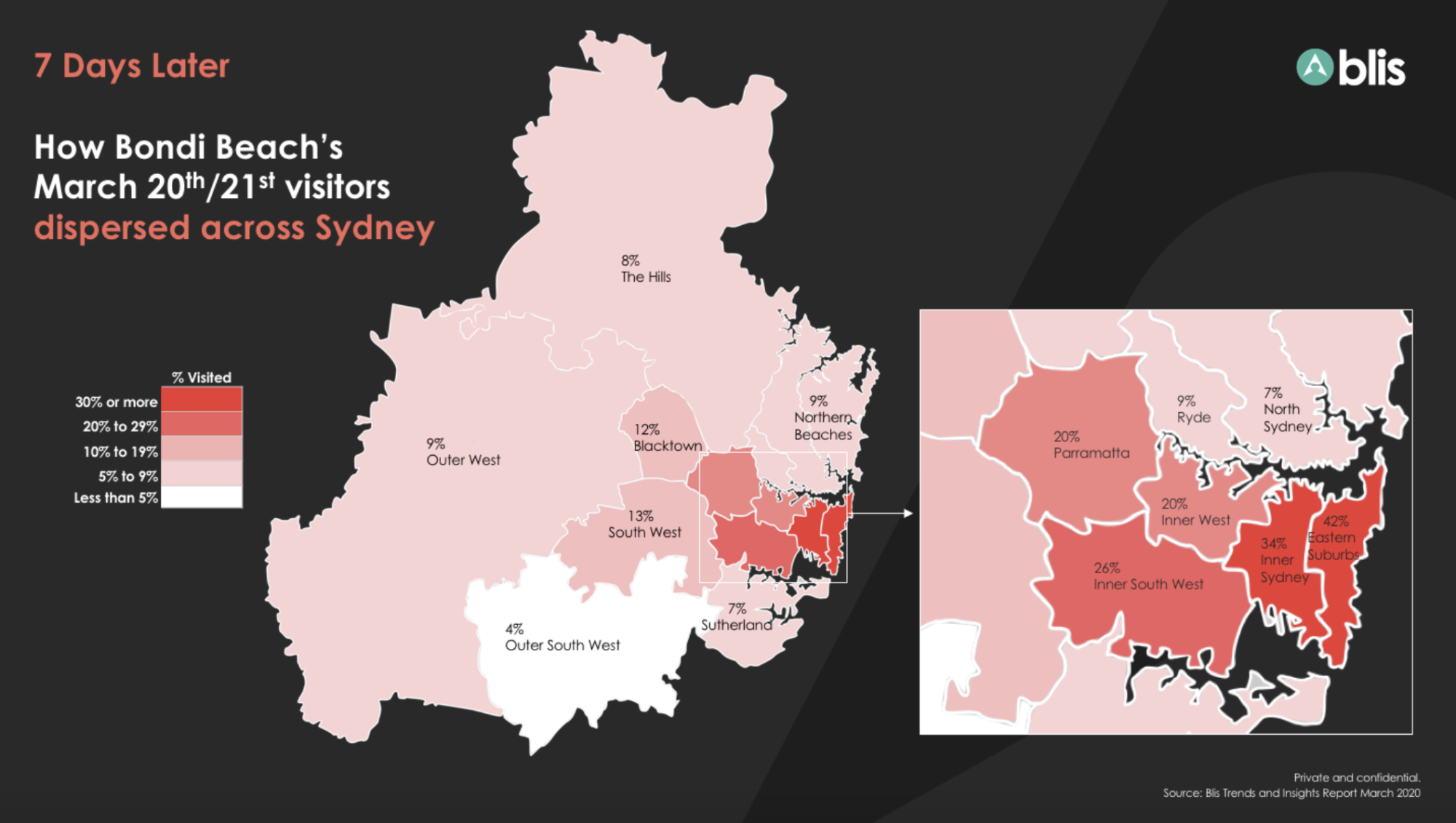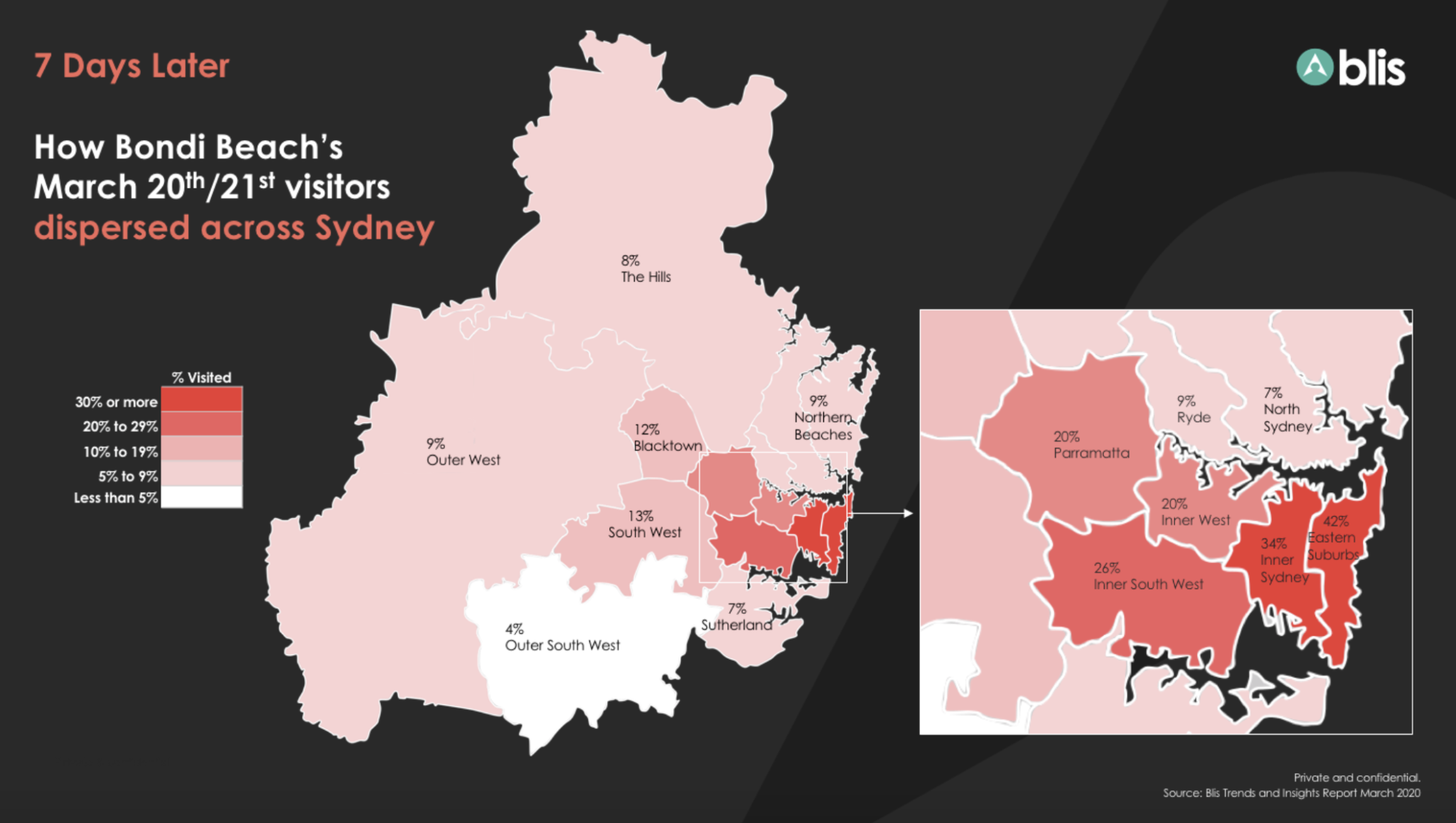 High dispersion into nearby eastern and inner Sydney suburbs was to be expected, but in the week following the Bondi incident, parts of Sydney's populous suburban west received as many as a quarter of the beach's visitors. 20% subsequently visited the inner west (from Marrickville to Ashfield), while over 26% were found even further away in the city's inner south-west (which extends from Kingsgrove to Bankstown). 
1-in-5 visitors made it as far as Parramatta, some 30km away from the coast, while 1-in-10 braved the 100 minute drive into Penrith, Richmond and other parts of Sydney's outer west.
Further afield
The extent of a potential outbreak could have reached other parts of the country as well.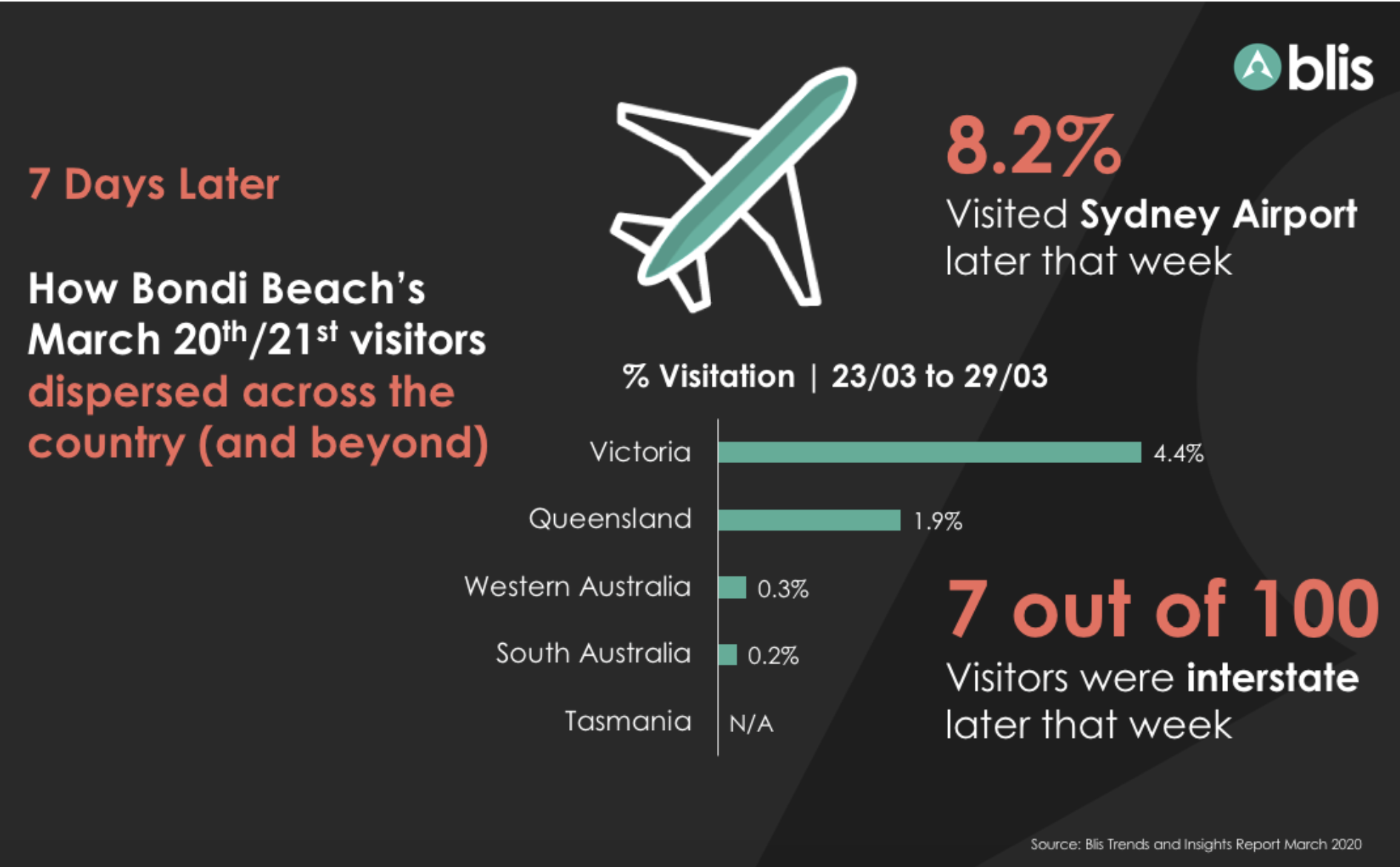 By the end of the following week, close to a tenth of Bondi visitors hopped on a plane at Sydney Airport. For every one hundred people who visited Bondi Beach on the 20th/21st of March, seven were interstate by the end of the week.
Alone, together
Ultimately, the Bondi incident was not indicative of the wider Australian response to the increasing severity of COVID-19. Isolated incidents aside, Australians have actually responded remarkably well to sudden restrictions and imposed isolation.
Community minded co-operation combined with stricter social distancing and public gathering rules have resulted in a significant decline in time spent in public spaces. In just a matter of weeks, Australians are already choosing to limit the time they spend on activities outside the home.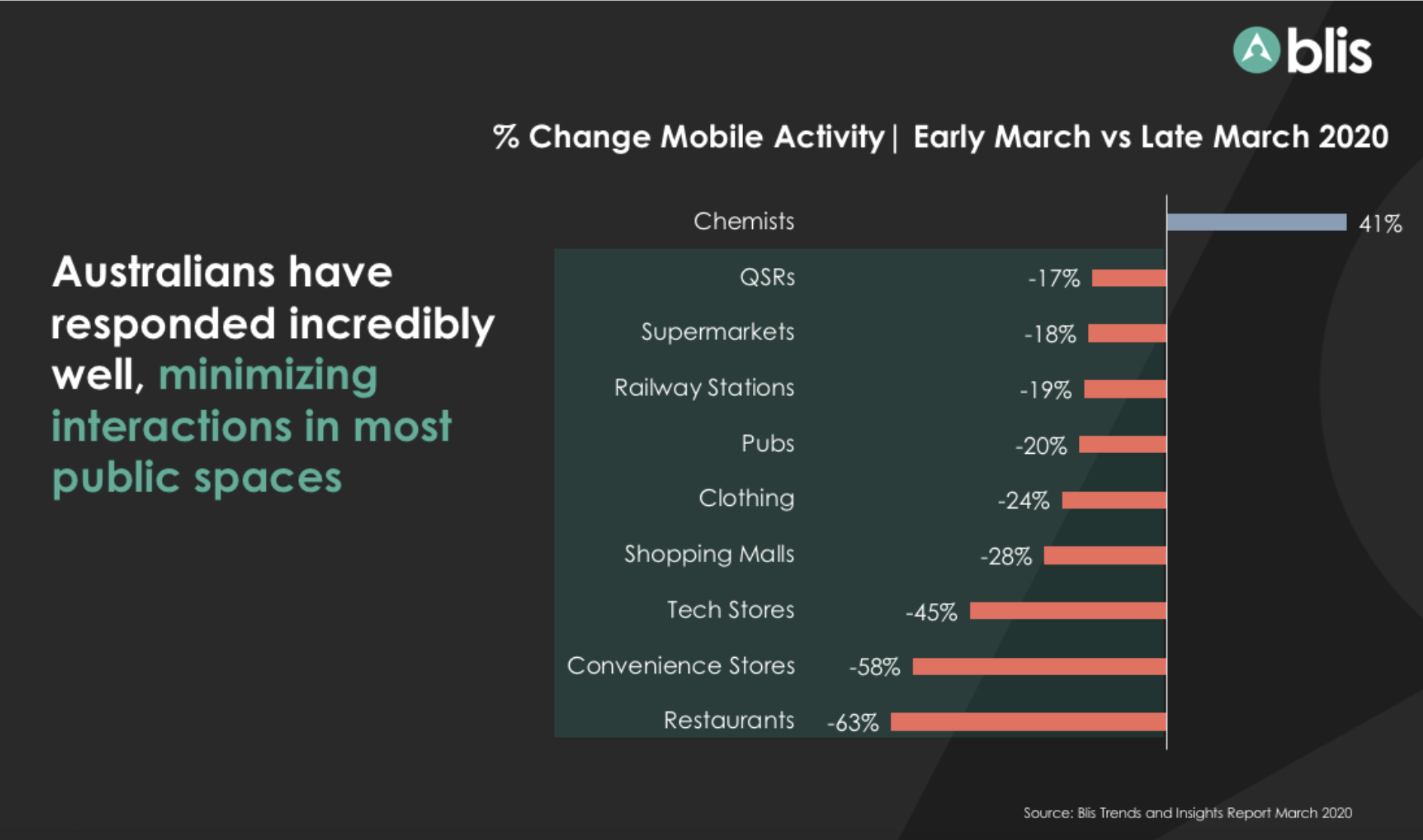 In the time period between the Bondi incident and lockdown, Australians were spending -63% less time in restaurants compared to earlier in the month. Time in retail environments such as supermarkets (-18%), shopping centres (-28%) had fallen markedly despite an early spate of panic buying and hoarding. Chemists were understandably one of the few retail environments that saw an increase in time spent. 
Encouraging signs…but there's more to do
Even among the many restrictions and closures, beach closures proved to be a particularly jarring signpost for many Australians. It signified that we have entered extraordinary times, times that require more than just acquiescence; individual sacrifices have become necessary for the survival of many. 
Compared to the more heated reaction in parts of America, the Australian response thus far has been remarkable and the combined efforts of all parts of society is having an encouragingly positive effect. 
The week following the Bondi incident was the most devastating to date, with an average of 332 cases a day, peaking at 460 cases on the 28th of March. In the ensuing weeks however, infections have dropped markedly, with an average 34 daily infections over the last week at time of writing. 
There is however more to do, and careful consideration is required before restrictions lifted fully. The rapid dispersion of Bondi visitors throughout the community serves as a stark reminder that even the most well-intentioned of public gatherings can quickly undo weeks of progress if restrictions and precautions are not continued. With Bondi reopening for locals this week it's essential that visitors stick to the advice and guidance to prevent a second wave. 
As habits and behaviours continue to evolve at an unprecedented pace, up-to-date, accurate measurement, data and insights have become essential in these uncertain times.