On 4th July bars, hotels and restaurants across England opened their doors to customers after three months of lockdown. The UK hospitality sector is one of the UK's largest employers with 3.2 million workers in the sector in 2018 and since lockdown began job cuts and closures in the sector have regularly made the headlines. 
'Super Saturday', as it was affectionately known, saw people queuing up to sit in their favourite pub to enjoy socially distanced drinks. To assess the levels of confidence in returning to places of leisure and entertainment, our team at Blis analysed patterns of consumer behaviour and compared them with patterns from the week of 24th February – 1st March. 
Despite all the coverage and hype around the reopenings, Blis data indicates this was a much milder affair than publicised. Overall, visitation for all pubs in the first weekend was only 37% and the national chains saw a rather flat 25%. Following a full week of operations these numbers picked up to 40% and 32% respectively, still a fraction of "normal", but in line with expectations given our view of other verticals. 
The study included an analysis on settlement clusters and major national pub chains. The South West experienced the highest uptick across all pubs over the first full week, with 41% of pre-COVID levels, perhaps aided by the fact that the region saw the lowest number of COVID cases per capita. Age, population density, pub sizes and affluence all play a factor in the increased visitation and supporting consumer confidence for returning.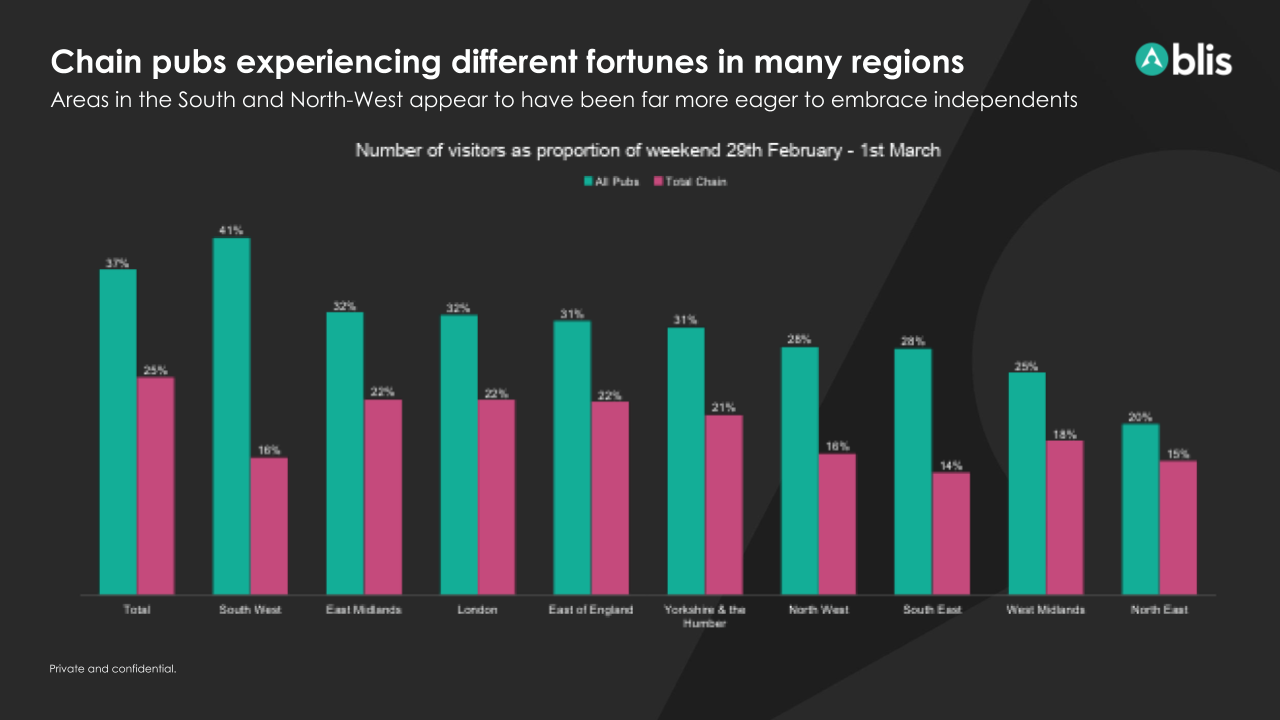 For the opening weekend Saturday was marginally the bigger day for pub visitation, although this was not the universal experience and, for Fullers, Marstons and Greene King in particular, Sunday yielded a greater amount of footfall. In "normal" times each chain typically sees about 10% more visitors on Saturday than on Sunday. However, the absence of the late night drinkers and pre-club goers may be part of this lost opportunity. With the government discount scheme on food and soft drinks throughout August, this may provide a much needed mid-week bump of punters who no longer are visiting for after-work drinks. 
Of these visitors on the opening weekend, almost half (45%) were under the age of 35, increasing to a whopping two thirds when we include those up to 46. This younger skewing audience are 7 times more likely to have visited the high street in the first week of its reopening. Perhaps due to the perceived lower risk, this group is embracing returning to physical environments quicker than the general population and with gyms and cinemas opening before the end of the month, there is an opportunity for brands to connect with this more confident consumer. 
Positively for the hospitality sector, the second weekend of pubs reopening saw an even greater demand in visitation.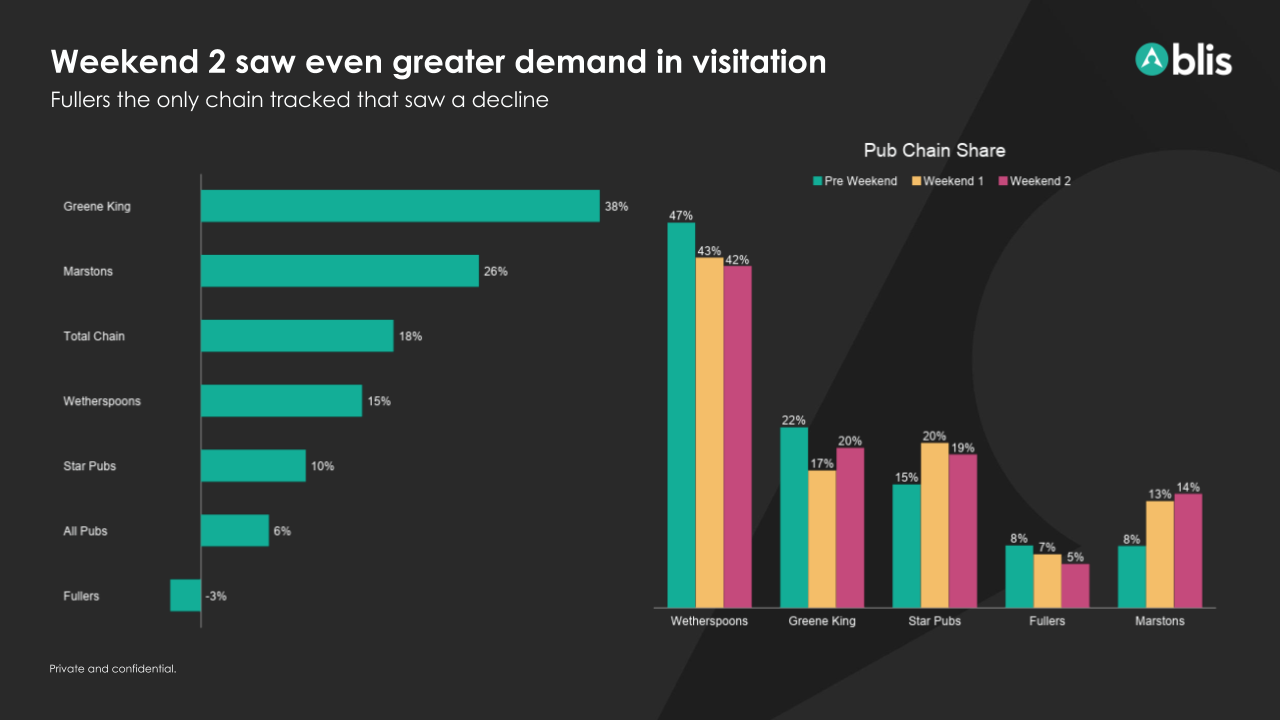 Whilst London as a whole seems to be doing rather well when compared with other regions, it does appear that those chains with the greatest presence in London are struggling most, with Fullers seeing a decline week on week. Small towns (those with a population between 20-30 thousand residents) outperformed the larger cities, particularly for chain pubs. This is important for other verticals to keep in mind to understand which audiences may feel more comfortable branching out and potentially visiting bigger retail spaces that demonstrate safety measures implemented. 
To see this data broken down further click here to download our accompanying deck.