Earlier this week we looked at gaming apps and the rise in activity at distinct points throughout the day. As part of 'The changing behaviour series' we're taking a deeper look at what other apps are performing well in the app ecosystem and how brands can use consumer behaviour to inform their strategy. 
The impact of Covid-19 on the telecoms industry has been huge – with an increase in in-app data usage coming from a wide range of activities, such as accessing working and educational material online, playing digital games, increased consumption of social media and online news sites, and video streaming services such as Netflix across multiple devices.
The chart below looks at content engagement across key sectors, with sport content peaking around major sporting events being postponed or cancelled. Travel is declining as expected at about 50% from peak, but still a significant amount of eyeballs are looking at travel-related content. We speculate that this is likely to be people checking on status of flights to return home or upcoming pre-booked holidays, as well as stuck-at-home consumers researching the places they hope to go once this is all over. But the numbers are still stark, with Sky Scanner down 84%, according to Blis data. We also see news and gaming consistently and gradually increasing.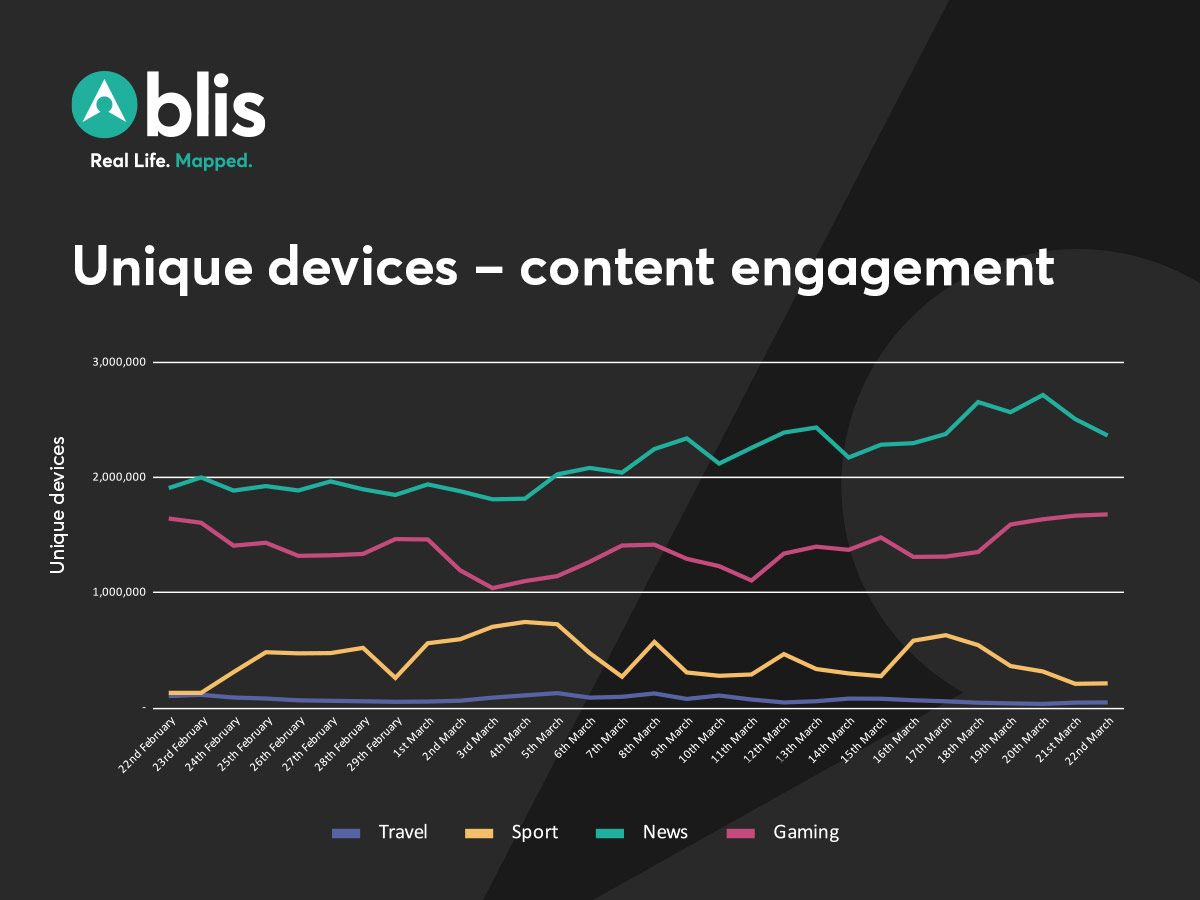 Though sporting events are being cancelled worldwide, consumers are finding ways to get their sport fix. Online group workouts are proliferating. In the UK alone, anywhere from 1.4m-3.2m are tuning in for Joe Wicks morning workout for kids (and their parents, it turns out). Virtual yoga classes are also gathering steam for the possible immune system boost and the calming effect.
For esports fans watching virtual events, digital access is enhanced through even more distribution channels and physical events are mirroring this virtual world. According to Green Man Gaming, there were approximately 443 million esports viewers in 2019, with a projected global revenue of $1.1billion. The sheer scale of the online following for these events is phenomenal and the online nature means that previously relatively underground avenues for communication are opening up, including news and reviews sites, forums and fan pages.  
Russ Budden, Business Development Director at OnePoll said, "With Formula 1 running a virtual 'version' of the Bahrain Grand Prix recently, the thirst for more content like this is apparent – 78% of those who watched the event liked or loved it. In terms of other virtual sports people would like to watch, football was the most popular with a fifth of UK adults claiming they would like to watch it virtually i.e. professional players playing FIFA, Pro Evo."
Using Blis data, we are seeing the greatest fluctuation in activity with sporting content. Greatest interest is demonstrated in the morning, with drop off in activity from 2pm reflecting the timing of some of the key news stories of the last couple of weeks. This also appears to reflect a broader behaviour pattern of behaviour with individuals checking for sporting updates in the morning. Without other aspects to draw attention, audiences limit their usage later in the day. 
With a rise in interest for e-sports or virtual versions of mainstream, sporting events, brands can reconsider traditional sponsorship of live events towards more digital activation.