Over the past couple of months most businesses have had to change the way they serve the public. According to a study by the Office of National Statistics one quarter of companies in the UK are now temporarily shut due to the virus. 
Within the retail sector, pharmaceutical and beauty business' had a slight advantage, due to the fact that they were certified as an 'essential' business during the lockdown period. Despite a protected status and a trend for stockpiling healthcare products, pharma retailers were not insulated from significant retail decline in the number of visitors to their stores, as consumers abided by government guidance and sought to minimise their time outside the home.
As part of 'The changing behaviour series' we've been observing the shifts in behaviour patterns for this category and saw strong double digit decline for three successive weeks, beginning on 16th March before a slight recovery and stabilization in early April. As with the situation in the grocery category, we believe foot traffic patterns have reached a new normal and are likely in a period of stabilization pending a revision of government restrictions.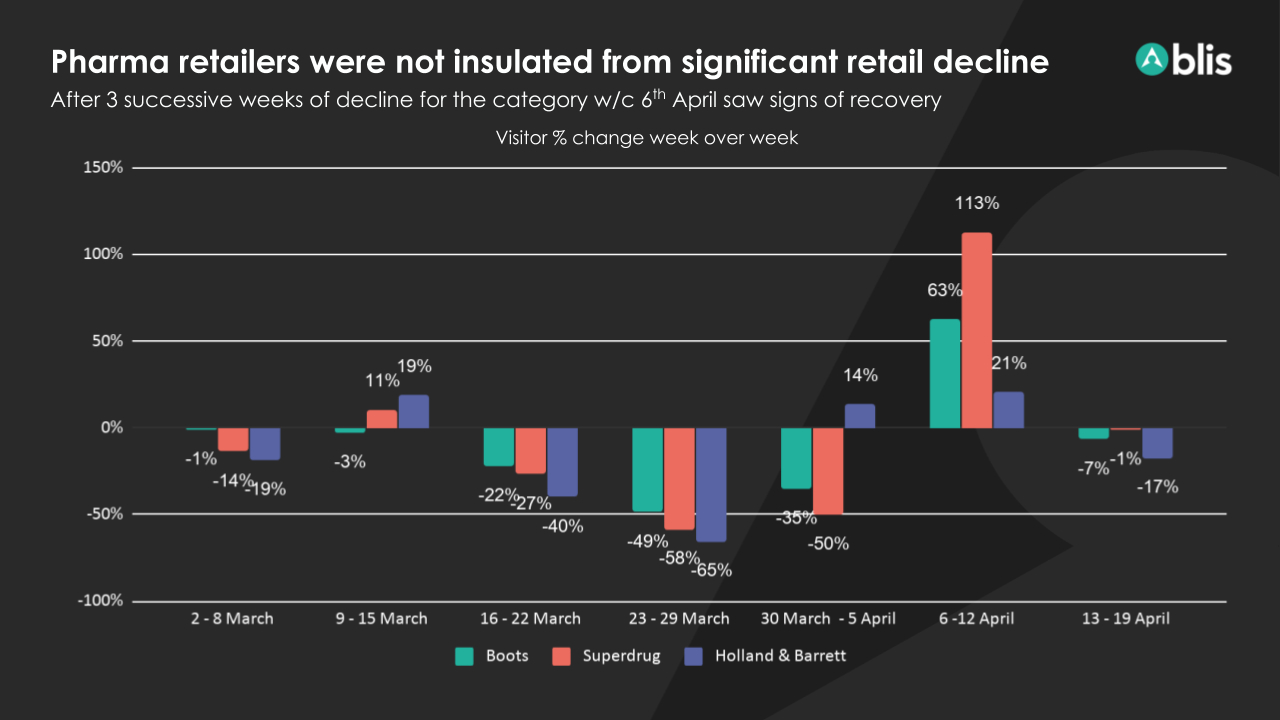 However, the second week in April brought with it a change in fortunes for key players in the sector, following three successive weeks of decline. Double digit increases in the number of visitors to stores may be the result of the Bank Holiday weekend and more relaxed consumer attitudes. This week marked the beginning of the third week of official lockdown. At this point delivery chains were straining to meet demand and a number of retailers encouraged less at-risk groups to resume physical shopping. This pattern generally follows what we have observed for Grocers, although the Grocers' plateau of foot traffic began at the very start of April. 
Within the sector, Boots have increasingly emerged as the preferred pharma retailer for category shoppers, ahead of Superdrug and Holland & Barrett. This may be as a result of the ongoing media activity that Boots is running, maintaining top of mind for consumers, in addition to a greater ease of access and wider range of products.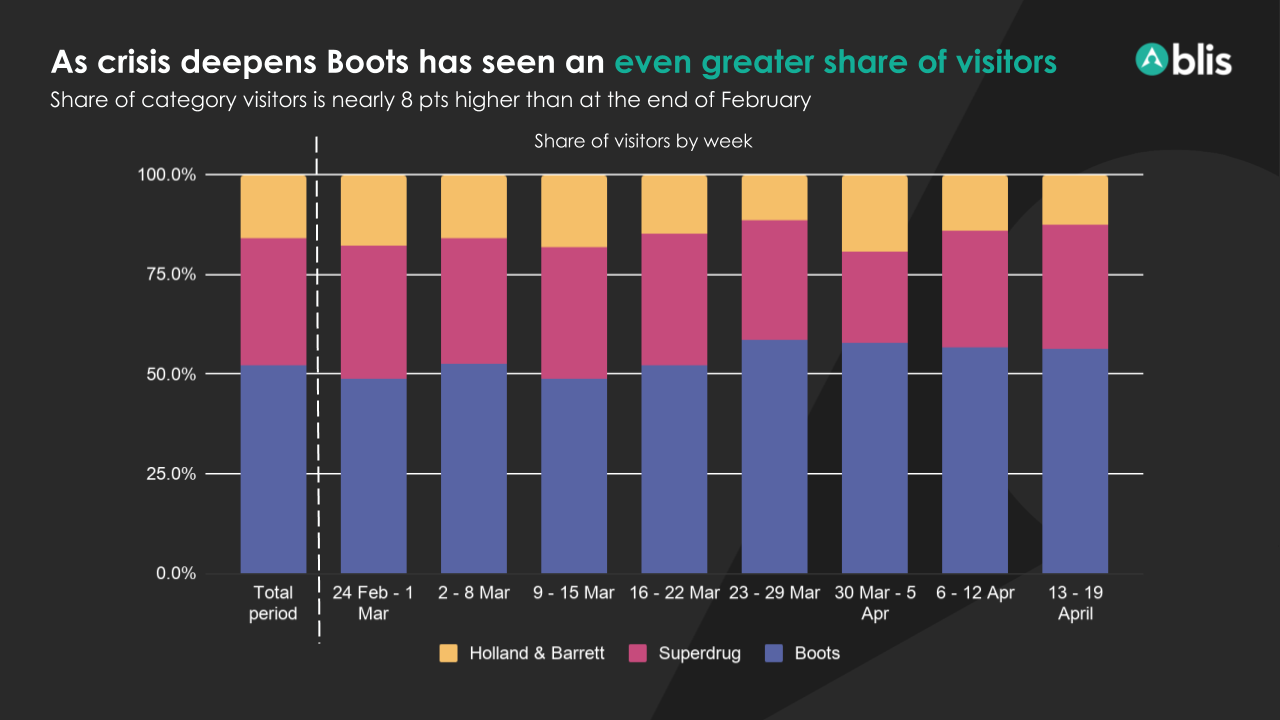 Boots has an opportunity to secure this favourable shift in the balance by overweighting their share of voice vs. share of visitors in the coming weeks, prior to and in the period post a reduction in restrictions.
Alongside the decline in shoppers we have seen an increase in the levels of loyalty, which has also been observed within other sectors. Consumers are increasingly objective orientated and have a predetermined single location to visit. As a result of this reduced browsing, targeting pre-visit is more important than ever for brands. Fighting for share of voice in the evenings and mornings with drive to store messaging may be a viable way to increase conversion and ensure consumers are directed to a retailer where your brand is stocked.