With celebrations for the year of the rat, early last year, curtailed by the pandemic, this year's Chinese New Year celebrating the Ox, representing stability and perseverance, are poised to be more interactive. Despite Singaporeans being restricted to gathering in groups of eight, there are positive indications that consumer confidence is returning.
In this post from The changing behaviour series we look at the trends across grocery, retail and food and drink to help brands looking to advertise their CNY promotions. While it still won't be business as usual, there are positive signs that Singapore's economy is recovering.
Return to normality
During the circuit breaker we saw a large decrease in footfall to food and drink outlets and supermarkets. As expected, this was due to the limitations on service, with restaurants permitted to provide take away only and restrictions for in-store supermarket shoppers.
However, this lower visitation rate persisted for about six weeks after the end of the circuit breaker. As the nation embarked on a three-phased approach to resume activities safely many people were understandably hesitant about returning to their previous behaviour.
As the country veered closer to the long-awaited Phase 3, which began on December 28, we saw massive growth in both supermarket and food and drink outlets. Over the last two months supermarkets have seen a 99% increase in foot traffic and food and drink outlets have seen growth of 52%.
Similarly, shopping malls and luxury retailers are seeing a return to pre-circuit breaker levels of footfall. This recovery is particularly striking because these non-essential retailers suspended operations completely during the lockdown.

Looking ahead for the Chinese New Year celebrations, we anticipate these figures to rise even further as people address pent up demand and look for gifts to mark the occasion.
Amidst all of the restrictions, we saw a major impact on supermarket brand choices with loyalty to stores experiencing significant shifts.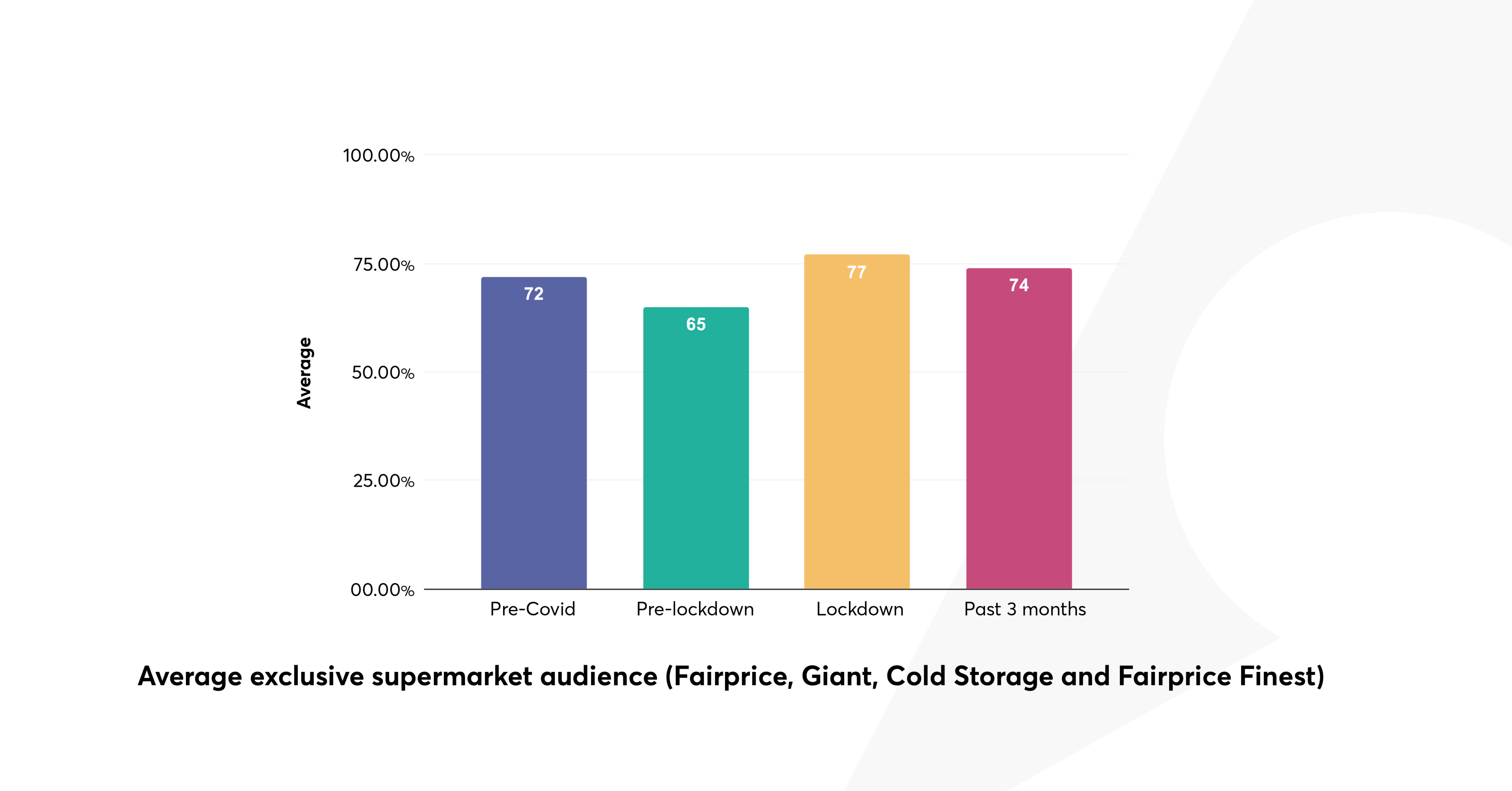 In the week before the circuit-breaker took effect, brand loyalty took a 7% dive, roughly equating to over 300 thousand shoppers. Stockpiling and panic buying meant product shortages and shoppers often had to look elsewhere for specific items.
However, during the lockdown brand loyalty increased significantly (11%), as consumers were more likely to frequent their local store due to both its proximity and familiarity. In the past three months, this has stabilised to similar levels seen pre-COVID.
For brands, this provides two key opportunities. First, retain customers that stayed loyal to their store throughout the circuit breaker, embedding a loyalty strategy for a long-term approach. Secondly, take account of the previously loyal customers who deviated from their normal routines, finding ways to tempt them back in-store with targeted offers.
Ultimately, while consumers are returning to physical spaces for shopping and eating, many will still celebrate at home. Incorporating at-home consumer experiences and considering how consumers will make the most of their time in small gatherings this festive season will help brands further develop this loyalty.