The past number of months living through the COVID-19 pandemic, has surfaced some deep and fundamental problems in the world around us. Businesses and organisations mobilised crisis plans or conjured something ad-hoc to deal with the changes. In a PWC survey conducted in April, 77% of  CFOs are looking at cost containment measures, and 65% are thinking of deferring or cancelling investments – digital transformation included. 
Despite currently living in a world with such uncertainty, opportunities abound to leverage the digitalisation trend and devise new ways of engaging with people and customers.
More than half of the advertisements we see are served through digital channels, with almost 90% of digital display ads traded programmatically. 'Digital' and 'programmatic' are beyond just buzzwords and have a mainstay with a purpose. In this post from 'The changing behaviour series', Jing Yi Yong highlights some key ways to demystify the ecosystem and improve return on investments.
1. Accurate data leads to more accurate insights
Not all data is created equal, just as there are no two identical consumers. With the abundance of data we have at hand, it is important to use it to constantly learn about your audience and identify potential new customers. Investing in accurate data to better understand how consumers behave is key  to enhancing campaigns. Choosing the right media model based on your objectives is also crucial. 
2. Smart targeting
Challenge the current understanding of your target audience. Ad spend wastage can be reduced by using smart targeting through a variety of methods:
Predictive behaviour: looking at macro behaviour as a group

Cross device: holistic approach of reaching and engaging consumers

Interest group: users who have been to your store or competitors
Choosing the right segment helps with brand building for your existing audience, while also giving you access to new customers. 
3. Get the most out of your agency and vendor partners
With every ad dollar regarded as an investment rather than cost, agencies and vendor partners are valued as insights providers rather than commodity suppliers. Tapping into real-time and historical data, combined with strategic expertise, marketers can understand the overall (and long-term) business value of their media investments.
Savvy businesses ask questions like "How can you help us achieve our objectives?" or "How do we build and then reach our target audience?"
Below is an example of how to utilise real-time and historical data to create custom audience groups particular to your brand. 
Using real-time and audience data:
Smartphones and devices provide real-time consumer behaviour data.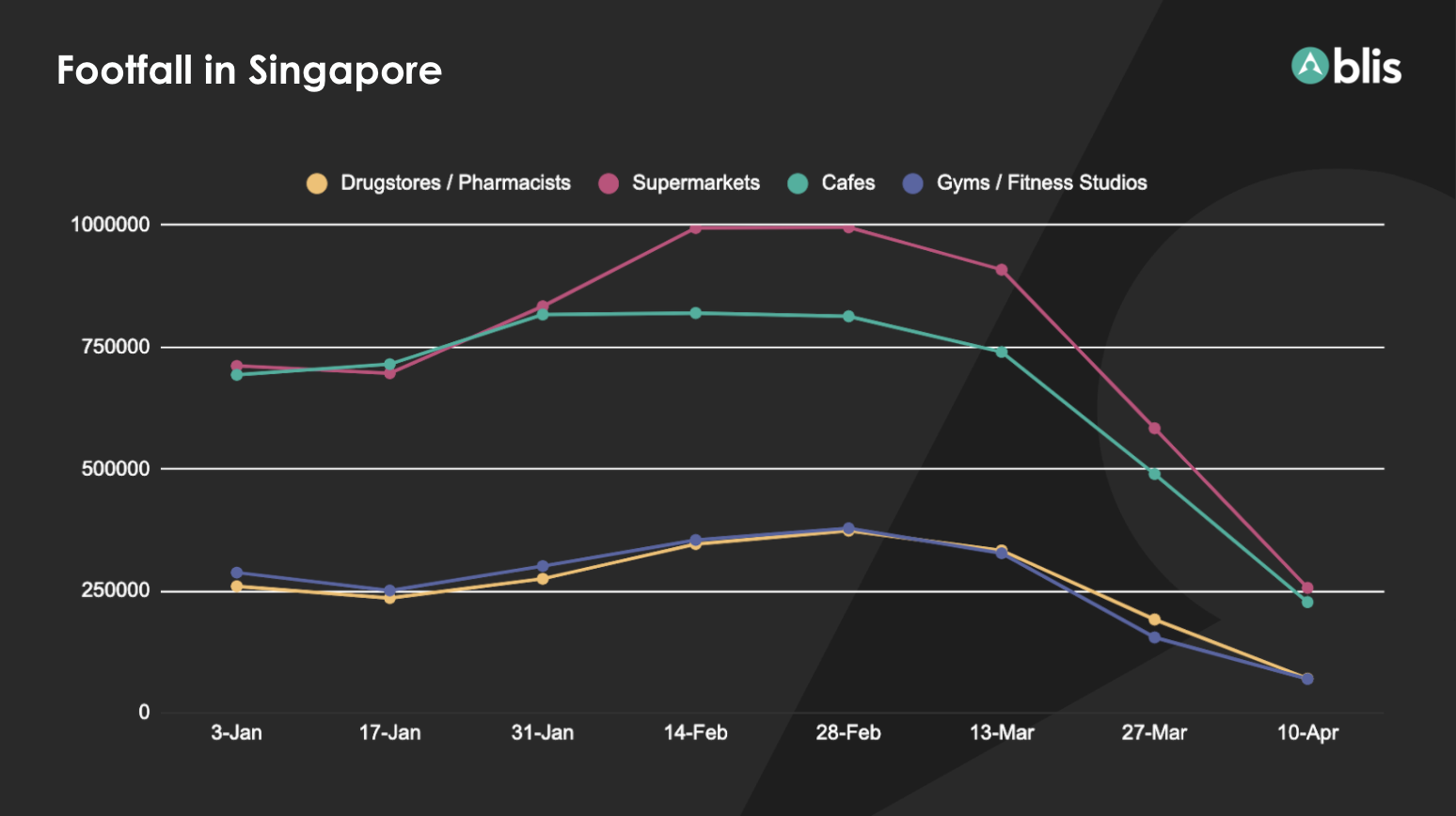 In the graph above we can see foot traffic movement across Singapore over the past 4 months, in intervals of two weeks. The uptick in foot traffic to supermarkets across the country is evident at the end of January, most likely as a result of the closure of essential services and widespread panic buying.
However, if we were to look at the foot traffic to gyms and fitness studios during the same time period, there is much less fluctuation from January to March. This continues until April when most of the gyms and studios shut. From this, we can infer that the virus had not stopped the gym goers continuing their daily activities; with health and wellness still very much a priority for these consumers.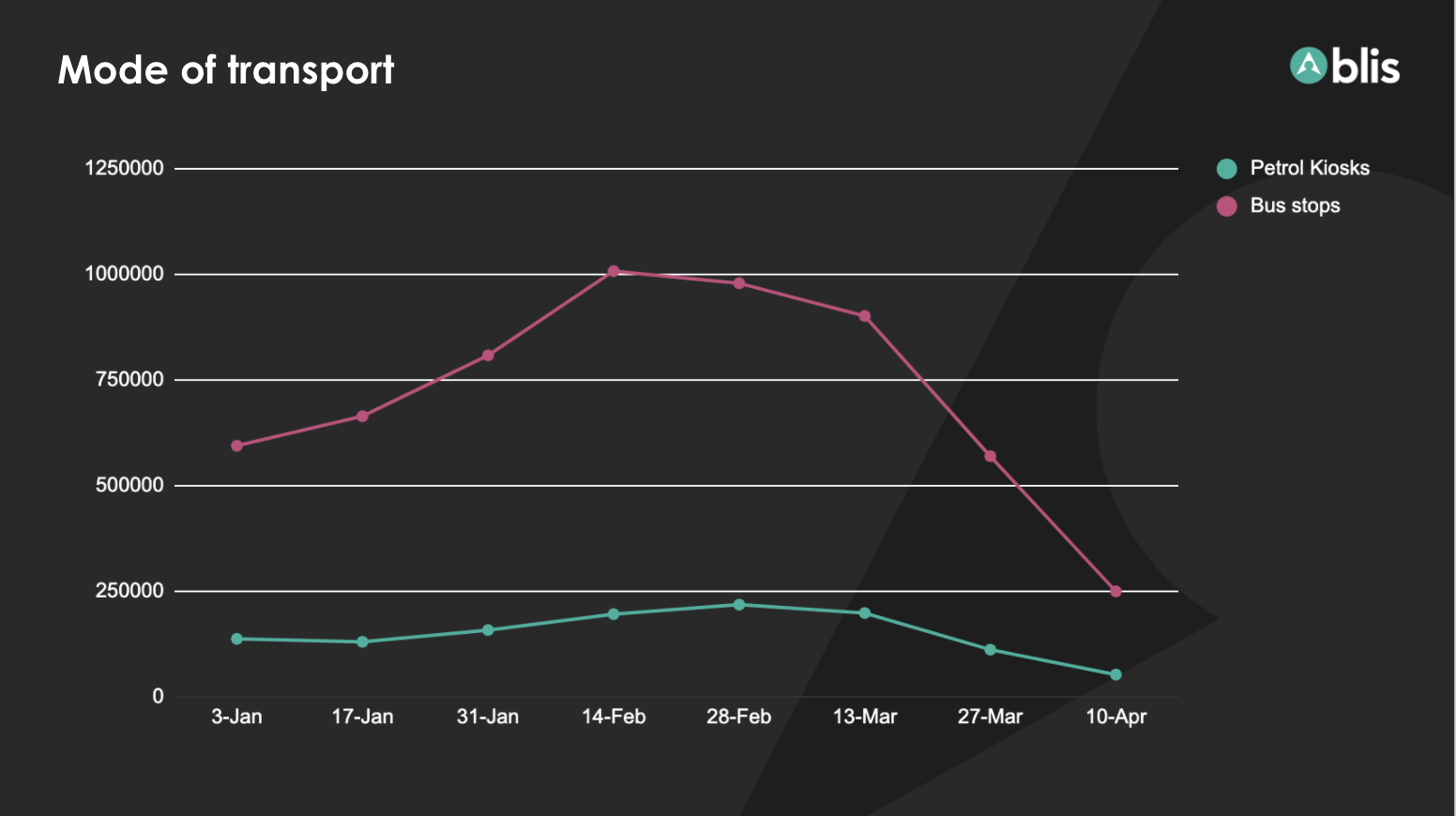 We also observed how people are moving about during this period – private cars, taxis (or grabs) and  public transportation. The drop in public transportation may be explained by the fear of close contact with strangers and Business Contingency Plans being implemented during this time. However, when compared with traffic to petrol kiosks, it demonstrates that private cars and usage of taxis (or grabs) were on the go.
I'll wrap up with a quote from a recent behavioural study from Total Media and WARC, "Consumers change their purchase habits and try new products when they undergo disruption to their normal lives". But they don't stop spending. When our lives are disrupted, we develop new habits that may have long-term effects. To prepare for this, brands need to retain existing loyal customers while attracting new fans as much as possible.