One of the few consistent themes throughout the COVID-19 pandemic is that it's impossible for anyone to really know right now what they should be doing next. The next month alone presents unforeseen challenges, as well as unscheduled opportunities for brands. Weekly, we're seeing governments around the world implement new measures or ease previous restrictions and consumers continue to adapt their day-to-day in response. 
With so many uncertainties, the question to ask isn't what will change in three- to six- months' time but what won't change. What are the inherent human truths that underpin behaviour and decision-making?
Whilst the crisis unfolded around the world, our team at Blis monitored patterns of consumer behaviour to help brands answer these questions and understand how best to communicate with their customers. In 'What's normal got to do with it?', we've taken some of the key insights gathered through the past 100 days to provide guidance across three key phases: Crisis, Stability and Recovery.
"It took millions of years for man's instincts to develop. It will take millions more for them to even vary. It is fashionable to talk about changing man. A communicator must be concerned with unchanging man, with his obsessive drive to survive, to be admired, to succeed, to love, to take care of his own." Bill Bernbach
The enforced social experiment we've been living in has not allowed for all of these drives or desires to be expressed, so now – as restrictions are being eased – which behaviours will resurface fastest? Which new ones will persist? Will purchasing patterns have changed? If so, where will customers be spending their money – and their time – and where should you as a brand be spending yours? 
The chart below summarises our observations and the implications of changing consumer behaviours as the pandemic continues to evolve around the world. And this "un-whitepaper" dives deeper into each phase providing creative examples and practical recommendations for brands to activate against.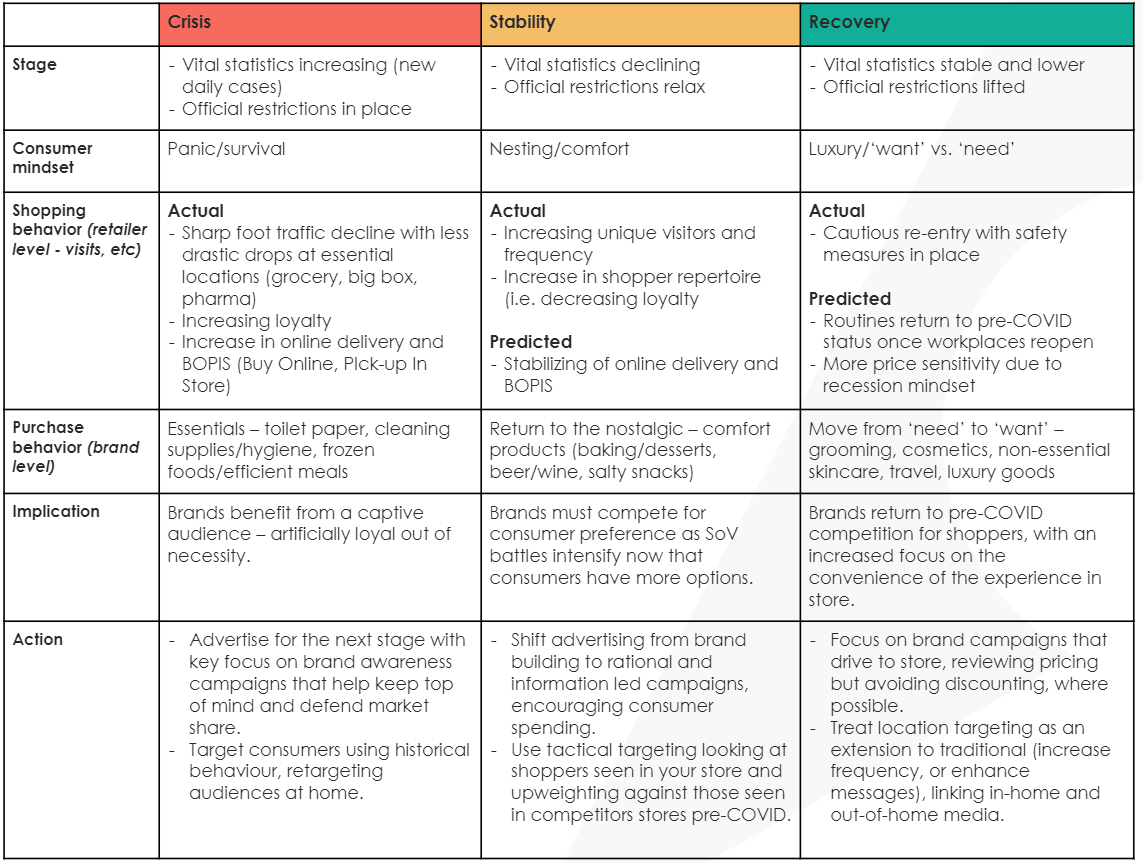 While many businesses are facing relatively similar challenges, the nuances of each business mean that the direction to take is unique to them. Taking a phased approach, such as the one suggested in 'What's normal got to do with it?', allows brands to build from their particular state of crisis and lockdown to one of stability, recovery and eventually growth. This framework also enables brands to prepare contingency plans should the world experience a second wave of high impact outbreaks later in the year.
Read the full 'un-whitepaper' here.