Once an exclusively American curiosity, Australians have gleefully embraced Black Friday in all it's bacchanalian splendour. But did local retailers take full advantage in 2019? To uncover it's real-world impact on bricks and mortar, location experts Blis (momentarily) downed credit cards and looked into the numbers behind Australia's new retail event of the year.
The Libertines once opined that "there's fewer more distressing sights than an Englishman in a baseball cap". But as even the most true-blue curmudgeon can attest, Australians have always been far less averse to magpieing the occasional Americanism: The iconic King's Cross landmark above William and Darlinghurst is a Coca-Cola billboard. Ashfield's finest export AC/DC screeched with distinctively American accents. 
With wallets still reeling from Halloween, traditionalists and accountants may be horrified to discover how ingrained Black Friday has become in this country: Christmas and Boxing Day aside, Black Friday has become the biggest consumer event in Australia. For an ailing retail industry however, the resulting increase in shopping activity might just be the desperately needed spark that ignites spending in the lead up to Christmas.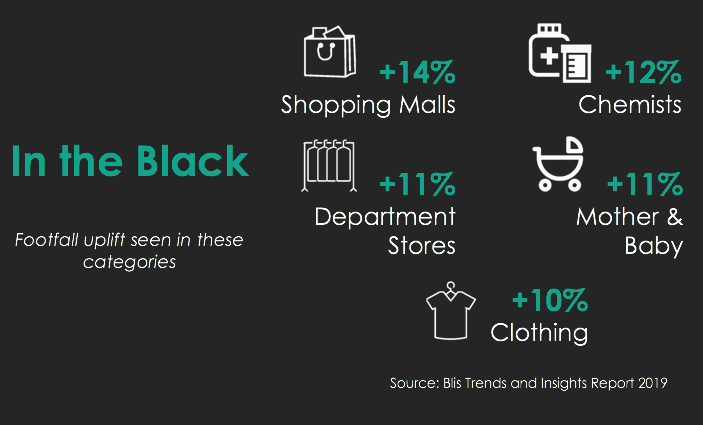 Shopping centres across the country received a much needed filip, reporting a +11% increase in visitors. Almost every department store brand, from discounters Big W to upmarket retailers Myer and David Jones advertised significant savings, receiving an +11% category wide boost in visitors in return.
Clothing retailers reported similar footfall uplift (+10%), with certain brands such as Zara (+52%), Uniqlo (+33%), and Cotton On (+25%) experiencing some of their busiest periods of the year.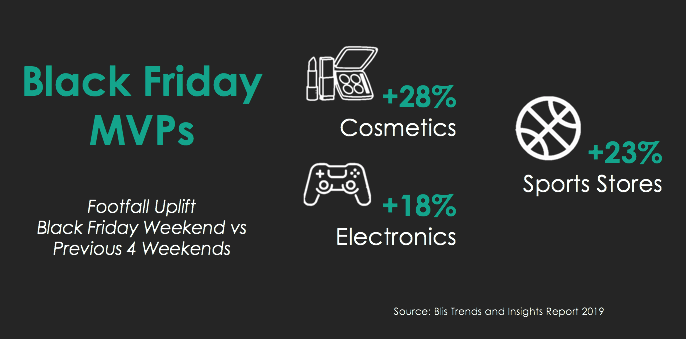 Black Friday was a massive boon for cosmetics retailers, with the category experiencing the biggest uplift of all measured categories, reporting a +28% increase in visitors. Sports stores were the biggest surprise, led by Rebel Sport (+25%), the category received +23% more visitors last weekend.
Electronics and tech retailers have always been among Black Friday's most enthusiastic believers. The category received a +18% boost in visitors, led by JB HiFi (+31%) and Harvey Norman (+23%), both of which ran extensive promotions and offers all weekend.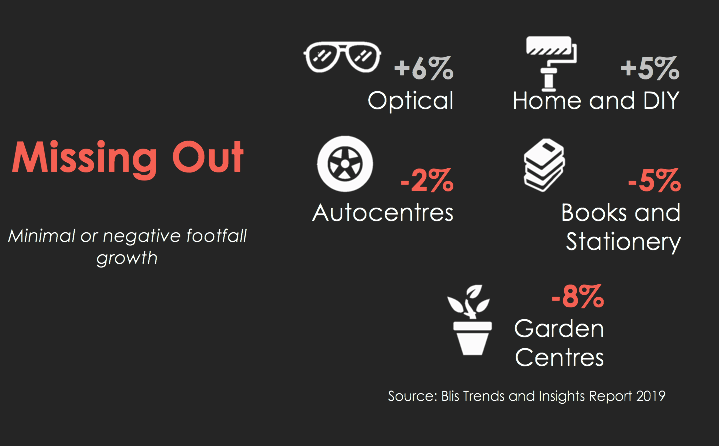 Not all categories took advantage of the heightened consumer activity. Home and DIY retailers reported a modest +5% increase in visitors, while Garden Centres actually reported a decline in footfall. Books and Stationery stores also took a hit, with a -5% fall in visitors as shoppers looked elsewhere.
The globalisation of the shopping experience is nothing new, but two decades of e-commerce has conditioned Australian shoppers to accept and expect foreign retail habits and norms. As a result, bricks and mortar retail simply cannot afford to ignore events like Black Friday, however incongruously they sit in the traditional retail calendar. The body of evidence is conclusive — the more retailers align local sales efforts with the Australian consumer's global expectations, the bigger the real-world return.