Sales and promotional offers for holiday breaks abound at the beginning of a new year. The festive cheer has long faded and the winter weather leaves many in the UK dreaming of a trip away. For some, that might include leaving the UK for warmer climates, but over the last few years the increasing demand for vacations abroad seems to be slowing. Would-be travelers have turned their attention to destinations closer to home providing new opportunities for the UK tourism industry.
The birth of the package holiday in the 1950s made it more accessible for Brits to consider foreign holidays. Cheaper travel options and convenience provided attractive propositions and the sector continues to see  millions of Britons travelling abroad each year. There were 47 million holiday visits abroad by UK residents in 2018 alone. 
However, the last decade has borne witness to the rise of the humble staycation as one of the prevailing travel trends within the UK tourism industry. The legacy of the last recession and the advent of Brexit appears to have had a positive effect on the domestic travel market as consumers keep a closer eye on their spend and want more bang for their buck. In 2018 staycations brought in an estimated £31bn to the UK tourism industry. The number of holidaymakers intending to staycate in the UK in 2019  increased to 69% of the population, up from 57% in 2018.
Over the past number of years this audience of "staycationers" has changed dramatically and so have their needs, which requires travel brands and tourist boards to adapt their propositions to capture these new opportunities. When we examine the areas of growth for Staycations we can see that the 25-34 age group are demonstrating the greatest increase in domestic holidays (+52%). For brands looking to appeal to this millennial audience, that typically consider this demographic frequent flyers, a shift in approach may yield interesting results. Making use of new media channels and introducing fresh creative in unexpected environments can keep cities across the UK up to speed and increase appeal for this new audience.  
Perhaps unsurprisingly, key factors for the rise in staycations include Brexit (58%) and affordability (54%) with concerns about the ease of travel across the EU and varying exchange rates having an impact on how travellers plan their breaks. Interestingly, however, convenience (31%) and the ability to recreate an experience (21%) also feature prominently as reasons for British holiday-makers to stay in the UK. 
This audience appear to be significantly less passionate about travelling and as a result are potentially going to be less interested in the once-in-a-lifetime style trip. For staycationers, messages that integrate with regular life and provide an enhanced experience are more impactful than those that promise to transform their lives.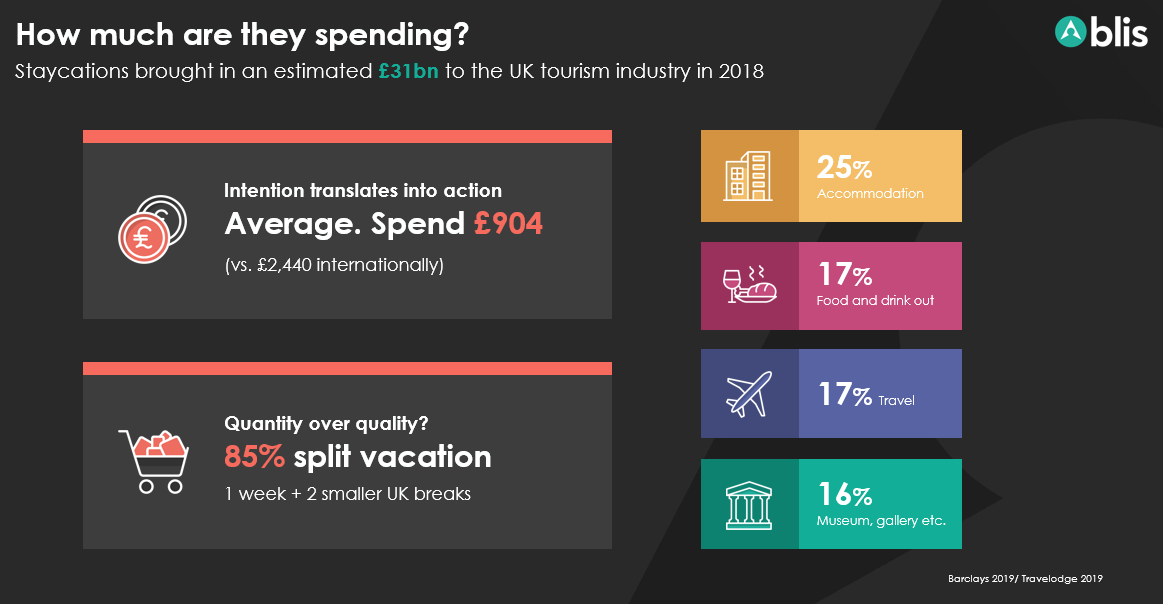 Price is an important factor for staycationers and looking into the data we see that this reported behaviour translates into action. When it comes to spending, it appears that staycationers in their daily lives are less likely to drink and dine outside of the home with lower levels of engagement with Restaurants, Pubs and Fast Food. For brands this provides opportunities to appeal to an audience who may save up their money and view these expenses as part of the holiday treat and experience.
The research also shows that 85% of this group of holiday goers split their traditional two week holiday into shorter one week break and several short 1-2 day trips. In addition, staycationers are considerably more likely to return to the same place, with over 50% doing so. This presents multiple occasions for brands to build a loyal visitor pool and thereby increase ROI from effective media targeting.
In the next post we take a deeper look at trends from the 2019 Easter Bank Holiday and examine patterns of travel from London and Manchester over the holiday weekend. 
To see the study in full get in touch with us here.