This blog post is a collaboration between Chase Buckle, Trends Manager of market research firm, GlobalWebIndex and Blis' Head of Insight, Alex Wright.
COVID-19 has changed our everyday behaviours and now, as lockdowns begin to ease for most, we're experiencing yet more change. But, despite the changing context of our lives, we're all still people with basic human needs – and we're all still consumers. 
Every brand is asking the same questions: 
What activities will people return to and when? 

How will the aftermath of COVID-19 impact consumer behaviours and confidence? 
This blog post is a collaboration with target audience company, GlobalWebIndex (GWI) and reveals the answers to these questions by comparing what people say (in consumer research) vs. what they do (in the real world).
In analysing our respective research across five regions, which offer pan-continental representation and a full spectrum of the stages of the pandemic (U.S., UK, Italy, Singapore, Australia), we found two significant trends:
Cautious consumerism
The thrift mentality
Despite people's longing to return to normal, Blis and GWI data reveals people are approaching life with a new air of caution – both around returning to places and spaces and around their finances. We believe these two factors will drive consumer behaviour for the next 12 months.
Cautious consumerism
GWI survey data reveals that, in most markets surveyed, the majority of people say they'll return to shops in a fairly short time frame. Blis foot traffic data broadly corroborates this, but the change isn't happening uniformly, nor is it happening overnight.
In Australia, Blis has noted that consumers there want the quickest return to shops and venues, perhaps as a result of its relative remoteness or how the response to the pandemic has been handled. In June, outdoor activities and food and drink venues across the country experienced a surge in visitors, reaching 86% and 64% respectively of pre-COVID traffic.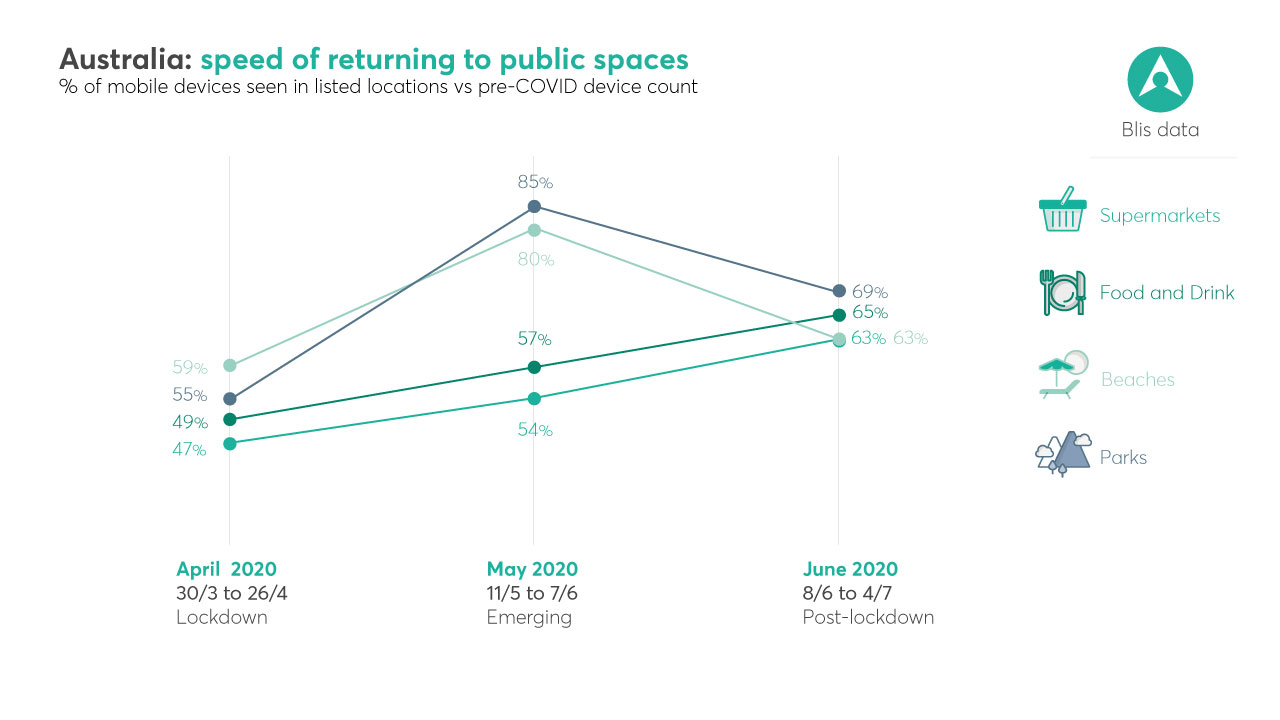 Conversely in Italy, we see that consumers there are more likely to maintain their reduced repertoire of stores for routine behaviours like grocery shopping. Once the epicentre of the pandemic, behaviour here is still guided by extreme caution, and the week after lockdown was completely lifted, we still saw just 7% of pre-COVID foot traffic through stores. According to GWI data, there seems to be a conservative mindset at large in Italy. Even though virtually everyone wants businesses to reopen as normal, few want to take the plunge in a quick time frame themselves.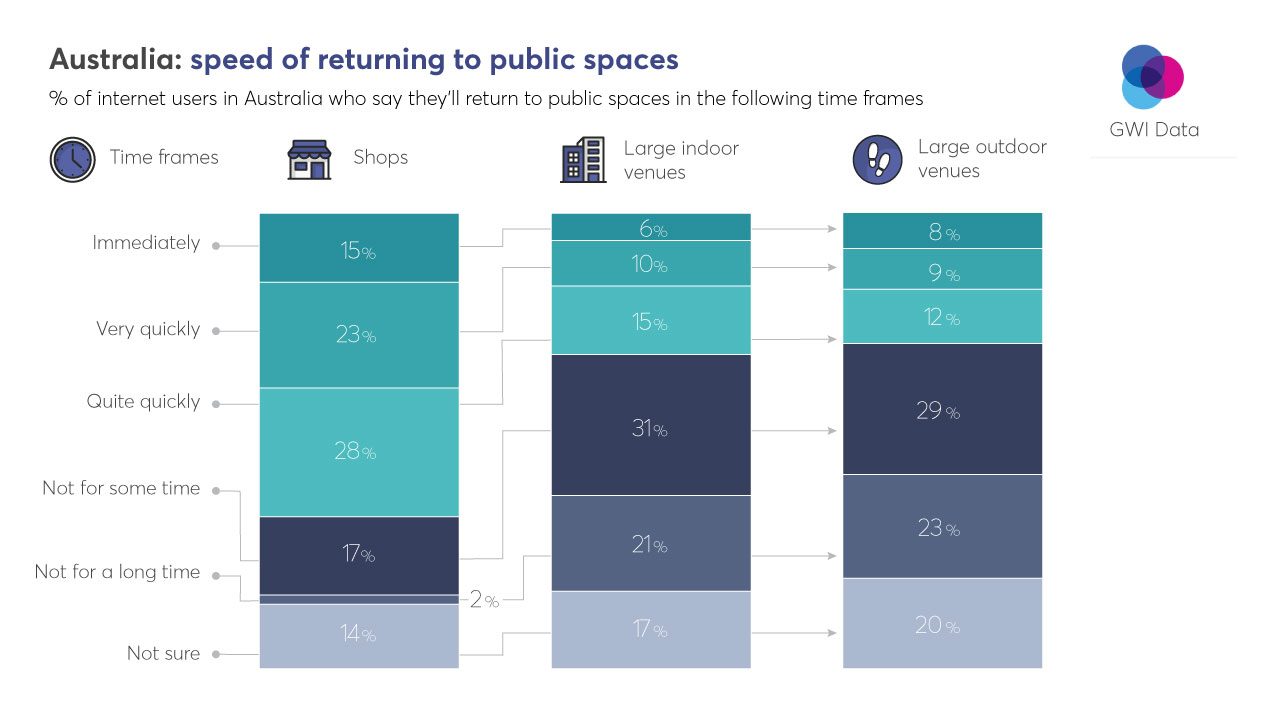 Both indoor and outdoor venues remain a distance away from each other, with typically around half as many consumers saying they would return to larger public spaces in a quick time frame compared to shops. The trend is more encouraging for large outdoor venues, with a stronger intent to return due to individuals having greater control of their immediate surroundings, as evidenced in foot traffic to these spaces.  
Across all five countries, encouraging people back into these spaces comes down to reassuring them of sanitisation and distancing measures. But beyond these core factors, consumer priorities differ between markets to quite a large degree. 
Most prominent is the mandatory use of face masks. GWI data shows some countries have a long way to go to move past the social stigma of wearing face masks. Almost 60% in Italy and Singapore say wearing facemasks is important, and just under half in the US say the same. But these figures drop significantly to as low as 12% in Australia and 25% in the UK.  
The thrift mentality
With so much up in the air right now and economies on the cusp of financial downturns, the data paints a picture of a consumer who is transitioning to a 'thrift mentality'. This is evidenced not only by foot traffic statistics, but also by consumer confidence figures.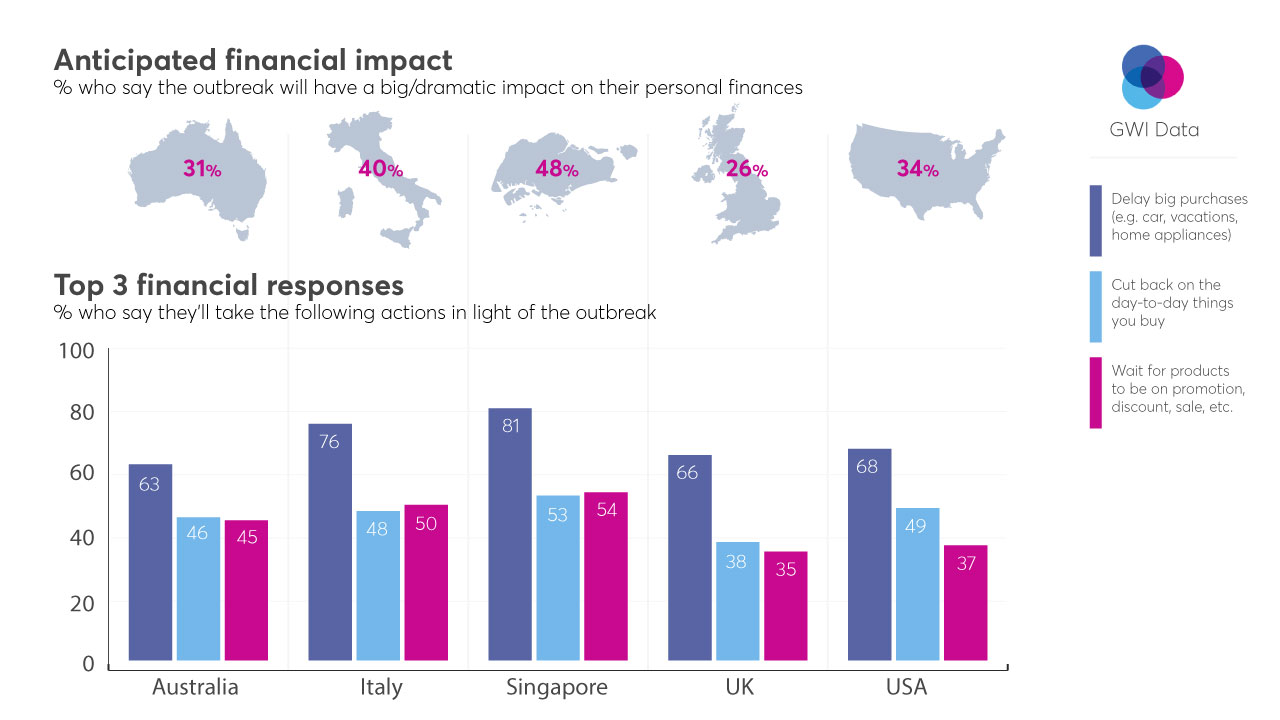 GWI research shows consumers are most likely to delay big purchases, cut back on day-to-day spending, and look for the discounted versions of items. When we trend this data, however, we see the pattern of consumers cutting down day-to-day spending has slowed, while looking for discounted products has gone up. So we may be seeing a gradual transition from financial rationalisation to tentative spending. This is validated by the trend of consumers perceiving the impact on their personal finances – a climb between waves 1 and 3 of the GWI study, then a 'steepish' drop at wave 4.  
Blis data backs up these perceptions with what we're seeing on the streets. In both the U.S. and UK, as lockdowns were introduced, the 'Discounters' fared amongst the worst during panic-buying/stockpiling days. Visits to these outlets picked up notably as people settled into holding patterns and were perhaps more inclined to rationalise household budgets. In the US Big Box sector, we saw behemoth retailers like Walmart ceding significant ground to budget store Dollar General, while in the grocery sector the discounter Aldi saw its share of foot traffic reflect the ebb and flow of panic buying amongst periods of relative stability.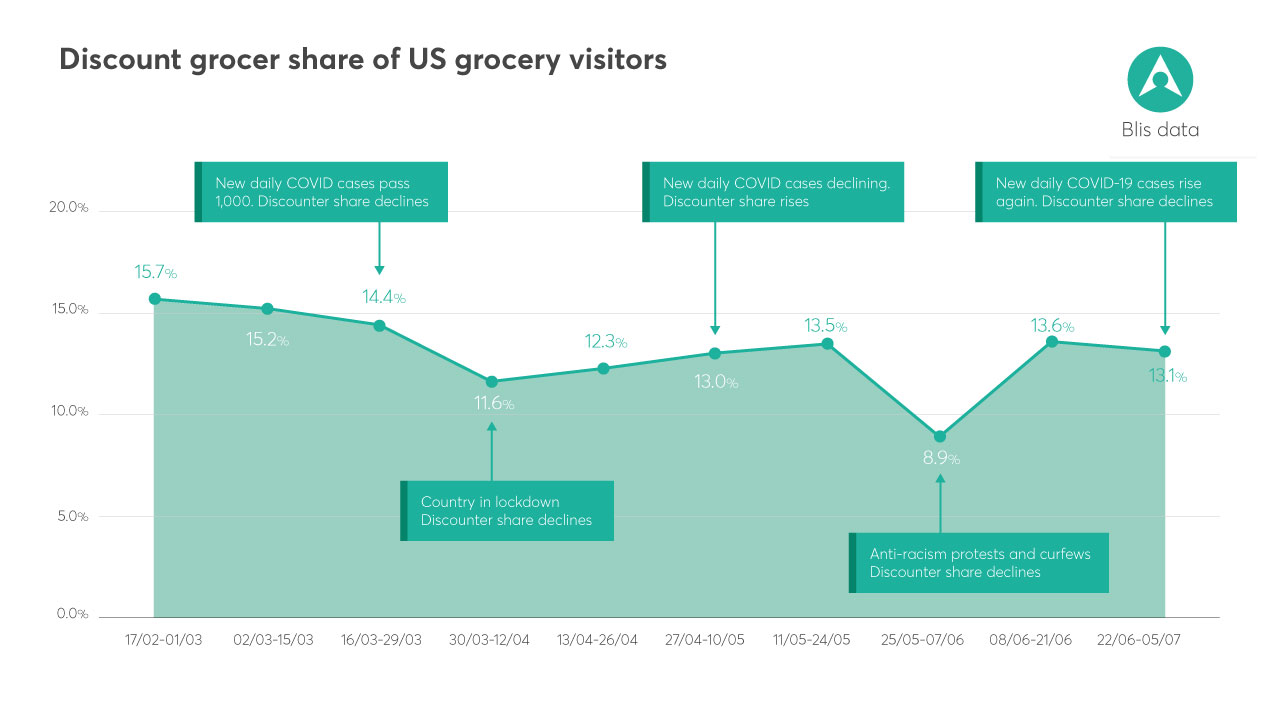 Interestingly, when 'survival mode' temporarily kicked back in during the anti-racism protests, Blis data saw pharma retailers regain ground. Meanwhile trips to Dollar General receded, indicating that price isn't everything when the circumstances are more extreme.
For big-ticket items and conservative spending, however, Blis has seen the most UK foot traffic in electronics stores when compared to DIY and home stores, indicating that, despite the thrift mentality, people are seeking to make their home environments more comfortable and liveable.
Recommendations for brands:
There are many lessons to be drawn from our joint observations about what people say vs. what they do and the trend toward cautious consumerism. For brands looking to thrive as they enter the recovery period with an eye to stability, we recommend the following:
Since consumers are looking for more control of their environments, brands should adapt customer experiences accordingly, whether that be less cluttered store layouts or more seamless online-to-offline journeys.
Marketers should use both sentiment and location data to map the pace of change and how confidence and caution differ by region, and to better understand priorities, needs and real-world behaviours to more effectively target consumers. 
Most homes are delaying big purchases and the family wallet has likely been hit hard, so approach campaigns for big tech purchases with caution and be aware of the attitudes that would need shifting to make this work.
When campaign planning, brands should ensure contingency planning is put in place, if possible, and to prepare for multiple eventualities, in case of a second wave and further lockdowns.
Learn more about how to use surveys and location data and insights to adapt messaging and marketing strategies with Blis' planning, measurement and activation offerings and GWI's survey-led research.