Tech giants like Amazon and Google know so much about us that they can come off as creepy, yet they're at the top of consumers' list of trusted brands. It comes down to value exchange and the perception that they're using people's data to improve their lives.
Emerging technologies like artificial intelligence keep making it easier for people to have brand experiences without interacting with an actual human being. Gartner predicts that by 2020, 85% of consumers will manage their relationships without ever talking to anyone.
What sets the brands dominating digital transformation apart is their ability to make the most of their tech stacks while still making consumers feel like the brand cares about them, even if they never interact directly. According to communications agency Cohn & Wolfe's 2017 Authentic Brand study, nobody does that better than Amazon.
Surveying 15,000 people around the world, Cohn & Wolfe found that 91% of them are willing to reward a brand they consider authentic through purchases and recommendations. Tech brands dominated, with Apple, Microsoft, Google and Paypal rounding out the top five.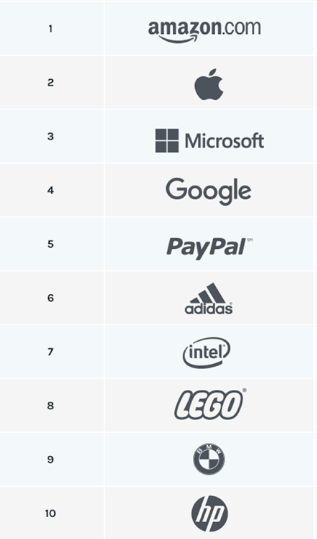 "Consumers definitely understand that brands are in the business of making money, but what they love and respect is that they're also truly improving their lives," says Lynn Fisher, global director of the brand and insights group at Cohn & Wolfe. "We have a tendency in marketing to think of authenticity as being strongly driven by heritage, but today's consumers are just as interested in what they perceive to be a brand's commitment to innovating in a relevant way and improving their lives."
Fisher refers to Amazon's ability to consistently "surprise and delight" consumers with perfect recommendations, new features and ways of making chores like buying detergent more seamless.
At the same time, authenticity and trust go hand in hand, which make Cohn & Wolfe's winners interesting. Last year, Amazon was also deemed the most trustworthy Fortune 100 company by 10,000 SurveyMonkey users. Companies like Amazon and Google know us so well that they're able to accurately predict our behavior. That could potentially be off-putting and creepy, but yet, people trust those brands above most others.
"Google uses data to inform the delivery of a tailored, instant and proactive service. Amazon delivers convenience; the data we share means they know precisely what we want, when we want it," says Alex Wright, head of insights at location-based marketing company Blis. "They make our lives measurably better so we place higher value, and therefore faith, in their credibility."
One tech giant that doesn't have that same perception is Facebook, which placed 92nd on Cohn & Wolfe's authenticity ranking. The survey was taken before the Russian ad controversy came to light, which means there's another factor affecting Facebook's trust.
"We share much more detailed personal, emotional, political and relationship data than on any other platform and yet, we get markedly less value in exchange," says Wright. "People tend to take a lot of internet content for granted. Facebook offering a free platform doesn't justify them mining your life story for financial gain."
Consumers aren't stupid. Everyone knows that tech companies collect user data and for the most part, people don't care, as long it benefits them.
According to Columbia Business School research, 80% of people are happy to share their data in exchange for incentives, such as reward points or product recommendations. That same study found that 75% of consumers have no problem sharing their personal information with brands they trust.
If brands want to earn that right, they have to remember that as they use more sophisticated technology to collect and utilize data, they still have to make consumers feel like they're the ones coming out ahead.
Click here to read the original article.