Before this year's bank holiday season comes into view we take a look back at some trends from the 2019 Easter Bank Holiday weekend in the UK. An estimated 15 million people planned a holiday over the Easter break last year and we looked into the data to share some insights about travel patterns to help with your 2020 planning.
Using Blis proprietary technology we examined trips departing from London and Manchester during the 2019 Easter Bank Holiday weekend. The research focused on a total of 27 locations in the UK and 14 destinations on the continent and compared it with a control weekend to understand travel patterns over the holiday period. 
Distinct differences in travel patterns emerged between the Northern and Southern audience. The study found that travellers from London have a greater propensity for travel over the Easter weekend (30%) than travellers from Manchester (18%). A wider variety of transport options with a broader range of destinations and greater frequency provide more opportunities for London-based travellers to leave the city over the long weekend. This is reflected in the fact that, for domestic travellers in the UK, 50% of the outbound trips from London were spread across 7 destinations. For domestic travellers in Manchester, however, just 3 destinations made up approximately 50% of the total trips taken within the UK.   
We noted previously that staycations within the UK have seen a steady increase over the last decade. In this study, we observed common themes within the domestic travel of UK holiday-makers. Staycationers from both regions tended to head south, visit areas of natural beauty and explore heritage towns and cities across the country. The majority of this incremental demand appears to reflect weekend escapes and longer planning lead times. But we also saw significant uplift of interest in travel from London to Brighton and Manchester to Blackpool, perhaps reflecting impromptu trips influenced by the hottest Easter on record. For brands and tourism operators the Easter bank holiday weekend is a perfect opportunity for them to lean into marketing efforts in both cities to attract more visitors.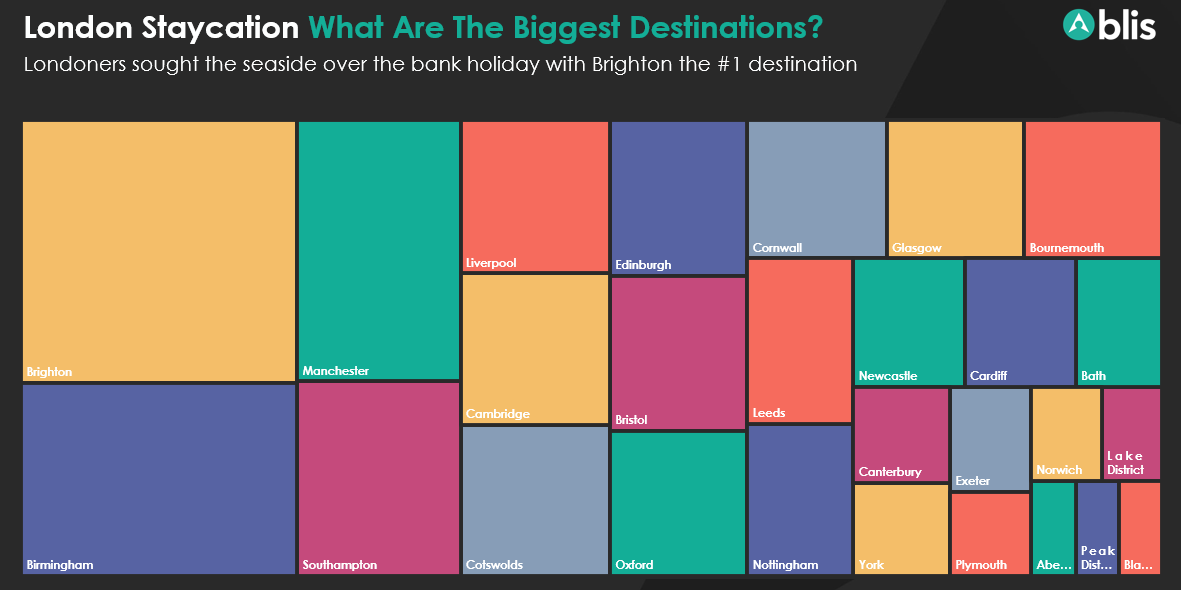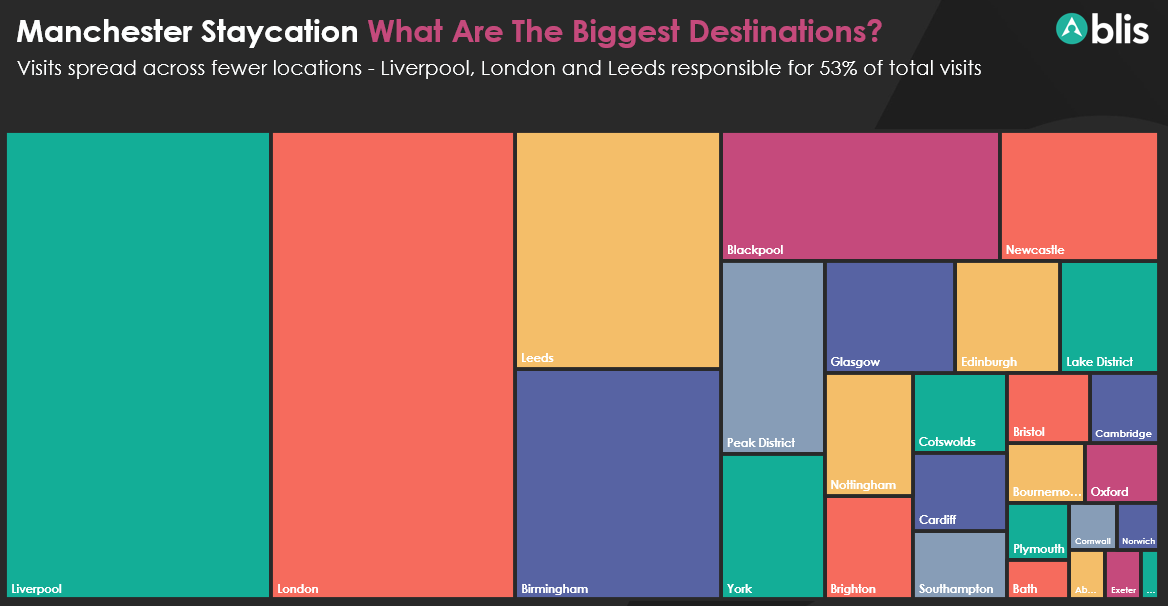 With regards to foreign travel, however, we observed that Mancunians were more likely to travel abroad with 45.3% of total travellers leaving the UK compared to +33.1% of London travellers. 
For those that travelled outside of the UK to cities across Europe convenience plays an important factor. Paris was one of the top 2 destinations for travellers from both UK cities, reflecting the wealth of direct transport options including plane, train and coach. Berlin, Barcelona, Dublin and Amsterdam rounded out the top 5 destinations for both sets of travellers, demonstrating that the demand for these cities is frequently shaped by the availability and range of transport options on offer to passengers.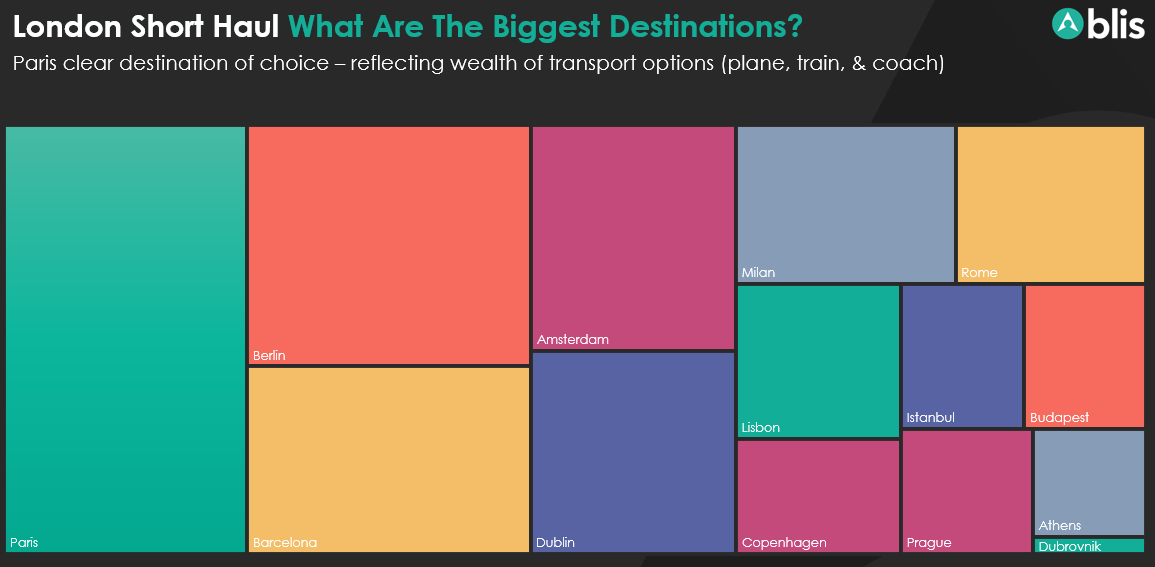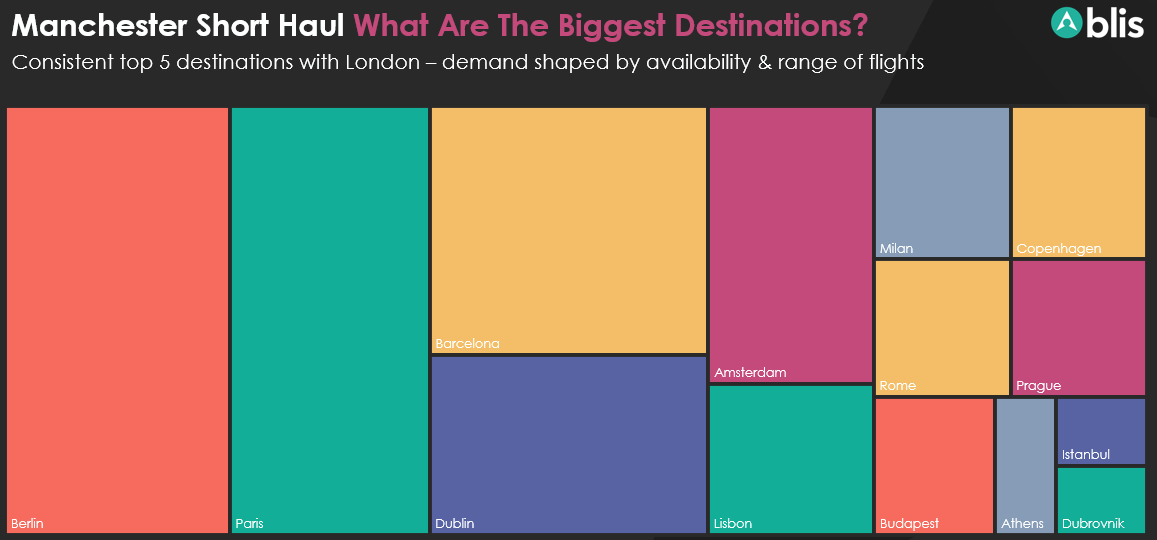 For brands and businesses in these cities the competition is fierce and careful targeting is required to appeal to the right audience at the right time. It may provide the opportunity to bring attention to compatible towns and cities that are seeing less activity and  which do not appear to be currently considered by bank holiday travellers.
In addition, for some destinations it may be worth considering whether this mid-length holiday period is the right time to attract new audiences and dedicate spend in the fight for share of voice. Istanbul and Athens, for example, saw only a moderate uplift in demand which suggests these cities might be perceived as more suited for a longer break given its distance from the UK, blurring the lines between short and long haul. 
In our next post we take a look at travel to destinations further afield and the impact of the sustainability movement on the airline industry in particular. 
To see the study in full get in touch with us here.