With COVID-19 continuing to dominate news headlines around the world, the equally serious phenomenon of dengue fever in Singapore has taken a backseat. 
Just last week, dengue infections in Singapore have surged past the 10,000 mark, with 870 cases in the first week of June; being the largest outbreak year recorded in Singapore's recent history. Yet, there are no signs of slowing down. The National Environment Agency (NEA) has warned that the hot and wet conditions suitable for the growth of the Aedes mosquito population are likely to last till October.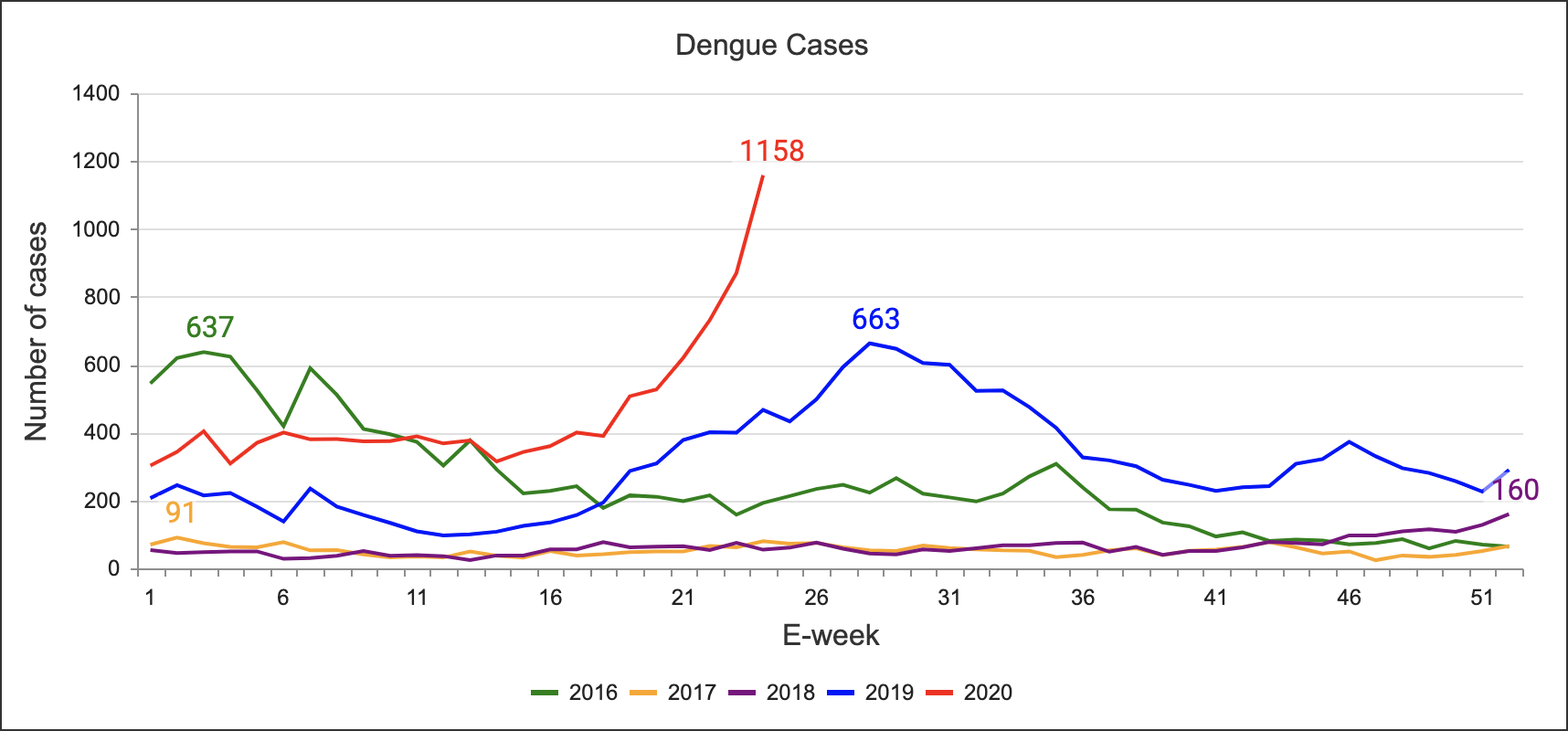 Although the increase follows seasonal patterns similar to previous years, which includes a spike mid-year, there is a change this year in the dominant strain of the dengue virus that fewer people are immune to. There are now 190 active dengue clusters, with the biggest in the Woodleigh area along Upper Serangoon Road. 
Associate Professor Alex Cook, an epidemiologist at the National University of Singapore's Saw Swee Hock School of Public Health urged the population to take extra precautions against dengue – for those who are spending more time at home due to ongoing restrictions – especially removing stagnant water from around the household, and using mosquito repellents to prevent getting bitten. 
Amidst all of this upheaval brands may be inclined to ask, "What can we do?" For this topic, as with COVID-19, understanding audience behaviour is key. Using data to identify trends in movement will help brands find meaningful ways to raise awareness about the latest information on the disease. Learning how other markets have responded will help guide the direction and develop a course of action based on specific insights from your local market. 
Below are some steps brands in Singapore can take, using location data to move from a reactive position towards a more proactive approach.    
Identifying homes in main clusters and potential new clusters

Using the NEA as a key source of data regarding new infections and clusters and layering this with location data will help brands identify target audiences within these marked areas. In doing so, media spend can be managed efficiently by serving ads and content – with customised messaging – to areas that are experiencing spikes. 

Blis' Habits to Home Targeting uses historical data to distinguish residential areas and deliver personalised ads across multiple devices in the home.
Unlocking creative strategy for 'mass personalisation'

Armed with the knowledge of where the clusters are located, brands can prepare for the possibility that regions currently unaffected may be impacted before long. To do this, brands should develop customisable, dynamic creative formats where different information can be disseminated to different geographical regions quickly. For instance, Singaporeans in unaffected areas should be prompted to take more precautionary measures and be made aware of potential health triggers of dengue. 

Diversifying your digital media mix With less foot traffic and people dwelling on the streets of Singapore, much of the budget allocated for OOH was shifted towards digital platforms. Aligning with the increased usage of mobile, web, Smart TV and all things digital, this provided more effective use of ad spend. As digital advertising becomes a mainstay, diversifying your digital media strategy is key to extending reach and brand awareness. This ensures your marketing message can be optimised for your specific target audience on a channel that they interact with most. It also allows you to seamlessly integrate your campaign to improve the overall effectiveness.
To find out how Blis can help, click here.