As the UK begins to slowly come out from lockdown, we are seeing some return to nearly "normal" shopping behaviours. We predicted in a recent post in our Changing Behaviour series that Britons would be eager to return to some "real-world retail therapy," and it seems we were correct. As the number of COVID cases has dropped dramatically, consumers are feeling safer and more comfortable going out to the high street shops. 
Confidence breeds confidence
So far, it seems our predictions have been spot-on.  Blis analysis showed a significant increase in footfall in the first week of March. It's jumped from 60% of pre-COVID levels up to 70% – the same level we saw in early December, as consumers began their holiday shopping. 
The increase we're seeing currently suggests people have been returning to stores, despite the continuing lockdown, in anticipation of relaxed restrictions. This may be due to a growing sense of impatience with stay-at-home orders, but it may also be that "confidence breeds confidence": if we know that it's safe enough to roll restrictions back, we can certainly feel safer and more confident getting back out there.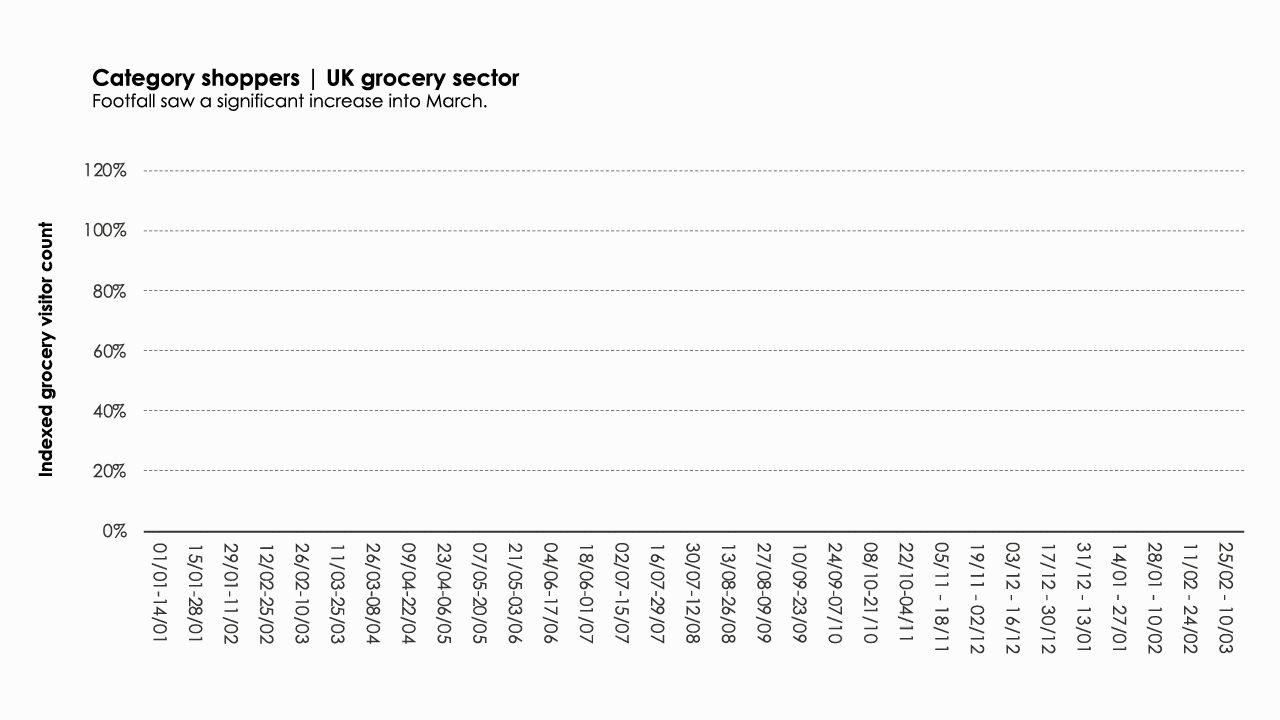 Shopper promiscuity on the rise
Interestingly, as grocery store footfall increased in March, we once again saw loyalty decrease. In fact, loyalty across the sector saw a sharp decline in early March. This supports the notion that pre-COVID shopping habits are returning in the form of higher footfall and lower loyalty. That shift represents a change in comparison to previous lockdowns, where we saw loyalty remain high as consumers more strictly obeyed lockdown restrictions. With a light at the end of the tunnel, between the easing of restrictions and the availability of vaccines, it appears that consumers are eager to get back to their old habits, even if that just means a quick trip to the Asda in the next town over. 
Last month, we saw a big shakeup, wherein the 'Big Four' (Asda, Morrison's and larger Tesco and Sainsbury stores) saw the biggest decrease in loyalty, while other sectors saw an increase. By contrast, convenience stores actually suffered the largest drop in loyalty in early March, while the Big Four saw the second lowest loyalty decrease this year. We expect the reason is that, as consumers have the freedom to get out and shop a bit more, they're returning to bigger stores – at the expense of the convenience stores they relied on for essentials during lockdown. It may also be that consumers are travelling around more just because they can, and therefore going to many different convenience stores.  
Two groups of shoppers with vastly different behaviour
Today we're seeing more foot traffic at convenience stores – but with it, a decrease in loyalty. Concurrently, we're seeing the reverse trend for The Big Four. They're experiencing a loss in footfall, despite a resurgence in loyalty, after that drop in early March. This may suggest that there are two groups of shoppers: one group of 'early adopters', who have returned to pre-COVID shopping habits (shopping around more, shopping at convenience stores, more relaxed in their shopping practises) and a more conservative group that's a bit slower to return to old shopping behaviours. 
Perhaps due to that first group of shoppers – those more eager to get back to it – Tesco Express and Sainsburys Local along with other convenience store chains are doing especially well right now. As these consumers begin to resume their familiar shopping habits, they may be travelling around a bit more and therefore popping into more convenience stores when they need an item or two. This contrasts with behaviour during the first lockdown, when the Big Four were seeing the largest proportion of footfall as consumers were travelling less and limiting their time in-store. 
In terms of overall loyalty, the Big Four are still very much on top, suggesting that perhaps our group of more conservative shoppers is tipping the scale by continuing to limit their exposure with one large shop, rather than making multiple, smaller-basket trips. 
The bottom line: competition for visits per visitor is increasing. Stores need to begin thinking about how to maintain loyalty amongst potential defectors.
Looking ahead to spring holidays – and more easing
Easter is fast approaching, meanwhile, and Blis is keeping a sharp eye on pre-holiday grocery shopping trends. While we aren't likely to see much in the way of the multi-generational feasts we're accustomed to this time of year, it's expected that families will still celebrate at home with a special dinner and the usual festive sweets and treats. With that in mind, we're expecting slightly lower basket values compared to last year – but more people out shopping overall. 
As we return to stores and something closer to normal life, we encourage everyone to enjoy the holiday and stay safe! We'll keep you posted on ever-changing customer behaviours.