Blis partners globally with IRi Worldwide to help marketers create a holistic understanding of consumers' behaviors and boost campaign efficacy through store visits and purchase data. This joint post, also shared on the IRi blog, helps brands to navigate the road to recovery and a changed consumer landscape as a result of COVID-19.
As U.S. states have now reopened in some capacity, there are several signs that consumers are cautiously re-entering the market with safety measures in place. Those early indicators include:
Increasing mobility: We're seeing an overall 15% increase in foot traffic from peak pandemic to early recovery stages among a selection of national CPG retailers across the U.S.
The return of competition: A dip in store loyalty among a selection of national CPG retailers (down from 80% at the peak of the crisis in mid-March to 74% now) indicates increased consumer choice.
Steady store attendance: Store visitation rates have actually increased year over year by one percentage point — suggesting that despite restrictions, actual store attendance doesn't appear to have suffered for retailers' target audiences.
People still spending: Average campaign sales lifts have remained steady at around the 4% mark, meaning ads have still been effective at driving incremental sales. These lifts have tended to be higher among products that are more "essential," such as shampoo and body wash — particularly around the panic-buying and stock-up period in March. For example, one particular hair care campaign saw a weekly sales lift of 28% during the weeks commencing March 9 and March 16.
For brands, this means now is the time to fight hard to defend and retain the new consumers who have relied on these products throughout the crisis, while also doubling down on acquisition strategies to competitively win and diversify the customer base.
Insights in Action: Mapping Summer 2020
To advise CPG brands in advance of the Fourth of July holiday, Blis studied foot traffic and loyalty across three key COVID-19 periods: pre-pandemic (February, the week leading into and including President's Day Weekend), peak-pandemic (April, the week leading into and including Easter weekend) and early recovery (May, the week leading up to and including Memorial Day Weekend).
The 10-day Memorial Day stretch had 11% more shoppers than in an equivalent window leading up to Easter, suggesting recovery.
2020 holiday store visits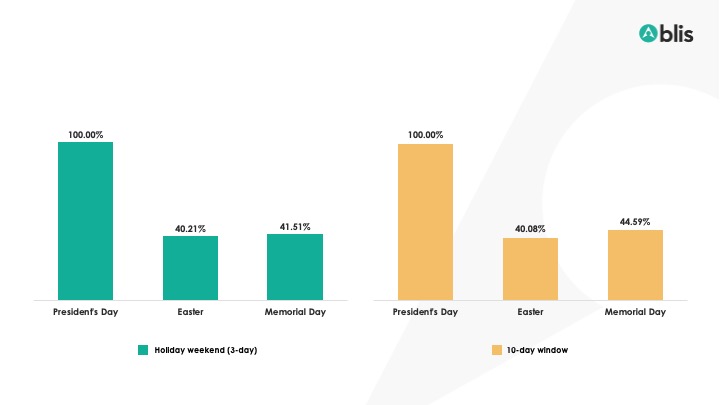 During the worst period of the COVID-19 outbreak, anywhere between 75% and 90% of shoppers disappeared from the market. However, we see that this drop was closer to only 60% on public holidays that fell during the outbreak. This shows that public holidays draw in shoppers — yes, even during a pandemic.
Memorial Day saw improvement in consumer activity (general-category foot traffic growth, plus a short-term public holiday boost) over Easter, and therefore an opportunity for brands. We predict the Fourth of July will build on this momentum. Memorial Day added 3% more shoppers during the three-day weekend, and 11% more shoppers during the 10-day period that led up to the holiday weekend (compared to the equivalent periods at Easter). Indeed, the 10-day Memorial Day period saw shopper volumes 7% higher than predicted.* If the trend towards increased footfall continues, then the incremental gains to be had from the 10-day July Fourth build-up should be greater than this (versus activating closer to the holiday itself).
The Takeaways: A Slow Road Back
While we're far from a return to life as we knew it, we are seeing steady signs of renewed activity and a return of consumer choice, heightening the need for advertising. Below are some predictions as we look to the remainder of 2020 and into 2021:
Holidays on the horizon: July Fourth represents the next milestone in CPG shopping, and the trend is positive. The holiday offers disproportionately higher shopper counts (i.e., higher rewards) but is set against the likelihood of consumers shopping around more (i.e., higher competition) — particularly over the 10-day lead-up.
We will not see a V-shape recovery: We might see the start of an uptick and should certainly see this as a positive and make the most of it while we can. However, brands ought to prepare for the trajectory to be interrupted more than once before it gets close to pre-COVID levels.
The return of ROAS: There is understandable caution about picking up immediately where we left off before lockdown. However, customers will adapt to each iterative relaxation of restrictions, and as advertisers see demand returning, the opportunity to demonstrate return on ad spend is becoming more straightforward.
*7% higher than predicted, based on the 3-day to 10-day shopper ratio seen over President's Day and Easter. Incremental shoppers = actual unique shopper count/predicted unique shopper count.