If you missed out on all the action from this year's Blis Golden Shaker 2016 in Singapore, you can catch up on all the action on our page.
While the judges decided that the winner this year was Vizeum's The Rule Breaker, many other agencies created cocktails worthy of making at home. Here's all the recipes from the teams, so you can try them yourself – or even practice before trying your hand next year's competition.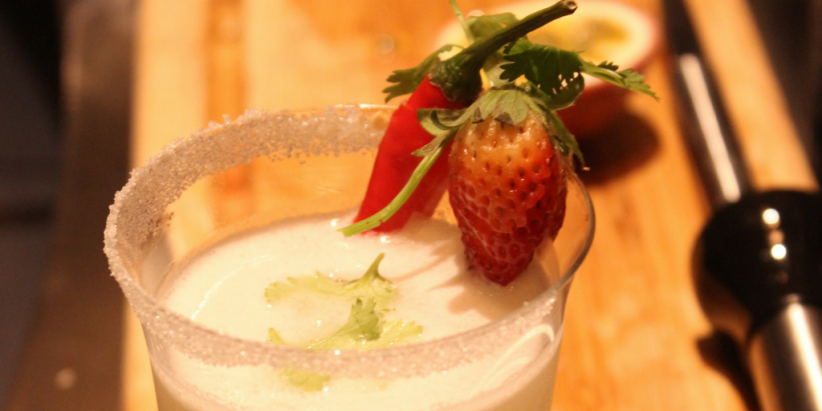 Blis Golden Shaker Recipes 2016
Team APD: Grab them by the chilies
Ingredients:
1,5 shots of Mezcal
30ml Lime syrup
30ml Sugar Syrup
3-4 Leaves coriander
1 x chilli
1cm Lemongrass
Lemongrass sugar
Directions:
De-seed and finely chop a 2cm of a birds-eye chilli
Finely chop a 3cm piece of lemongrass
Roughly chop a 10-20 coriander leaves
Set aside
Combine in a shaker 2 shots of mescal
1 shot of lime juice
Add ice
Add chilli, lemongrass & coriander
Garnish with sugar, chilli, strawberry and coriander
Insider tip: A piece of dark chocolate
Team Vizeum: The Rule Breaker
Ingredients:
A dash of Angostura bitters
10 ml raspberry liqueur
20 ml vermouth
45 ml scotch
Raspberries
Orange
Directions:
Dash of Angostura bitters
10 ml raspberry liqueur
20 ml vermouth
45 ml scotch
2 fresh raspberries smashed up
Add ice
Stir (push & pull motion)
Double strain the drink into a glass
Cut a coin size of the orange peel then spritz over the glass
Garnish with 1 whole fresh raspberry on a toothpick
Team Mindshare: The Madonna
Ingredients:
Dash of Angostura bitters
10ml Almond liqueur
20ml Cherry liqueur
50ml Vodka
25ml Lime juice
Directions:
Add a dash of bitters
10ml Almond liqueur
20ml Cherry liqueur
25ml Lime juice
50ml Vodka
Then place all with some ice in a shaker
Shake it
Pour it in a glass
Garnish with a slice of lime
Annnnd….enjoy
Team MEC: The Bold Fashioned
Ingredients:
50ml Tequila (Mezcal)
Agave Syrup
Angostura Bitters
Grenadine
Grapefruit to garnish
Directions:
Mix together 50ml of Mezcal tequila, half a bar spoon of Agave Syrup, a dash of Angostura bitters and two bar spoons of Grenadine. Add one scoop of ice to the mix and stir.
Add one large piece of ice to a tumbler glass and add the mixture.
Cut a strip of peel from a fresh grapefruit – squeeze the peel over the Bold Fashioned to extract the fruit's essential oil and garnish the glass with the peel.
Serve, drink and enjoy.
Team Carat: Raspberry Flip
Ingredients:
Raspberries
Angostura Bitters
20 ml Grenadine
30ml Cherry liqueur
20ml Lemon
45ml Scotch
1 whole Egg
1 raspberry to garnish
Directions:
Phase 1:
5x Raspberries
Add a dash of bitters
20ml of Grenadine
Muddle all together
Phase 2:
30 ml Cherry liqueur
20 ml Lemon
45 ml Scotch
1x egg
Phase 3:
Shaker once without ice
Then, shake with ice
Strain one time (small holes)
Strain another time (big holes)
Pour into 2 glasses
Garnish each with one raspberry on a toothpick
Swirl dash of bitters
Team OMG: Another One
Ingredients:
Vodka – 2 parts
Orgeat syrup – 1 part
Lemon – 1 part
Raspberry – 6 pieces
1 whole egg
Directions:
Crush the raspberries
Add one part almond syrup
Add one part lemon juice
Add two parts vodka
Add ice to the cocktail shaker
Add cocktail ingredients and shake for 15-30 seconds
Sieve the cocktail into glass
Team Xaxis: The Verbier
Ingredients:
45ml Cognac
20ml Sweet Vermouth
Bar spoon Orgeat syrup
2 dashes Angostura Bitters
Directions:
Simply put all ingredients into the shaker and shake it up with ice.
Insider tip: Best served with a piece of rich dark chocolate.
Team MediaCom: Tom Yumski
Ingredients:
50ml Vodka
15ml Simple syrup
20ml Lemon
a third of a chilli padi
6x half a centimetre pieces of Lemongrass
egg white (amount 1 full egg)
A dash of Angostura bitters
Directions:
Add the Chilli padi, lemongrass and lemon juice into the Shaker and muddle.
Next, add in the egg white and shake mixture vigorously, without ice.
Next, add in the vodka, simple syrup and ice then shake vigorously.
Double strain into a martini glass and add 3 drops of angostura bitters to finish off.
The Drum has been a media partner throughout the competition. To see all the content from the event visit the Golden Shaker hub.
To see the original article along with photos of all the cocktails click here.