Case study: Kraft Heinz & Publicis

Kraft Heinz wanted to drive foot traffic into Jumbo supermarket stores and create brand awareness of their new Karvan Cevitam Signature Blends flavours.


The brand was launched in spring and contains four deliciously refreshing cordial flavours: lime & mint, strawberry & rhubarb, white grape & elderflower and lemon & orange blossom in a 500ml bottle retailing at €3.49.
Highlights
77%
increase in
store visits
Solution
Blis deployed location and historic targeting strategies to enable Kraft Heinz to effectively incease purchase intent by driving relevant consumers into Jumbo stores.
Real-time: Blis targeted audiences in proximity to selected Jumbo supermarket stores.
Historic: Blis targeted audiences who had visited one of the selected Jumbo locations and re-targeted them at home along with all connected devices within the entire household, to reach all decision makers.
We used three different creative sizes (MPU, mobile banner, interstitial) with expandable map.
The main objective was to drive people into selected Jumbo stores.


The creative of the unit, once engaged with, allowed customers to either visit the eCommerce site or visit their local store. Of the consumers who clicked to open the map, 7.65% of them then clicked to visit the Jumbo eCommerce site (3.46% from the historic targeting strategy and 4.19% from the real-time targeting strategy).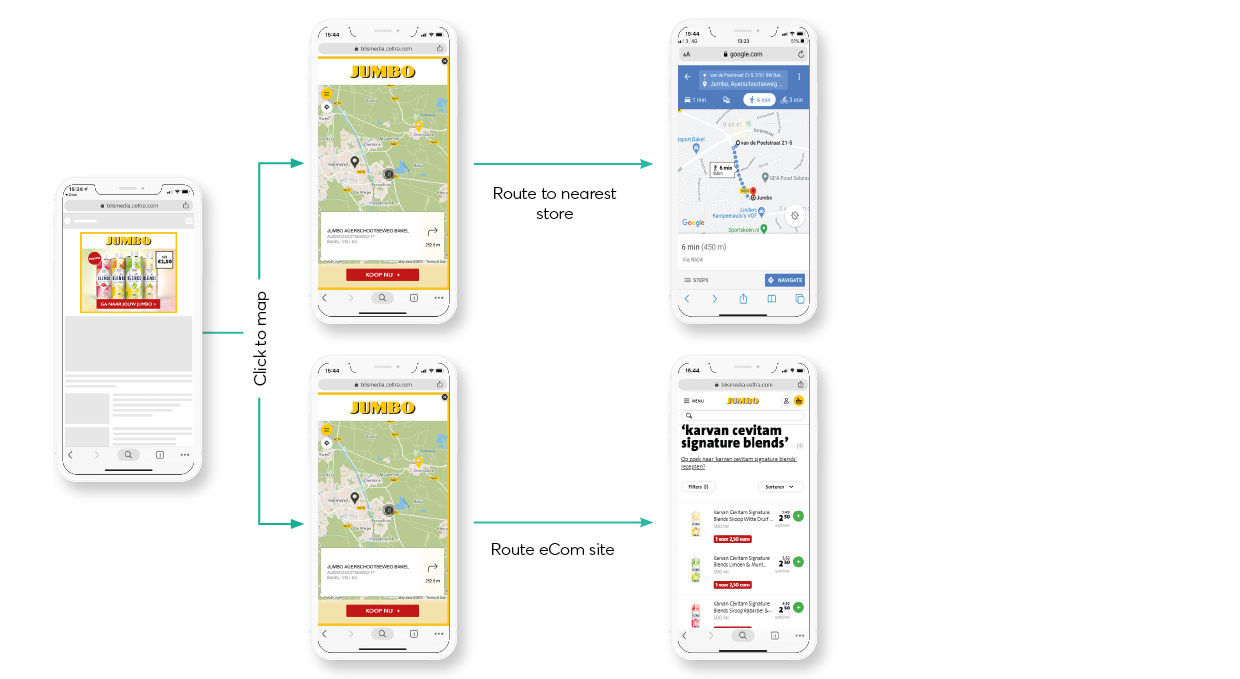 Store visit rate and uplift were above the category benchmark.
Store visits were tracked for seven days post ad exposure. 
1.01%

Store visit rate (0.0-1% benchmark of 0.30%)

0.59%

CTR (0.30% Benchmark)

173,39

Unique mobile devices
2,853 Total store visits

---

1,749 Unique store visits

---

1.63 Store visit frequency

---

77.19% Store visit uplift (20-30% Benchmark)

---
The historic targeting strategy drove the most customers to visit the Jumbo store within 24 hours of ad exposure. This is a good indication that many people convert quickly after seeing the ad.
Start reaching all your relevant audiences today